Bryant slams two more homers for Iowa
Cubs' No. 2 prospect drives in three runs, including go-ahead tally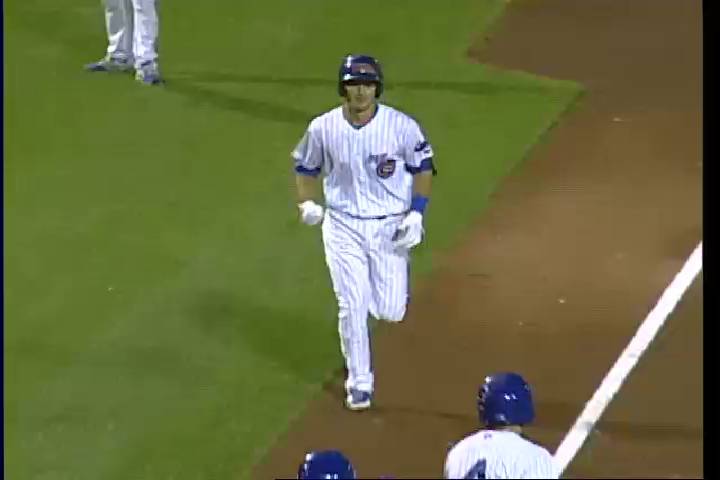 By Mark Emery / MiLB.com | June 22, 2014 9:36 PM ET
Kris Bryant is a man known for hitting home runs. Four games into his Triple-A career, MLB.com's eighth-ranked prospect has three hits, each of which has landed beyond the outfield fence.
The Cubs' No. 2 prospect belted two more roundtrippers Sunday in Iowa's 7-6 come-from-behind win over Albuquerque at Principal Park. His two-run homer to left in the sixth inning got the Cubs within a run and his solo shot to center in the eighth put them ahead for good.
The second overall pick of the 2013 Draft also went deep in his Triple-A debut on Thursday against El Paso.
"Maybe all my hits here will be home runs," Bryant said with a laugh. "It's kind of a weird little stat, but I've just been blessed with power ever since I was little, so I kind of realized that I had it at a young age and just ran with it.
"Today I got some good pitches to hit and I did what I was supposed to do with pitches that are left over the plate."
For those who don't know, Bryant has demonstrated a unique aptitude for going yard this season. In 68 games at Double-A Tennessee, the midseason All-Star smacked 22 homers, a figure that continues to lead the Southern League by nine. Of course, he won the All-Star Home Run Derby last week, finishing with 16 long balls.
Only Rangers prospect Joey Gallo, who has six homers at Double-A after collecting 21 in the Carolina League, has hit more dingers than Bryant.
The 22-year-old third baseman's latest blasts came with some special people in the crowd.
"My parents were here and my girlfriend's here," Bryant said. "When you have familiar faces in the crowd, it makes it that much better. They're not just sitting behind the computer watching it, they're actually there, in person. I get to kind of share this moment with them, so it's been a pretty good day for us."
After tearing up Double-A to the tune of a .355/.458/.702 slash line, the Las Vegas native has gotten off to a somewhat slower start at the next level. So far, he's batting .188 (3-for-16) with eight strikeouts and no walks.
"You definitely can see that the pitchers have a whole lot more command with their pitches," Bryant said. "They're veterans on the mound, so they really know how to read swings and read on how to get you out. For me, it's all about having a solid approach up there and sticking to it."
Still, it's tough to be too down about three homers in four games, and the University of San Diego product seems to be enjoying his transition from Knoxville, Tennessee, to Des Moines, Iowa.
"The stadium is awesome," Bryant said. "My teammates are some of the best players in the Cubs organization. A lot of them have had big league time and they've been around the game for a long time. I'm going to be learning a lot from them the rest of the summer here. I'm looking forward to finishing out the season here."
Bryant was not the only player to homer in Sunday's game. Chris Valaika went 3-for-4 with a homer and two RBIs for Iowa, while Griff Erickson and Alex Liddi went deep for Albuquerque.
Armando Rivera (1-0) struck out two in a perfect eighth to earn the win and Blake Parker picked up his 15th save, despite giving up a run in the ninth. Matt Magill (4-3) took the loss after serving up Bryant's second homer and an RBI single to Rafael Lopez.
Mark Emery is a contributor to MiLB.com. Follow him on Twitter @Mark_Emery. This story was not subject to the approval of the National Association of Professional Baseball Leagues or its clubs.
View More