Cal notes: Mella stands tall among Giants
Team's top prospect steadily gaining confidence in secondary offerings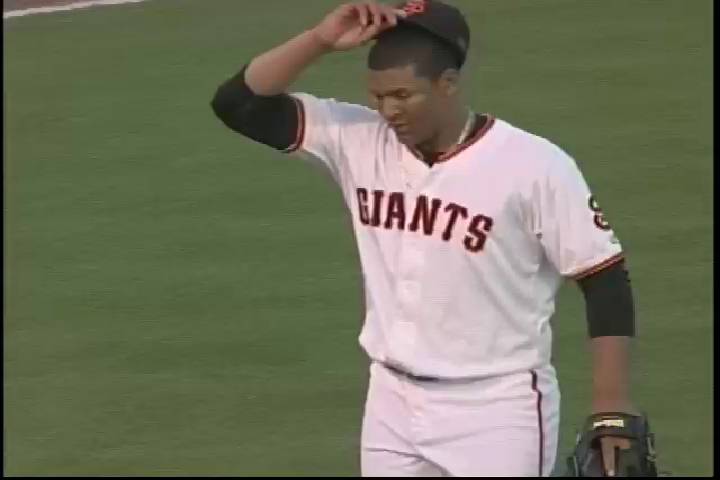 By Alex Espinoza / Special to MLB.com | July 29, 2015 11:30 AM
The Giants are ripe with young arms making their way up the ladder to San Francisco, and atop the system now sits right-hander Keury Mella, who has been a mainstay of the San Jose Giants' rotation all year.
Mella's explosive fastball, which usually sits in the low to mid-90s, has been a staple of his arsenal since the Giants signed him in 2012 out of the Dominican Republic. But the Giants' No. 1 prospect is focused on becoming a more well-rounded pitcher under the tutelage of pitching coach Mike Couchee this season.
"We've been working on his curveball pretty much since the start of the year," Couchee said. "We knew it would be a little bit of a work in progress, but it's something we do spend time on in the bullpen sessions between starts. It has progressed and has gotten better just like you hope it would. That's a big part of why he's having success now.
"Obviously, the fastball is his go-to pitch. But on nights when he's on, he's just able to come in there and throw his curveball and changeup. When he's got that working, either one or both, that really allows his fastball to play up more than it does when it stands alone."
Mella flashed his brilliance July 16, when he carried a no-hitter into the seventh inning only to give up a solo shot -- a rare feat for any batter facing Mella. In fact, his next outing July 23 marked the first time in his professional career that he gave up more than one homer in a game as Bakersfield took him deep twice. In his 40 starts before that, dating back to the beginning of 2013, Mella surrendered a grand total of two homers.
Despite the recent struggles with the long ball, Mella still totes a 3.32 ERA, 1.11 WHIP and 74-to-23 striekout-to-walk ratio in 76 innings this season while holding opposing batters to a .216 average.
"He's able to throw strikes with three pitches," Couchee said. "If you do that at this level, you have a big chance at being successful. That's going to be the key for him, and for any young pitcher -- to be able to locate your fastball, command the fastball in and out of the strike zone. He does show that ability at a very young stage of his career."
Couchee said Mella, who is listed at 6-foot-2 and 200 pounds, is developing both physically and mentally as he approaches his 21st birthday on Sunday. Despite outsiders who say Mella would be better suited as a power reliever, Couchee believes he will have the durability to handle the season-long workload of a starter and give 110-plus pitches in an outing if needed.
"He's a big, strong kid and he's learning his body as a lot of the kids are at this stage of their careers," Couchee said. "He's a very intelligent pitcher, and he's able to take things we address in bullpen sessions and incorporate them into game settings really well."
In brief
Busy week: The Stockton Ports' roster has undergone a major makeover in the last week. Hot-hitting shortstop and A's No. 2 prospect Franklin Barreto was placed on the disabled list with a wrist injury, which is expected to keep him out at least three weeks. Oakland also acquired slugging catcher Jacob Nottingham (.320/.377/.539 season slash line) and right-hander Daniel Mengden (7-2, 3.38 ERA) in exchange for Scott Kazmir. Nottingham becomes the No. 5 A's prospect, while Mengden is No. 13. Joining them in Stockton will be right-hander Casey Meisner (10-4, 2.35), who was sent to Oakland on Monday in the Tyler Clippard trade with the New York Mets.
Double trouble: Inland Empire 66ers first baseman Eric Aguilera has been spending a lot of time reaching second base lately. He went 3-for-5 with a double and an RBI in Monday's 4-3 loss to Lake Elsinore but extended his hitting streak to 12 games, including seven straight with a two-bagger. His .326 average ranks second among active Cal League players, only behind reigning Player of the Week Lewis Brinson (.336).
Called up: Shortstop Alex Bregman, the No. 2 overall pick by Houston in June's Draft, made his Cal League debut Monday in a pinch-hit appearance for the Lancaster JetHawks. Bregman posted a .259/.368/.330 slash line with a homer, 13 RBIs, five stolen bases, 17 walks and 13 strikeouts in 29 games with Class A Quad Cities before his promotion.
Alex Espinoza is a contributor to MiLB.com. This story was not subject to the approval of the National Association of Professional Baseball Leagues or its clubs.
View More