Cal notes: Quakes' Bird sticking to stretch
Dodgers prospect finding success with 'unorthodox' delivery option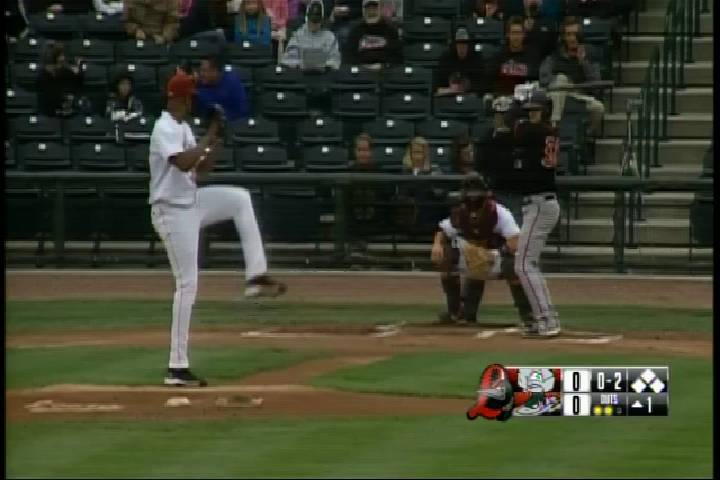 By Alex Espinoza / Special to MiLB.com | July 1, 2015 10:00 AM
Last August, Zack Bird was on the mound with Class A Great Lakes when he walked a batter who would change the course of his career.
The batter was promptly thrown out at second base trying to steal, but Dodgers Minor League pitching coordinator Rick Knapp happened to be in the dugout, and he told Bird to stay in the stretch. Something clicked for the young right-hander, and he ditched the windup for the rest of the year.
Through the instructional leagues last fall and even to begin this season with Class A Advanced Rancho Cucamonga, the 20-year-old flip-flopped between relying on the windup and the stretch. But now he's fully committed to the stretch, something he's been doing consistently since his start against Modesto on June 8.
Bird has four quality starts this season, and perhaps it's no coincidence that three of them have come in the past three weeks.
"It's a little unusual," Bird said. "But I get the velocity because I'm not going to the plate quick. I'm getting my leg up high and everything is in line. I'm more direct. There's not a lot of wasted energy. It's similar to a reliever, or a closer … because from the windup, I would kind of get my direction off and lose my balance at the top of my leg kick. Going to the stretch, that's kind of been eliminated."
Through 14 outings (13 starts) this year, Bird has a 4-3 record and 4.43 ERA for the Quakes. He has been one of the toughest starters to hit in the Cal League with a .204 opponents batting average and 67 strikeouts in 63 innings. The Mississippi native said he plans on staying in the stretch for the foreseeable future.
"The only reason I even went to the windup last instructional league and the beginning of this year is because it's unorthodox [not to]," Bird said. "I don't want organizations to say, 'Hey, this guy can't be a starter because he pitches from the stretch.' I figured if you keep getting guys out, keep going deep into games, it doesn't really matter how you get to the plate."
Despite having a fastball that can reach 95 mph, Bird calls his slider his go-to out-pitch. This season, he's working hard with pitching coach Bill Simas to develop a changeup to go with an arsenal that also features a curveball. A ninth-round pick by Los Angeles in the 2012 Draft, Bird is now ranked as the Dodgers' No. 9 prospect.
"I'm really more aware of what I can do well and what I can't do well," Bird said. "When you're young, you kind of want to be great at everything, and you want to be the most well-rounded player there is. When you're first drafted, you don't give yourself time to really focus on each little part of the game. Now I have a better mind-set instead of trying to do all of these things at one time."
In brief
Triple Crown threat: With a single in Sunday night's 4-2 loss to Bakersfield, A.J. Reed extended his hitting streak to 13 games while his average moved to .338, tops in the Cal League. The slugging 22-year-old first baseman also leads the league in home runs (19) and RBIs (70). Reed, the No. 11 Houston Astros prospect, has raised his average from .278 on May 30 by hitting safely in 24 of 25 games.
Quick start: Visalia outfielder Mitch Haniger has been a nice second-half addition to the lineup since being reassigned from Double-A Mobile. In his first four contests with the Rawhide, the 24-year-old hit two homers and drove in nine runs while also collecting three doubles. Haniger batted .281/.351/.379 in 55 games with Mobile to start the season.
Stockton stays hot: The Ports finished off the first half with a nine-game winning streak and have carried that momentum into the second half, winning three of their first four. Stockton had a 2.78 team ERA in June, including a 1.95 bullpen ERA. Since June 1, No. 2 Oakland A's prospect Franklin Barreto has hit .310 (26-of-84) with two homers, nine RBIs and six doubles.
Alex Espinoza is a contributor to MiLB.com. This story was not subject to the approval of the National Association of Professional Baseball Leagues or its clubs.
View More