Cal notes: Stratton shows true potential
Giants No. 7 prospect steadily improving after rough start to season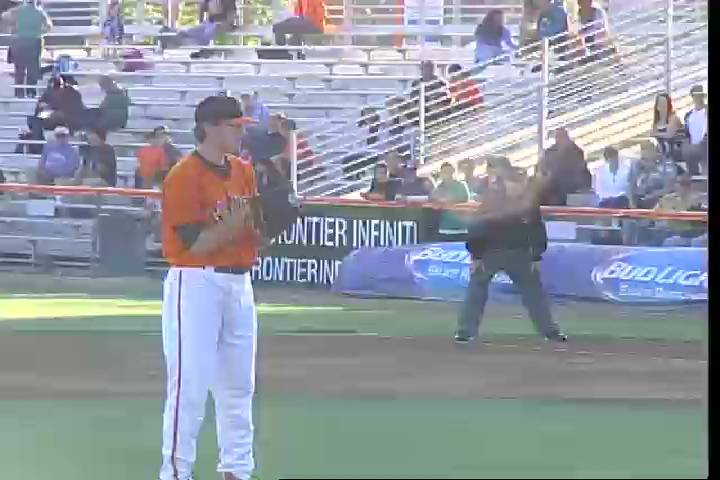 By Alex Espinoza / Special to MiLB.com | June 11, 2014 10:00 AM ET
San Jose Giants manager Lenn Sakata is doing his best to keep his club competitive, despite a short-handed pitching staff and a lineup that doesn't feature nearly as many top-flight prospects as his Cal League counterparts.
Through 66 games the Giants tote a 33-33 record, thanks to some key contributors who have helped pick up the slack.
On Monday night, Giants No. 7 prospect Chris Stratton kept up his recent run of strong performances on the mound with his best outing of the year. The right-hander matched his season high with seven innings, allowing two runs -- one earned -- while striking out nine and walking none in a 7-3 victory over Modesto.
"His stats have improved over the last four or five starts, and he's starting to show signs of why he was picked so high," Sakata said. "His control's been better, his velocity's been up, and he's pounding the bottom half of the strike zone more consistently and getting his offspeed stuff over."
Stratton (4-6, 4.43 ERA) is one of four top 20 pitching prospects on San Jose's roster, but No. 12 Joan Gregorio (2-2, 6.75 ERA in five starts), No. 13 Martin Agosta (1-2, 10.55 ERA in seven starts) are on the disabled list and No. 20 Kendry Flores (3-4, 5.87 ERA in 11 starts) has also had his struggles this year.
Drafted No. 20 overall by the Giants in 2012 and signed to a $1.85 million bonus, Stratton began the season in San Jose after going 9-3 with a 3.27 ERA in 22 starts for Class A Augusta in 2013.
But Sakata said Stratton left too many fastballs in the middle of the plate or up in the zone to start this season as he went 2-4 with a 5.30 ERA and 1.43 WHIP over his first seven outings. In the five starts since, Stratton has gone 2-2 with a 3.45 ERA and a 1.18 WHIP.
With a fastball that usually sits at 89-91 mph, Stratton needs to rely on his command as opposed to raw stuff. Sakata said Stratton also features an above-average breaking ball and changeup, which he has used to rack up 66 strikeouts in 67 innings while walking 24.
"When Chris is right, it's because he can get more than two pitches over the plate," Sakata said. "When Chris gets hurt, usually it's because he's not throwing strikes early and elevating the ball when you have to throw it over. That's pretty typical of anybody, and that's kind of where he was at."
Offensively the only top 20 prospect in San Jose was No. 9 Mac Williamson, who was primed to start the season in Double-A Richmond but was slowed by elbow soreness in Spring Training and opened in the Cal League. In late April, Williamson visited Dr. James Andrews for a second opinion and opted to undergo Tommy John surgery.
"He was allowed to hit, and then he was put on a throwing program and the kid realized there was something wrong -- he could feel it," Sakata said. "He did this basically on his own."
But the Giants may have uncovered a hidden gem in infielder Blake Miller, a 25th-round pick in 2013 who is hitting .323/.370/.520 with seven homers and 51 RBIs through 66 games. Listed at 6-foot-3, 195 pounds, Miller has taken on something of a utility role but may have found a new home at second base, where Sakata said he's been impressed by Miller's ability to turn the double play.
"I can see him maybe playing himself into a position where he can become that prospect at second base," Sakata said. "The hitting is a big plus. You'd think he'd continue to do that, and I'm very, very happy for him. He's proven that you never know. You have to put the kids out there and see what happens."
In brief
Back to Cali: Top A's prospect Addison Russell returned to the field with Stockton on Sunday. The 20-year-old shortstop who starred for the Ports last year (.275/.377/.508, 17 homers, 60 RBIs) has been reunited with old teammates as he tries to rebuild strength from a hamstring injury. Russell made seven plate appearance for Double-A Midland before injuring himself April 4.
Star shortstops: The Cal League also features two other top organizational prospects in shortstops Corey Seager (Dodgers) and Carlos Correa (Astros). Seager (.342/.388/.615, 24 doubles, 12 homers, 49 RBIs) is still mashing the ball for the Quakes, while Correa (.332/.421/.509, five homers, 52 RBIs, 20 stolen bases) continues to produce for Lancaster.
Lively gets the nod: It comes as no surprise that Bakersfield right-hander Ben Lively (10-1, 2.28 ERA, 95-to-16 strikeout-to-walk ratio) has earned the start for the California/Carolina League All-Star Game. Lancaster right-hander Joe Ross (6-3, 2.82 ERA) and Lake Elsinore southpaw Josh Hader (6-0, 2.34 ERA) also highlight the team's pitching staff, which will be tasked with slowing down a robust Carolina League lineup.
Alex Espinoza is a contributor to MiLB.com. This story was not subject to the approval of the National Association of Professional Baseball Leagues or its clubs.
View More