Calm Franco has confidence-building night
Phillies' top prospect records first Triple-A four-hit game for IronPigs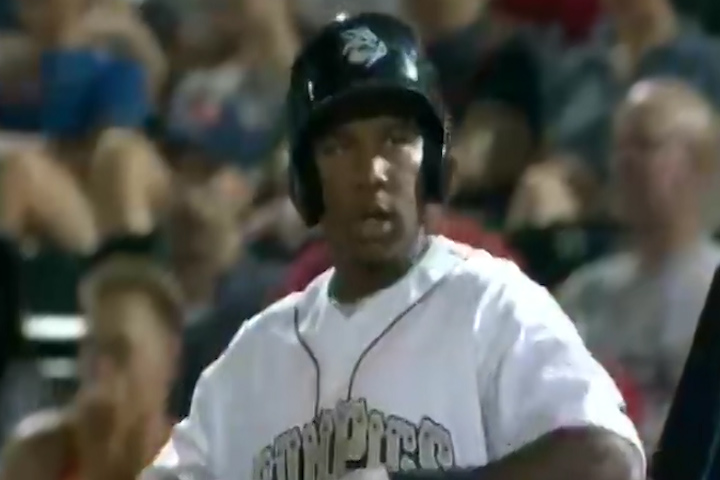 By Robert Emrich / MiLB.com | July 3, 2014 12:58 AM ET
Maikel Franco saw seven pitches on Wednesday night. They were all he needed to get things going.
The Phillies' top prospect went 4-for-4 as Triple-A Lehigh Valley defeated Syracuse, 2-1, in 10 innings at Coca-Cola Park.
Franco singled in the second inning, seeing only two pitches from Chiefs starter Taylor Hill. His longest at-bat came in the fourth, when he sent an 0-2 offering into left field for another base hit. The 21-year-old third baseman singled on the first pitch in each of his next plate appearances in the sixth and ninth.
"He was a little calmer, wasn't quite as antsy and his pitch selection was better," IronPigs hitting coach Sal Rende said. "We're trying to get him to be a little more selective. He didn't see as many pitches tonight, but he swung at good pitches. He was a little more focused on getting good pitches to hit, carried through what we've been trying to get across. Definitely a good night for him."
Getting any player to be more selective can be difficult. That's especially true of Franco, whose above-average ability to make contact can be a hindrance, according to Rende.
"It's a big challenge," he said. "Guys are aggressive by nature. He doesn't strike out a lot. Sometimes it's a plus, sometimes it's not. Sometimes you'll see him put one in play and you'd rather see him swing through one. He's made a lot of outs on borderline pitches. Pitchers at this level and the next level have a good idea on what they can do with the ball, and you have to make them get the ball in a hitting area for him."
After a rough June, Franco found himself out of the lineup for a few games. Between that and a visit from former Phillies manager Charlie Manuel, now a senior advisor with the club, Rende believes the native of the Dominican Republic can build on his first four-hit game since June 23, 2013 with Double-A Reading.
"Well, I think a big boost," Rende said. "We've given him a couple of days off, just to clear his head. Charlie Manuel came in and talked to him a little bit. There was a lot of stuff going on. He's a confident individual, he has a great makeup. I think the couple of days off were refreshing to him."
MLB.com's No. 22 overall prospect is coming off a month in which he batted .162 in 27 games, 120 points lower than his average in May. Rende said it wasn't necessarily a case of Franco having a bad month, just bad luck.
"A lot of it was, he hit a lot of balls hard that he wasn't getting hits on," Rende said. "Anytime you do that, you're going to suffer. He would hit one or two balls hard, and a lot of times he was 0-for-4. He wasn't lost in June, he just wasn't getting the hits he was in May."
Grady Sizemore slugged a solo homer, his first with the Phillies organization, and Leandro Castro delivered a bases-loaded walk-off single in the 10th for Lehigh Valley.
Jason Marquis allowed four hits and struck out six over seven scoreless innings in his second start for the IronPigs. Jeremy Horst (2-1) pitched around two hits in the top of the 10th for the win.
Emmanuel Burriss was 3-for-4 with his 15th stolen base and scored the lone run for Syracuse.
Robert Emrich is a contributor to MiLB.com. Follow him on Twitter @RobertEmrich. This story was not subject to the approval of the National Association of Professional Baseball Leagues or its clubs.
View More