Captains' Aviles throws six hitless innings
Sets down first 17 batters on his way back from Tommy John surgery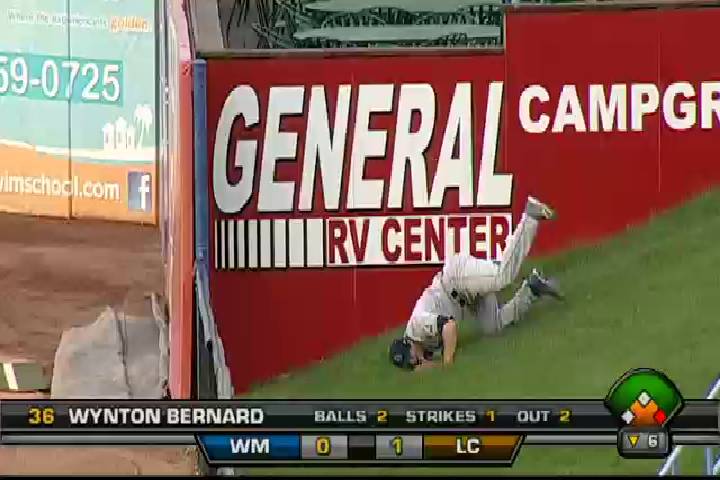 By Danny Wild / MiLB.com | May 16, 2014 10:35 PM ET
Robbie Aviles was in the midst of his best start since high school when Class A Lake County manager Mark Budzinski told him to take a seat.
"It would have been a fantastic accomplishment for me," said Aviles, who was nearly perfect for six innings on Friday night. "But the coach kind of joked, he was like, 'Sorry.' I said, 'It's not a big deal, don't even worry about it.'"
On the long road back from Tommy John surgery, Aviles retired the first 17 batters and turned in six hitless frames before Class A Lake County posted a 3-2, 10-inning victory at West Michigan.
"I think it was the fifth [inning]," Aviles said of the perfect game. "I noticed the 4-5-6 guys coming up, I noticed I had something going."
Aviles, the Indians' seventh-round pick in 2010, struck out three and was perfect until plunking Bennett Pickar with two outs in the sixth. He kept the no-hitter intact by striking out Wynton Bernard swinging to end his evening.
"I felt good, I felt like I had good command over all my pitches," he said. "I'm a big sinker-fastball guy, and that was moving nice today, that was my go-to pitch."
With the Captains leading, 2-0, Matt Whitehouse relieved Aviles in the seventh and allowed a one-out double to Raph Rhymes. West Michigan scored twice in the eighth to force extra innings, but Cody Ferrell led off the 10th with a single and came home with the go-ahead run on a base hit by Paul Hendrix.
Aviles is no stranger to no-hitters. He tossed a pair, including a perfect game, for Suffern High School in suburban New York City before undergoing Tommy John surgery right before the Draft. The right-hander had been projected to go in the early rounds, and it's been a gradual comeback ever since. He debuted in the Rookie-level Arizona League, reached Class A last year and has gotten off to a great start this spring with a 1.23 ERA and 25 strikeouts over 36 2/3 innings.
Friday's gem brought back some memories of the old days.
"Yeah, I was kind of thinking about that and how it was nice in high school, although the competition wasn't as good as it is here, and those were seven innings," Aviles said. "I kept my focus and I was talking to the catcher [Eric Haase], seeing what he was thinking. He and I were on the same page."
Aviles joined the Captains' rotation on May 5, when he held the same Whitecaps two two runs -- one earned -- on four hits over a season-high seven innings. He struck out five over six solid frames against Bowling Green in his last start on May 10, also a no-decision, before losing his chance at his first win again on Friday.
Still only 22, Aviles said he's less concerned about his record and more about his progress as a pitcher.
"It's been great so far," he said. "After Tommy John surgery, my stuff wasn't quite there. The Indians kept me focused, working my mechanics, and I think it's all starting to come back together. I'm just going to keep working harder than ever to get back to how I was."
Part of that road back is the mental side, and for Aviles, returning to the Midwest League offered a degree of comfort after he made 16 appearances there last season.
"For me, a big part is confidence this year," he said. "I trust my pitches, and it was definitely good for me to come back [to Lake County] after getting my feet wet last year. It was a lot easier."
Aviles also has learned to trust the Indians' coaches after growing up with his father, Brian, as his pitching coach. The elder Aviles, a former Braves Minor Leaguer, also was his son's coach at Suffern.
"Once I got drafted, he said, 'It's out of my hands now.' I have the best coaches in the world out here," Aviles said. "He'll check with me on what I'm doing, but as far as mechanically, now we leave it to the Indians organization."
Haase, who homered in the eighth, also has been a steadying influence this season.
"It was great today, I didn't shake him off one time today. I have such trust with him," Aviles said. "He takes his job seriously, reading the hitters, so I'm 100 percent committed to what they call.
"The wins don't bother me at all. Right now, my career is about developing. I'm trying to become a better pitcher, so I just want to continue to develop and get better."
Danny Wild is an editor for MiLB.com. Follow his MLBlog column, Minoring in Twitter. This story was not subject to the approval of the National Association of Professional Baseball Leagues or its clubs.
View More