CAR League Preview: Pelicans plunge in
In Wilmington, first-rounder Manaea ready to make debut for Royals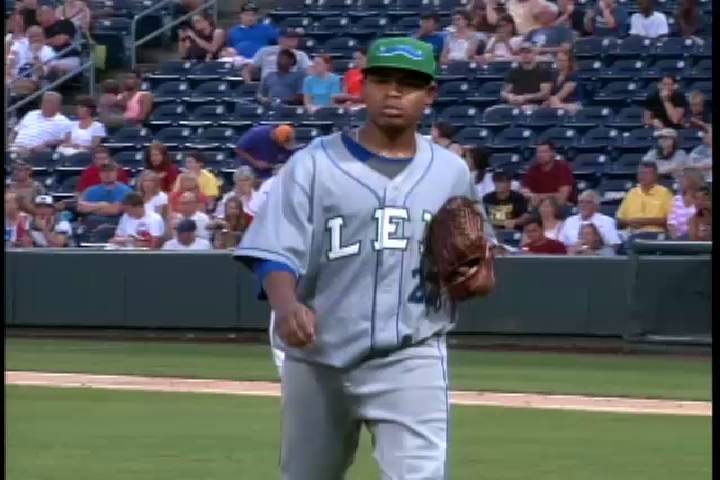 By Tyler Maun / MiLB.com | April 3, 2014 10:00 AM ET
Three years ago, the Myrtle Beach Pelicans entered uncharted waters, switching affiliations for the first time in their history. Now entering their fourth season as part of the Texas Rangers organization, the Pelicans are starting another new chapter. They'll have the power and talent to make it a fun one.
Longtime Class A Asheville Tourists manager Joe Mikulik, who has some notoriety for a legendary meltdown in the Colorado Rockies system, is back at the helm of a Minor League club. Mikulik and the Rockies parted ways just days after the skipper led the Tourists to the 2012 South Atlantic League crown, and a year ago, the native Texan joined the Rangers as the organization's Minor League outfield coordinator. In 2014, he'll take over a Pelicans team that had only known Jason Wood, now with Double-A Frisco, as a field general in its Rangers era.
On the Grand Strand, Mikulik inherits a Pelicans team packed with top-flight talent and headlined by No. 1 Rangers prospect, catcher Jorge Alfaro, last year's Minor League home run king Joey Gallo (No. 5) and 2013 first-round Draft selection Alex Gonzalez (No. 7).
"I saw [Alfaro] across the diamond when I was managing in Asheville and got a chance to watch him last year. I'm really going to get a good look at him this year," Mikulik said. "I know the talent, the tools are there. The competitive makeup is there. This guy's got it all. It's just a matter of him getting the innings behind the plate, the at-bats, seeing pitches and making adjustments along the way. No doubt he can move fast."
Alfaro will be returning to Myrtle Beach after finishing 2013 there. He's also coming off an impressive stint in the Arizona Fall League in which the backstop batted .386/.430/.500 in 19 games for the Surprise Saguaros. As a converted infielder, Alfaro is still learning some of the nuances of his position, but is brimming with projectability.
"Every day, he's trying to gain a relationship with the pitching staff, and he's done a really good job," said Mikulik. "In the Fall League, I think he raised the bar with the way he approached the pitchers. Getting to know them, getting to know their strengths and weaknesses, calling games, just the overall time management with being a professional, I think he's improved so much. That's something he's going to carry over here."
Gallo, the winner of MiLB's 2013 Joe Bauman Award, bashed an eye-popping 38 homers in Class A Hickory last season and 40 total over the course of his season. The 2012 first-round pick also struck out at prodigious rates, whiffing 172 times last season.
"I'm not really worried about how many times Joey strikes out," Mikulik explained. "Even though people might think I'm crazy, that's the least thought in my mind because power hitters are going to strike out. With games played and amount of time in the game, the game will start slowing down, and he'll become a better hitter.
"There's a gap there right now that he's working on. We're not going to stress over it. It's just a process that, with the hitting department, they're working on it. I'm totally confident and positive that young man is going to hit in the big leagues for a long time."
Gonzalez will be returning to the Beach to head the pitching staff after making five starts for the Pelicans a year ago. The Oral Roberts product heads into this season as the top pitching prospect in the Rangers system.
Manaea to make debut
After taking Sean Manaea out of Indiana State with the 34th overall pick in last year's Draft, the Royals will finally get a chance to see the left-hander on a professional mound. The No. 5 Royals prospect headlines a talented Wilmington Blue Rocks pitching staff that includes Miguel Almonte (No. 6) and Christian Binford (No. 12)
Manaea was sidelined during his junior season with the Sycamores and then a torn hip labrum kept him from making his pro debut, but he's healthy and ready for 2014. This spring, the southpaw worked in the low-90s with his fastball and showed off the potential that had him projected as the possible top overall Draft pick before his injury.
Almonte made 25 starts for the Class A Lexington Legends a year ago, posting a 3.10 ERA, 1.16 WHIP and a .237 batting average against. The right-hander won't mark his 21st birthday until a day after the season starts, and he figures to work well in the pitcher-friendly confines of Frawley Stadium.
Binford, a 30th-round pick of the Royals in 2011, has been something of a revelation for Kansas City. A rotation mate of Almonte's a year ago in Lexington, Binford went 8-7 with a 2.67 ERA and 1.14 WHIP in 23 outings.
Quick hits
Heavy the head that wears the crown: The Salem Red Sox welcome a host of returnees from last season's Mills Cup-winning team as well as a familiar face at the controls. Starting pitchers Brian Johnson and William Cuevas will anchor the rotation in the Roanoke Valley while throwing to a trio of catchers, Carson Blair, Leonel Escobar and Jayson Hernandez, who have all seen time with Salem. Those six, among others, provide a veteran core for the team's former hitting coach Carlos Febles, who is on board in a managerial role for the first time in his career.
Putting on the Sox: The Winston-Salem Dash and their parent club, the Chicago White Sox, are set to take their relationship to the next level. Last week, the Dash announced that an investment group that includes the White Sox has been proposed to become majority owner, taking over from the current Dash ownership group of local investors. The deal, not yet official, is tied to the team's ability to lock up a long-term lease on BB&T Ballpark.
Tuning in and out: When Frederick Keys fans tune in to catch the Orioles of tomorrow on radio this season, they'll hear a new voice for the first time in a long while. Broadcaster Adam Pohl, the longest-tenured radio man in the Carolina League, moved up from Frederick to Double-A Bowie, ending a chapter with the Keys that dated back to 2007. Prior to his time in Frederick, Pohl was the voice of the Salem Red Sox from 2005-'06.
Last things last
Here's a look at some significant lasts around the Carolina League.
Last season's championship: Salem over Potomac in three games MiLB.com coverage »
Last back-to-back champion: Myrtle Beach Pelicans, 1999-2000 (shared 1999 title with Wilmington due to hurricane)
Last no-hitter: Aaron Northcraft, Lynchburg vs. Salem, June 23, 2012 MiLB.com coverage »
Last perfect game: Keith Ramsey, Kinston vs. Myrtle Beach, September 6, 2004
Last 30-homer season: Ian Gac, Winston-Salem, 2011
Last 20-game winner: Robbie Snow, Winston-Salem, 1966
Last three-homer game: Jason Martinson, Potomac vs. Frederick, June 13, 2013 MiLB.com coverage »
Last Carolina League All-Star Game win vs. California League: June 18, 2013 MiLB.com coverage »
Tyler Maun is a contributor to MiLB.com. Follow him on Twitter @TylerMaun. This story was not subject to the approval of the National Association of Professional Baseball Leagues or its clubs.
View More