Cards' Grichuk, Taveras put on laser show
St. Louis prospects combine for three home runs in loss to Omaha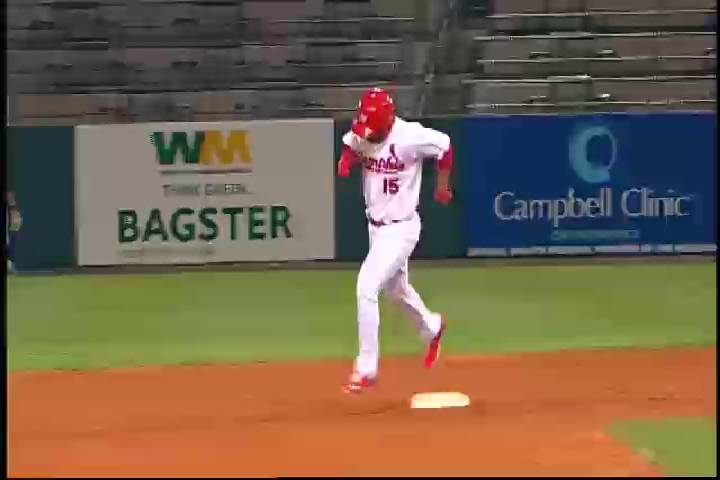 By Ashley Marshall / MiLB.com | May 16, 2014 1:11 AM ET
Randal Grichuk was given a simple message when he was sent back to the Minors after just nine games and 21 at-bats with St. Louis: Get more at-bats, improve and come back better.
With a few subtle changes to his mechanics since his return to the Pacific Coast League, it may only be a matter of time before the outfielder forces the Cardinals front office to call him back up.
Grichuk went 2-for-3 with two homers, two walks, three RBIs and three runs scored and top Cardinals prospect Oscar Taveras hit a two-run shot, his sixth long ball of the year, in the Memphis Redbirds' 10-6 loss to the Omaha Storm Chasers on Thursday.
"They just told me they want me playing every day and that the opportunity was not available at the moment [in St. Louis], so to come back down to Memphis and get those at-bats for my development," Grichuk said.
"I did pretty well. I got a few pitches to hit and I drove them to right-center field. I got a couple walks and laid off some pitches. I got into trouble one at-bat when I chased a little bit, but I had a good night."
The Cardinals' No. 11 prospect hit a solo homer with one out off Omaha starter John Lamb in the first inning and he added a two-run shot off Michael Mariot with one out in the seventh.
It was his first multi-homer game of the season and the seventh of his professional career.
"I faced [Lamb] before so I knew what he had and I was sitting fastball," Grichuk said of his first homer. "He left one out middle-away and I put a good swing on it and drove it into the bullpen. I knew I hit it pretty well, but it's quite difficult to get a ball out oppo in our park.
"I knew [Mariot] was 93-95 and that he likes his heater. He threw me a fastball up and away for ball one. Came back to it and put it over the plate and I drove it into the bullpen again."
Grichuk, who batted .143 with a triple, a double, two runs scored and an RBI in nine Major League games, is batting .500 (12-for-24) with four homers, seven RBIs and 10 runs scored in his six games back in Memphis.
"I think I'm just trying to have good at-bats and attack the strike zone and not swing at pitches outside the strike zone," said the 24th overall selection (by the Angels) in the 2009 Draft. "Ever since being sent back down, I just went back to playing my game and not trying to do too much.
"When I got sent back down, I really sat back and thought about why I struggled and why I was crushing the ball up here."
One of the first changes since his demotion has been in his batting stance. He has spread his feet about six inches apart, keeping his back foot in the same spot but moving his left foot closer to the pitcher. That has helped him stay back on the ball while preventing him from lunging forward.
Grichuk, who won the Rawlings Minor League Gold Glove Award at right field last season, said it helps the ball get deep in the zone and allows him to use his hips more. There's also less head movement which creates a quieter swing and lets him stay in and hit from his base.
Of course, it also helps when baseball's No. 2 prospect is hitting behind you in the lineup.
Taveras smacked a two-run homer off Lamb in the fifth, raising his season tally to six. The center fielder blasted five homers and batted .306 in 46 PCL games last year, a season disrupted by an ankle injury that eventually required surgery in August.
"Everybody knows he is a great ball player," Grichuk said of the 21-year-old. "At the plate, he is ridiculous to watch night in and night out. He squares balls up and hits them out. If I get on base with a walk or a single, I know I have to be ready for that ball in the gap because I can score on a double."
The Redbirds trailed going into the bottom of the fourth, 5-1, but they scored once in the bottom of the frame and then twice in the fifth to cut the deficit to one.
Memphis reliever Dean Kiekhefer struck out one batter in a perfect seventh inning in his Triple-A debut and he was in line to pick up the win after Grichuk gave the hosts the lead in the seventh. But Omaha rallied to score five runs in the eighth.
"It's good for him to come out here and have some success," Grichuk said of Kiekhefer. "It's nice for him, for his confidence. He pounded the strike zone and did well."
Memphis' Eric Fornataro (1-1) allowed five runs -- two earned -- on two hits and three walks over two-thirds of an inning for his first blown save of the year.
Omaha's Mariot (1-0) earned the win in relief, allowing two runs over one inning. He gave up two hits and struck out two batters.
Ashley Marshall is a contributor to MiLB.com. Follow him on Twitter @AshMarshallMLB. This story was not subject to the approval of the National Association of Professional Baseball Leagues or its clubs.
View More