Carolina notes: Bridwell changes his luck
Frederick right-hander, 22, corrects changeup grip, wins four of five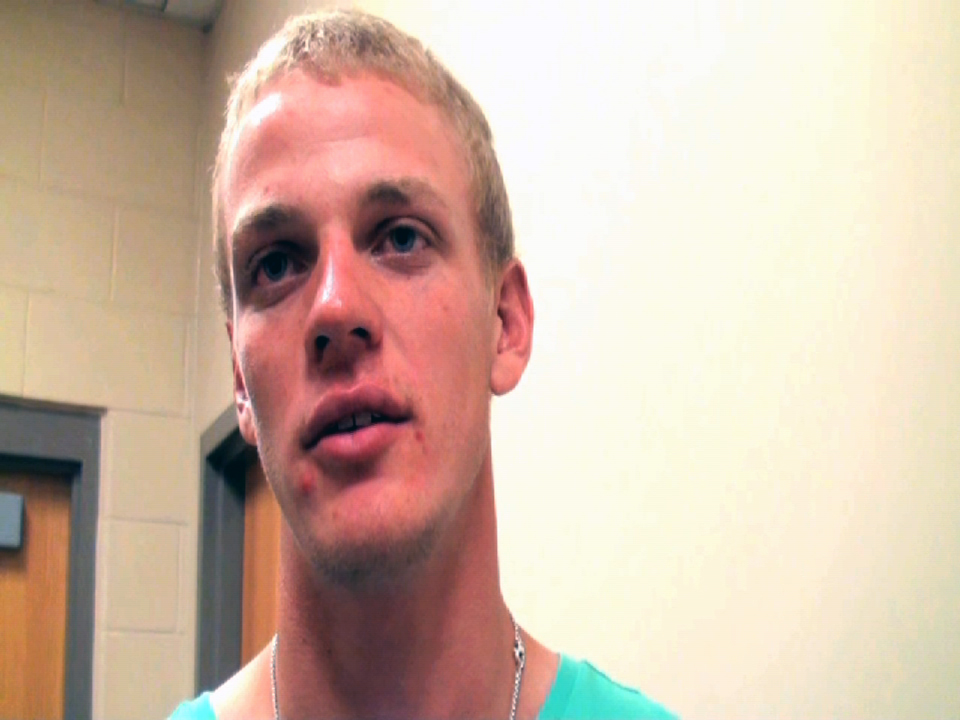 By Jeff Seidel / Special to MiLB.com | June 25, 2014 10:00 AM ET
Frederick right-hander Parker Bridwell simply couldn't control his changeup early this season. Previously one of his best weapons, the pitch just wasn't working as the Orioles' No. 15 prospect suffered through a 0-5 start.
"At the beginning of the year, it just wasn't there," Bridwell said. "It was the same grip as last year, but it just wasn't there."
Bridwell then found the solution in an unusual way: playing catch in the outfield. He changed his grip on the ball and began to find changeup command again. The result? He's since won four of five decisions.
"After [the grip change] it's been good ever since," he said.
The changeup problems both mystified and frustrated Bridwell, a 2010 ninth-rounder out of Hereford High School in Texas. He simply couldn't make the pitch work correctly until placing his fingers on the seams in a different manner, which seemed to make the ball move the way Bridwell wanted.
The grip adjustment took place around the end of the five-game losing streak. A few games later, everything fell into place as Bridwell threw 8 1/3 no-hit innings against Potomac. He struck out eight and walked two, shutting down the Nationals in a 7-0 victory.
That near no-hitter was Bridwell's first win of the season and since the five losses, he's 4-1 with a 2.02 ERA in eight starts.
"I think I go out there with more confidence now," he said. "I know I can get people out. It's day and night. It's a whole different feeling."
"The last five or six starts, he's really got a better feel for [the changeup]," Frederick pitching coach Kennie Steenstra said. "He's been able to use it against left-handed and right-handed hitters. It's all starting to come together for him."
Bridwell has been working his way through the Orioles' Minor League system since signing with the team in 2010. He spent just over two seasons with Class A Delmarva before moving up to Class A Advanced Frederick this season and chalked up the changeup issue as another learning experience.
The 6-foot-4, 190-pound Texas native is now 4-6 with an ERA of 4.07 in 15 starts while holding opposing hitters to a .233 average. The 22-year-old battled through some difficult times while trying to figure out his early-season issues but said he just kept trying to look forward.
"It was definitely tough, but I've been through it before," Bridwell said. "I don't really let bad outings get me down or hold me down. I just want to throw strikes and let the defense play behind me."
In brief
Timing is everything: Lynchburg's Joe Odom notched a career-best four RBIs in Monday's 6-5 victory over Winston-Salem. He homered twice, but the big RBI came on a game-winning sacrifice fly in the 10th.
Still a star: Four days after starting the California/Carolina League All-Star Game, Carolina's Ryan Merritt went back to work. Merritt gave up just one run on three hits over eight innings in a 6-1 win against Myrtle Beach on Saturday. He improved to 7-2 on the season with a 1.61 ERA.
Offense, offense: The Salem Red Sox got plenty of production from their offense in last Saturday's 13-4 win over Winston-Salem. Salem finished with 13 hits and went 7-for-15 with runners in scoring position. The Red Sox had a six-run and five-run inning with eight starters getting at least one hit.
Jeff Seidel is contributor to MiLB.com. This story was not subject to the approval of the National Association of Professional Baseball Leagues or its clubs.
View More