Carolina notes: Burns switches it up
Speedy P-Nats outfielder adding new dimension to his game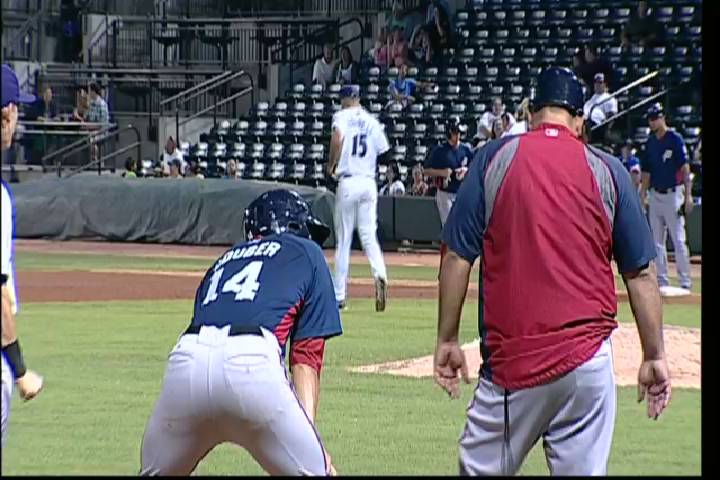 By Jeff Seidel / Special to MiLB.com | July 31, 2013 6:00 AM ET
Players often must make adjustments during their Minor League careers, but Potomac outfielder Billy Burns wound up making a more dramatic change than most.
The speedy Burns transformed from being a right-handed batter to a switch-hitter early in his career. He's worked hard at hitting left-handed and fared well, especially this season, and is currently riding a Carolina League-best 23-game hitting streak.
Burns has developed into a sparkplug at the top of the P-Nats' lineup, pacing the Carolina League in on-base percentage (.416), steals (49) and triples (9). His .305 average ranks third in the circuit, and Burns is near the top in other categories while still learning to hit left-handed.
"For just switch-hitting two years, he's come a long way left-handed," Nationals manager Brian Daubach said. "Any time he puts the ball on the ground, he has a chance to get a base hit. He's starting to turn on balls as well. I know a couple of those hits in his hit streak have been doubles or triples to right-center field left-handed, which he wasn't able to do last year."
Burns is a natural right-handed hitter, but changing to a switch-hitter was understandable since he can make contact and boasts plenty of speed. That's why he's a natural leadoff hitter, but Burns said he needed to stay patient and work at learning the skills of hitting from the other side of the plate.
"It was really difficult," Burns said. "It was really uncomfortable at first, but … Mark Harris, my hitting coach for the last two years, [has] really helped me mold and craft my left-handed hitting."
The Washington Nationals picked the 5-foot-9, 180-pound outfielder in the 32nd round of the 2011 Draft after a solid college career at Mercer University. The transition to switch-hitting began shortly thereafter.
Burns hit .262 with 13 steals in 32 games with Auburn in 2011 and .322 with 38 steals in 113 games with Hagerstown last season, his average against right-handed pitching being a major factor for his steady improvement. He hit .238 against righties in 2011, an average that jumped to .320 last year and sits at .307 this season.
Transitioning to switch-hitting and using the high number of left-handed at-bats he gets has clearly made Burns a more dangerous, and confident, player.
"It was a rough transition [at first]," Burns said. "But in the long run, it could be one of the best things I've ever done if I become successful at it. I've gained a lot of confidence since I got drafted."
In brief
Winning time: Lynchburg right-hander Greg Ross threw seven shutout innings in Monday's win over Frederick. Ross has been rolling lately, winning five of his last six decisions to move to 7-4 on this season.
Long night: The Frederick Keys needed to do some extra work Friday night. Michael Ohlman's RBI double in the top of the 16th inning gave the Keys a 3-2 victory over Winston-Salem. Ohlman has a number of key hits for Frederick this season, and this one came after going hitless in his first five at-bats on the night.
Missed chances: Winston-Salem certainly let one slip away last Thursday when Carolina pulled out a 5-4 victory after the Dash went 2-for-17 with runners in scoring position and left 13 men on base. Seven players in the Winston-Salem starting lineup got at least one hit, but it wasn't enough for a victory.
Jeff Seidel is a contributor to MiLB.com. This story was not subject to the approval of the National Association of Professional Baseball Leagues or its clubs.
View More