Carolina notes: Gallo learns from Giambi
Myrtle Beach slugger spent winter getting advice from veteran hitter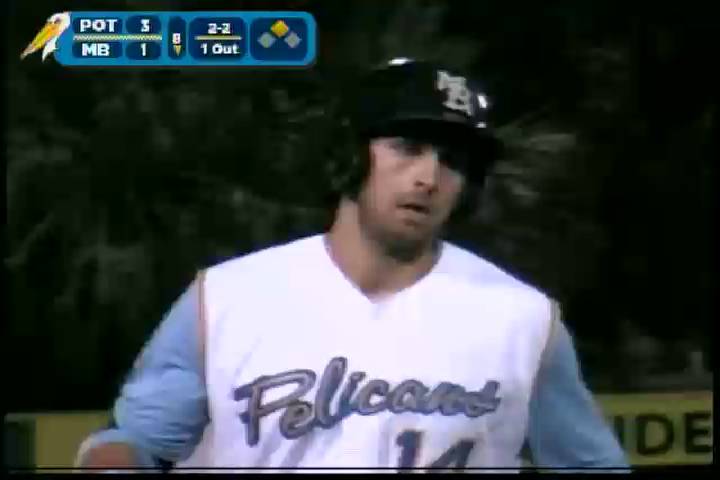 By Jeff Seidel / Special to MLB.com | May 28, 2014 10:00 AM ET
Joey Gallo had already shown he could hit for power. He made that point by banging out 62 homers during his first 170 Minor League games after the Rangers picked him in the first round of the 2012 Draft.
Gallo's now showing he can hit for average, too. After batting .251 last year (mostly with Class A Hickory in the South Atlantic League), the Myrtle Beach third baseman worked on his mechanics at the plate throughout the off-season and boasts a .323 average through Tuesday's action.
The power numbers have remained impressive this season as he leads the Carolina League with 18 homers and 40 RBIs in 49 games. But the changes Gallo made during the winter now are paying off in other ways as he's first the league in both walks (44) and on-base percentage (.463).
Those are big improvements from last year when Gallo struck out 172 times and drew only 50 walks. He finished with a .338 OBP before spending plenty of time last winter working with Jason Giambi, who taught the 20-year-old a lot about hitting, starting with the importance of finding a comfortable stance and sticking with it.
"I went through a lot of stances and approaches last year," Gallo said. "I worked out a little bit of a different approach out there. I'm just going up there now with more of a plan."
Gallo also is working on keeping his hands back and slowing down at the plate. He's focusing more on consistently putting the ball in play, taking pitches and drawing those walks. He gives Giambi a lot of credit for helping him change his ways.
"You're getting advice from a top-notch Major League Baseball player," Gallo said. "Jason, he definitely knows what he's doing and what he's talking about. It's all pretty simple."
Myrtle Beach hitting coach Josue Perez didn't really work with Gallo last year but certainly likes what he sees this season. Perez agreed that they're not going through a complex process. In fact, keeping it simple helps a player learn when making changes.
"We're not trying to reinvent the wheel here," Perez said. "He's being more disciplined. He's staying ready for every pitch. He's staying with his approach, and he's staying with the plan."
Gallo said he doesn't really talk to Giambi too much during the season, but the 6-foot-5 Las Vegas native remembers the lessons he learned and will stick with them all year.
"I started off great," Gallo said. "Hopefully, that lasts the whole season."
In brief
Lucky seven? Salem needed to overcome a few fielding difficulties in Monday's 13-4 victory over Potomac. The Red Sox made seven errors, five of which came in the first inning as the Nationals scored all of their runs.
Walk-off … again: Lynchburg posted its fourth walk-off win of the season Monday with three runs in the ninth inning for a 7-6 victory over Winston-Salem. Jose Peraza came up with the bases loaded and singled to left, socring all three runners as outfielder Courtney Hawkins made an error while fielding the ball.
Near cycle: Wilmington's Cody Stubbs just missed the cycle in Saturday's 8-4 victory over Frederick, going 3-for-4 with five RBIs. Stubbs clubbed a two-run triple and a three-run homer before notching a single in the fifth and striking out in the seventh.
Jeff Seidel is a contributor to MiLB.com. This story was not subject to the approval of the National Association of Professional Baseball Leagues or its clubs.
View More