Carolina notes: Williams survives early woes
Highly touted Myrtle Beach outfielder busting out after sluggish April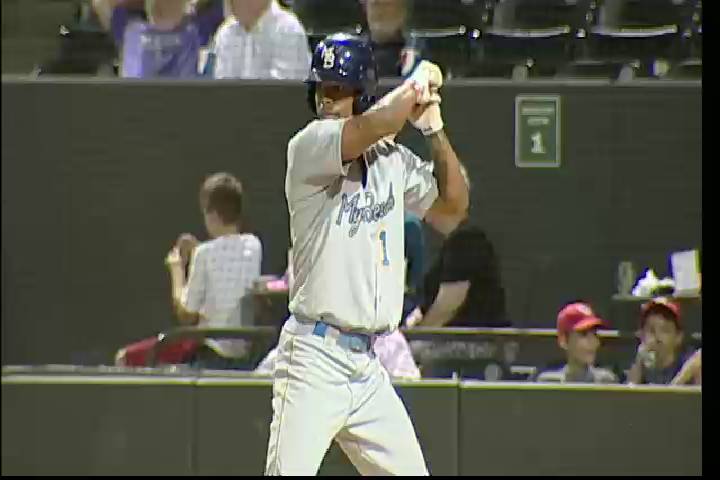 By Jeff Seidel / Special to MiLB.com | August 6, 2014 10:00 AM ET
Myrtle Beach outfielder Nick Williams has grown into one of the Carolina League's top threats. He's tied for third with a .298 batting average and ranks among the leaders in several other offensive categories as well.
But success didn't come easily at first.
When the season began, Williams found himself mired in a month-long slump, something he'd never experienced before. Sporting a .229 average at the end of April, the 20-year-old Texan needed to step back and figure out how to adjust, picking up lessons along the way that could pay off throughout his career.
"It was a good learning experience," Williams said. "I know I never want to feel like that and get in that position again."
When he realized it was time to take action, Willilams talked a lot to his father, Billy, who often coached him. His father told him to relax, keep battling and everything would break at some point. The Rangers' second-round pick in the 2012 Draft started by taking what he called "baby steps" to slow himself down at the plate.
Willilams, ranked as the Rangers' No. 4 prospect, stopped offering at the first pitch and sometimes wouldn't even think of swinging until the pitcher threw a strike, which he believes helped him relax more in the batter's box. Williams said he also needed to stop trying to pull the ball and crush it all the time.
"I was just being overly aggressive," he said. "I was trying to do too much. I wasn't taking what they were giving me. Then, I started to square the ball up and drive it to all parts of the field."
Everything changed pretty quickly as Williams hit .356 in May and .348 in June, earning a trip to the California/Carolina League All-Star Game and hitting more like he did his first two Minor League seasons (.313 in 2012 after signing with the Rangers and .293 at Hickory last year).
Myrtle Beach hitting coach Josue Perez was impressed with the way Williams worked out of the slump and how he's continued hitting well.
"Patience has been one of the keys for him," Perez said. "He was getting himself out [at times]. He started to see better pitches to hit. Now, he's taking what the pitchers give him."
Williams faced one more hurdle, though, after pulling his right hamstring in early May while trying to score from first on a hit. He missed two weeks, but that didn't affect his offense at all. In fact, he belted a three-run homer his first game back. Though Williams finds himslef in another skid of late, he's steadily working his way out of this one as well and his confidence remains high. After all, he's been through it before.
"I was just trying to do too much in [April]," Williams said. "I was just trying too hard."
In brief
Offensive efficiency: Wilmington blanked Frederick, 6-0, on Saturday and needed just four hits to score those runs. Jack Lopez's two-run single sparked a four-run seventh, an inning in which the Blue Rocks stole four bases.
Wasted chances: Lynchburg missed too many opportunities in Friday's 3-2 loss to Winston-Salem. The Hillcats collected 12 hits but left 10 on base and stranded runners in six of their nine innings.
Breaking out: Salem outfielder Kevin Heller snapped out of a slump with a 3-for-5 effort last Thursday, capping it off with an RBI single in the 10th that gave the Red Sox a 4-3 victory over Carolina. Heller had gone just 2-for-15 over the four previous games.
Jeff Seidel is a contributor to MiLB.com. This story was not subject to the approval of the National Association of Professional Baseball Leagues or its clubs.
View More