Charles' night a work of art for Fightins
Phils prospect collects two triples, two doubles, career-high five RBIs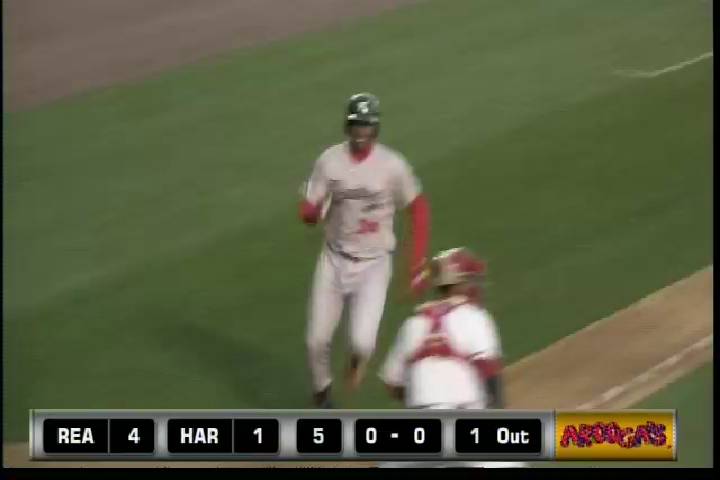 By Kelsie Heneghan / MiLB.com | April 25, 2015 12:11 AM ET
While opposing pitchers like to paint the corners, one Phillies prospect found a way to craft a masterpiece at the plate.
Art Charles went 4-for-4 and drove in five runs on Friday night, establishing career highs for hits and RBIs and leading Double-A Reading to a 7-4 victory over Harrisburg at Metro Bank Park.
"I saw the ball well. Obviously, my teammates got on base, so I was able to drive them in. I was feeling comfortable in the box," he said. "We scored early. Got good wood on the ball, I helped [starter] Jesse [Biddle]. Jesse's out there pitching well, so it was nice to give him a lead."
Charles kicked things off with an RBI triple in the top of the first, staking the Phillies' ninth-ranked prospect to a lead he did not relinquish.
The 24-year-old first baseman kept it going with a two-run double in the third, matching his RBI total from the first eight games of the season.
"I wasn't really thinking too much about that at the moment. I was just trying to get the job done. I was battling with two strikes," he said. "I got a good pitch that I could drive."
With his third multi-hit game of the season already under his belt, Charles tripled again in the fifth and scored when the ball was misplayed by center fielder Brian Goodwin.
"I hit it good. I actually thought it was going to be a home run, but the wind was blowing and it hit the wall," Charles said. "I saw it kick off the wall, so I knew I was going to third. [Manager Dusty Wathan] waved me around and I thought, 'I guess I will get that home run after all.'
"I'm not a big triples guy, but it felt great to be able to get two triples and get into scoring positions."
The California native has 50 triples across seven Minor League seasons, including four a year ago for Class A Advanced Clearwater. He surpassed his previous high of four RBI, accomplished twice in 2012, once with Rookie-level Bluefield and again with Class A Short Season Vancouver.
Charles did not drive in another run, but he laced a double in the seventh for his first career four-hit night. He added a walk in the ninth to cap a big night that followed a 2-for-14 stretch across four games.
"[I was] just being patient and not swinging at [certain] pitches. They were making good pitches, good pitchers' pitches, and my ability to not swing at those pitches and get myself out [is what helps]," he said. "They're going to make good pitches on you. The more you help [the pitcher] out, the better chance to get out, so just be patient and see the ball well in the hitter's zone."
Behind Charles, Biddle improved to 2-0. He allowed three runs on four hits and three walks while striking out four over 5 1/3 innings.
"My hat's off to Jesse Biddle," Charles said. "[He] went out there and did well. He did a great job to put us in an opportunity to play great defense and to get out there and score runs."
Nationals No. 10 prospect Austin Voth (2-1) surrendered seven runs on nine hits and two walks while fanning three in 4 2/3 innings for Harrisburg.
Kelsie Heneghan is a contributor to MiLB.com. Follow her on Twitter @Kelsie_Heneghan. This story was not subject to the approval of the National Association of Professional Baseball Leagues or its clubs.
View More