Chasers' Hendriks fans 12 in Royals' debut
Newly acquired right-hander establishes career high in first PCL start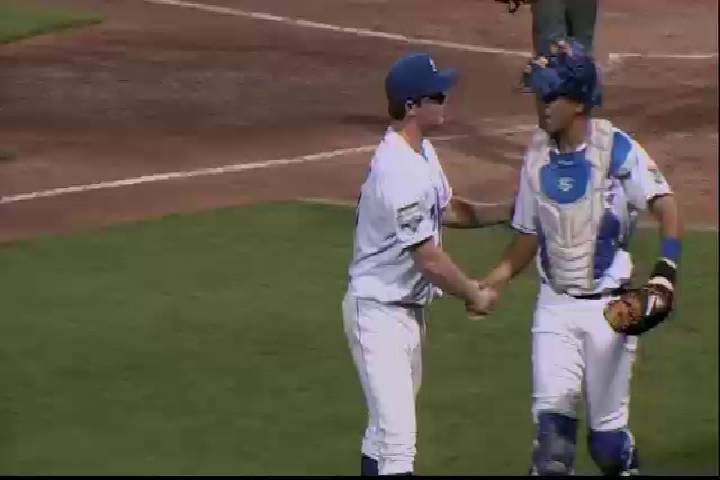 By Josh Jackson / MiLB.com | August 2, 2014 1:17 AM ET
Scoping out his new surroundings this week, Liam Hendriks had that "We're not in Kansas anymore" feeling. In a couple ways, however, he was much closer to Kansas than he'd ever been before.
The 25-year-old right-hander was traded from the Blue Jays to the Royals with catcher Erik Kratz for infielder. Danny Valencia on Monday. On Friday night, he made himself right at home in the Pacific Coast League.
"It's a much different experience to come from Buffalo, which has the ballpark downtown in kind of an inner city," Hendriks said. "Coming out here, looking around with my wife, it's a little more barren. But I'm excited to be here. It's a great atmosphere at the ballpark and the fans are great."
Hendriks recorded a career-high 12 strikeouts over seven innings, yielding two runs on seven hits without a walk in Triple-A Omaha's 4-3 victory over visiting Memphis.
"It was a pretty good one," the native of Perth, Australia said. "They made great plays behind me and I was able to attack and get ahead of guys.
"Getting that first win out of the way is a big deal, so I'm happy I was able to come out and do it the first time. On my first time pitching in the organization, to come out and do this is a boost. Hopefully, I'm not here that long and I can go up and help the Royals in this playoff push, but we'll see."
Hendriks, who led the International League with a 2.33 ERA and boasted an 8-1 record with the Bisons, struck out the first two batters he faced before surrendering a double to Scott Moore. Moore took third on a throwing error by left fielder Carlos Peguero, but Hendriks fanned No. 2 Cardinals prospect Stephen Piscotty to end the inning.
"Anytime a guy gets on in the first inning, you're trying to set a tone," Hendriks said. "It's good to get ahead and the strikeouts just kind of happen. It's not my game plan to go out and strike everybody out. I'm a pitch-to-contact guy, go for ground balls. But I threw well and located the fastball and the off-speed stuff, and the first time throwing with a new catcher, with [Francisco] Pena, was great."
The Redbirds did their scoring against Hendriks in the second. Xavier Scruggs led off with a single and Greg Garcia followed with a double. Hendriks retired Audry Perez on a run-scoring groundout and Garcia came home on Jermaine Curtis' single.
"I tried to overthrow some stuff. There were some pitches there I'd like to have back, and they also hit some good pitches, which is [because of] bad pitch sequences," Hendriks said. "These guys really took advantage, but luckily, I was able to go out there and work through those next few innings."
Hendriks cruised after that, holding Memphis to three singles over the next five innings.
"Really, I just started throwing breaking balls on the first pitch to get them off the fastball," he said. "I did tonight what I usually do, but a new pitcher comes in and is throwing breaking balls for the first pitch, that puts it in their head that they might see it at any time again."
Hendriks handed the ball to Louis Coleman, who allowed a ninth-inning solo homer to Piscotty and walked two over two innings before notching his fourth save.
Pedro Ciriaco went 4-for-5 for the Storm Chasers, missing the cycle by a homer. He scored twice and drove in a run.
Randal Grichuk, the Cardinals' ninth-ranked prospect, registered two outfield assists for Memphis.
Josh Jackson is a contributor to MiLB.com. This story was not subject to the approval of the National Association of Professional Baseball Leagues or its clubs.
View More