Chief in command: Cole blanks Bisons
Nationals' No. 2 prospect tosses seven shutout innings for third win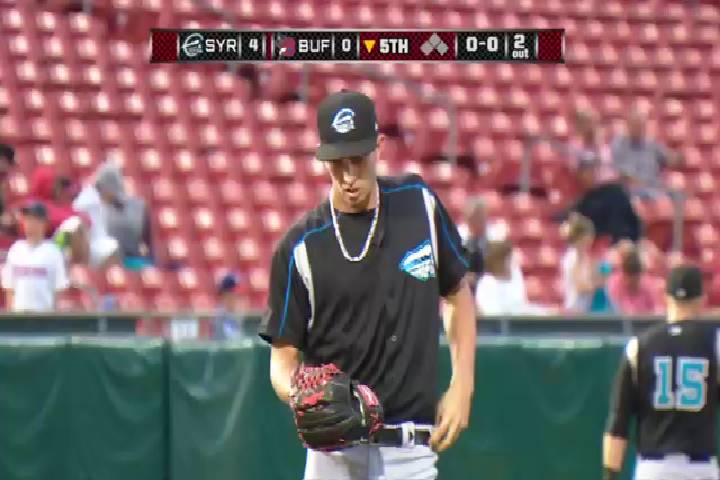 By Jake Seiner / MiLB.com | July 24, 2014 12:25 AM ET
A.J. Cole can see how much better Triple-A hitters are than those in Double-A. That hasn't bumped the confident right-hander off his game, though.
"I notice the difference, and it is a big difference," the Nationals' No. 2 prospect said. "But I believe in my stuff. It's good enough to get people out, and I just have to trust that."
Cole's stuff was plenty good Wednesday night. He allowed three hits and struck out six over seven innings, picking up his third win in five International League starts as Syracuse blanked Buffalo, 5-0.
The 22-year-old threw 67 of 94 pitches for strikes while shaving his ERA to 2.64 with the Chiefs. He posted a 2.92 ERA in 14 starts with Double-A Harrisburg prior to a late-June promotion.
The outing was the third straight in which Cole (3-0) did not issue a walk. He's given out only three free passes over 30 2/3 innings with the Chiefs and 18 over 101 2/3 frames all season. This after Cole averaged 2.08 walks per nine innings last year.
"It's always been something I've been good with and concentrated on," Cole said. "It's how I go about it. My approach is I'm not going to try to do too much. I'm going to go and attack hitters, make them make a mistake first. Get ahead and then be able to pick and make my out pitches and try to get them to chase that way.
"Walks give them a free base. They don't even have to earn it and it gives them a chance to score. As long as they get a hit, they've earned their way on base. That's something I take pride in. If you're going to get on base, you have to earn your way."
Bisons leadoff man Darin Mastroianni gave Cole his toughest at-bat of the night in the bottom of the first. Mastroianni forced the right-hander to throw 10 pitches, but Cole eventually struck him out.
"I was basically just getting into things, getting comfortable with the zone and the mound and the atmosphere in the stadium," Cole said. "I was making decent pitches in the first at-bat and he was just barely missing them. I had to find something else that would throw him off. I went with a changeup [for the strikeout] and knew it would be a good pitch the rest of the night for me."
Cole was able to work all five of his pitches -- a four-seam fastball, two-seam fastball, change, curve and slider -- in the zone. He said his four-seamer was moving more like a cutter on Wednesday, which happens often. The natural movement lets him essentially work with six pitches.
"I don't try to make it cut, it cuts on its own," Cole explained. "My four-seamer doesn't really go straight. I can make the two-seam go straight. I'm kind of weird like that."
After fanning Mastroianni, Cole worked quickly, needing only 17 more pitches to get through the first two innings. He faced four or fewer hitters in every inning, including 1-2-3 efforts in the second, fourth, fifth and seventh.
Matt Grace relieved Cole in the eighth and struck out two while working around a hit and a walk. He finished off Syracuse's league-leading 14th shutout.
Leadoff man Emmanuel Burriss hit his third homer in 82 games this season and drove in three runs for the first-place Chiefs.
Jake Seiner is a contributor to MiLB.com. Follow him on Twitter at @Jake_Seiner. This story was not subject to the approval of the National Association of Professional Baseball Leagues or its clubs.
View More