Collier breaks his bat, keeps homering
Philly farmhand homers for fourth straight game in Reading victory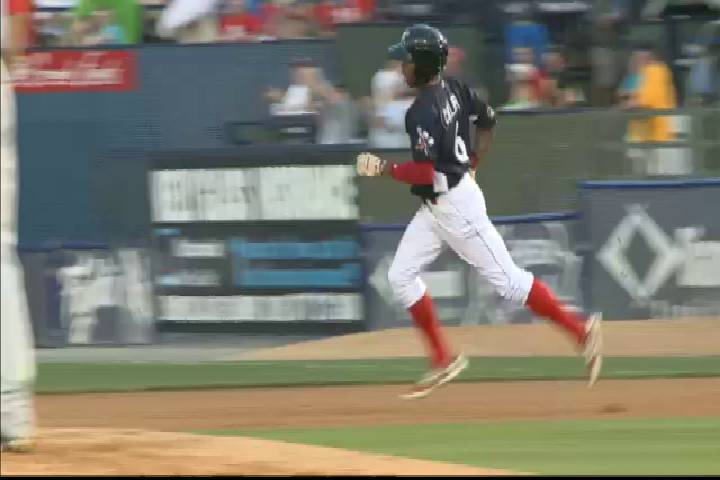 By Robert Emrich / MiLB.com | August 6, 2014 1:01 AM ET
It might be in Zach Collier's best interest to keep teammate Jake Fox rolling in bats.
The Phillies farmhand homered in his fourth straight game as Double-A Reading beat Harrisburg, 3-2, on Tuesday.
Collier walked and scored the first run of the game for the Fightin Phils in the second inning. Three innings later, the 23-year-old outfielder slugged a two-run homer to give the club its first lead of the game.
"It just felt good off the bat," he said. "I wanted to stay aggressive, execute in the situation. With a runner on first, I was trying to get him over."
Collier has hit five of his seven homers this season over the past four games. The California native credits extra work and some new bats for his streak.
"Just continuing to work hard trying to execute the things that I've been working on in batting practice," he said. "I'm getting a feel for my hands and trying to repeat that over and over again.
"I got a new bat. I'm using Jake Fox's bat, it's got a lot of heft. I broke the first one he gave me, so he's running low, and I broke the second one tonight, so he's giving me a hard time. He's got one more left."
The 2008 first-round pick is one short of his career high of eight homers, set a season ago in the Eastern League. Collier is batting .239 and has a .732 OPS in 66 games for the Fightin Phils despite missing three weeks with a pulled oblique muscle.
"It started off pretty rough, but it's humbling for me," Collier said. "Similar thing happened last year, but this year I've grown up a lot and I'm not giving up on myself."
Hoby Milner improved to 7-5 after allowing two runs -- one earned -- on six hits over six innings for Reading. Colton Murray earned his third save with a 1-2-3 ninth.
James Simmons (2-2) gave up up three runs on seven hits over 5 2/3 innings for the Senators.
Robert Emrich is a contributor to MiLB.com. Follow him on Twitter @RobertEmrich. This story was not subject to the approval of the National Association of Professional Baseball Leagues or its clubs.
View More