Isotopes' McMahon powers Players of the Week
Rockies No. 5 prospect batted .593 with five homers in six games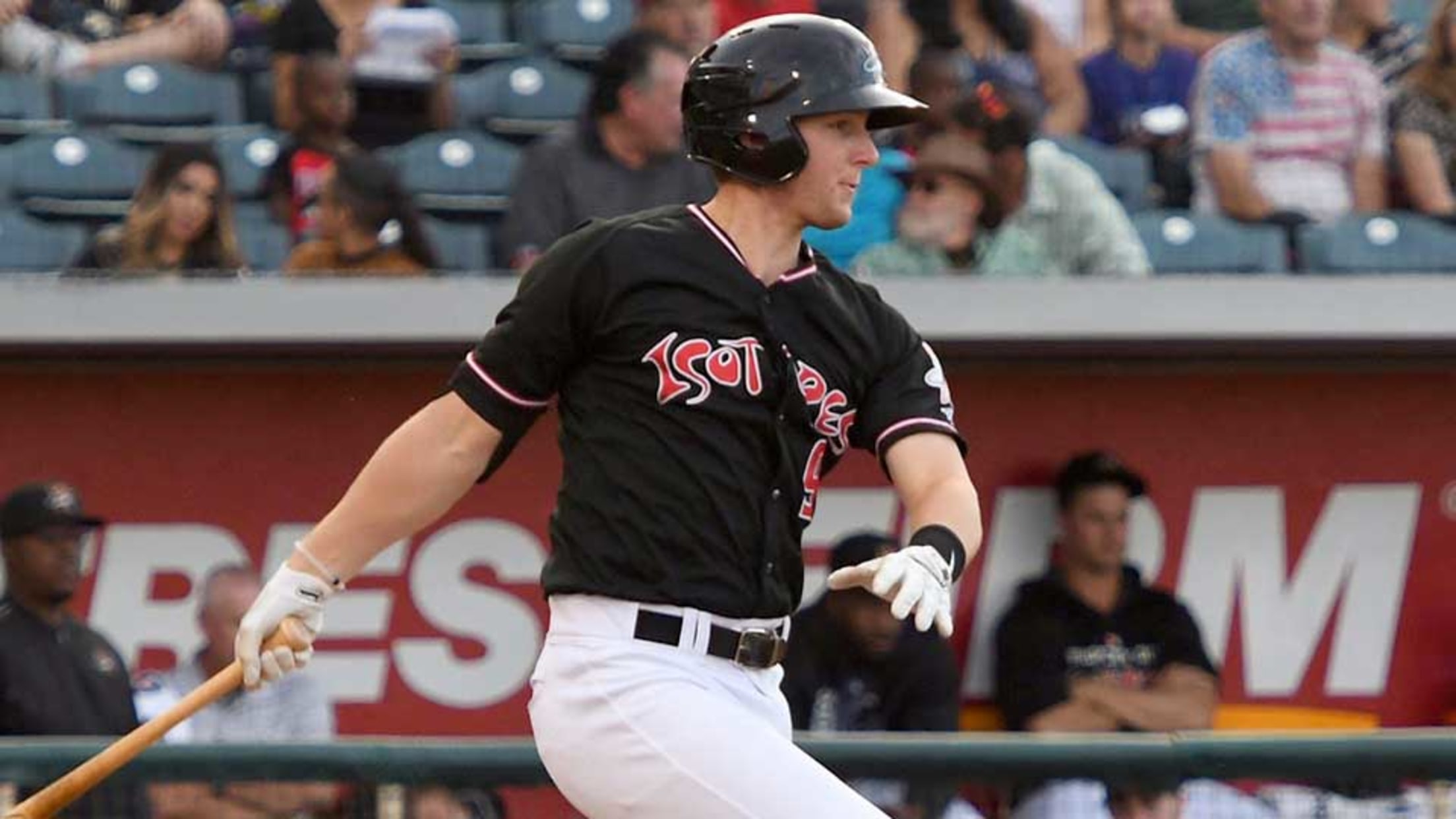 Ryan McMahon ranks second among Triple-A hitters with a 1.023 OPS in June. (Albuquerque Isotopes)
After a rough 2016 season in which he hit .242 with 161 strikeouts in 133 games at Double-A Hartford, Ryan McMahon entered Spring Training trying to find an offensive fix that he could carry into his return to the Eastern League.It was no quick task.
After a rough 2016 season in which he hit .242 with 161 strikeouts in 133 games at Double-A Hartford, Ryan McMahon entered Spring Training trying to find an offensive fix that he could carry into his return to the Eastern League.
It was no quick task.
"Honestly, it wasn't until the last week of the spring when things clicked," he said. "[Hartford hitting coach] Tim Doherty and I kept going out to the cage to work. I think in the last week I played only one or two Spring Training games. The rest of the time, I'd leave early to work with Tim, just going over and over and over working on something that would feel right.
"I wanted to flatten out my bat path because it would get a little loopy or a little steep before. It was all about finding a happy medium."
Those improvements helped McMahon force a move to Triple-A Albuquerque by June 1, and almost three weeks later, they've earned him hardware at the Minors' highest level.
The Rockies' No. 5 prospect has been named the Pacific Coast League Player of the Week after going 16-for-27 (.593) with five homers, four doubles and 14 RBIs over six games for the Isotopes from June 12-18. It's his second Player of the Week honor of the season -- he also earned the award in the Eastern League from April 17-23.
McMahon essentially locked in Player of the Week during a three-game stretch from Wednesday to Friday against Fresno in Albuquerque. He went deep five times over that stretch, twice on both Thursday and Friday. Arguably his best performance came Friday, when he went 5-for-6 with two homers, two doubles and seven RBIs in a 15-14 loss.
Since joining the Isotopes, the left-handed slugger has put together a .448/.480/.806 line with five homers, nine doubles and 19 RBIs in 16 games. He opened 2-for-15 in his first four games with Albuquerque but has hits in each of his last 12 contests -- a streak in which he's hit .538.
"It took a couple days for me to get my feet wet, I guess you could say," McMahon said. "I was a little anxious, just trying to impress everybody and prove I should be here. But once I stuck to my approach that got me here in the first place, it's been good ever since."
• View the Pitcher of the Week winners »
Those changes have been a big boost to a former top-100 overall prospect who had taken a tumble in 2016 due to his offensive performance. McMahon said his previous struggles stemmed from what he called "an immature approach." That is to say, he was trying too hard to tap into power that had produced 40-plus doubles in both 2014 at Class A Asheville and Class A Advanced Modesto. The result was a low average and a high 30.1 percent strikeout rate -- third-worst among qualified Eastern League hitters in 2016.
By smoothing out his swing and his thinking, McMahon has cut that number down to 17.5 percent between Hartford and Albuquerque. Because he's making more contact, he's been able to tap more into his power; he needs only one more homer to match his 2016 output, despite having 254 fewer plate appearances. He now plays his home games at Isotopes Park -- one of the most hitter-friendly stadiums in a hitter-friendly league -- and all five of his Triple-A home runs have come over his 12 contests at home. But the 22-year-old has to make contact in order for the park factors to play, and by cutting down on the strikeouts, he's achieving that goal.
"Obviously, you hear about what type of hitter's league this can be," McMahon said. "The fact that I've gone straight to Albuquerque, which might be the best for hitters here in my experience so far, that helps. It's lived up to the hype for sure. But I'm just trying to attack the middle of the field when I'm hitting, and I feel like that's where the ball best carries when we're at home. It's no different than my approach anywhere else."
Perhaps anticipating that McMahon would turn things around, the Rockies have tried to move him around the infield at both stops this season. The 2013 second-rounder is blocked by franchise cornerstone Nolan Arenado at his natural position of third base, and he's received eight of his 16 starts with the Isotopes at first, a position he first played professionally last season. But Colorado has also started to give him time at second -- a spot McMahon claims was his best from his days as a young teenager -- including four starts at Triple-A. It's still a work in progress, but the infielder is happy to move around if it helps his chances at reaching Colorado.
"Being part of a National League team, the best way you can help sometimes is by knowing how to play multiple positions," he said. "If that gets me more opportunities to play, I'll take it and be happy with it."
Then again, it's McMahon's bat that has him just a phone call from the Majors, and he hopes that his offensive tools and adjustments push his way to earning a spot with the Rockies, one of the 2017 season's most surprising teams.
"It didn't really hit me until I was really here and then I thought, 'Damn, I'm only one step away now,'" McMahon said. "I honestly haven't thought about what a good week could do for my chances. All I'm trying to do is hit where I am, and that's here right now. It's really not talked about as much as you'd think it'd be here, but everybody's generally aware that we're one step away from the Majors."
Below is the full list of Minor League Offensive Players of the Week for June 12-18:
Sam Dykstra is a reporter for MiLB.com. Follow and interact with him on Twitter, @SamDykstraMiLB.