Coming attraction: Buxton ready to sign on
20-year-old outfield prospect tantalizing fans in Twin Cities, beyond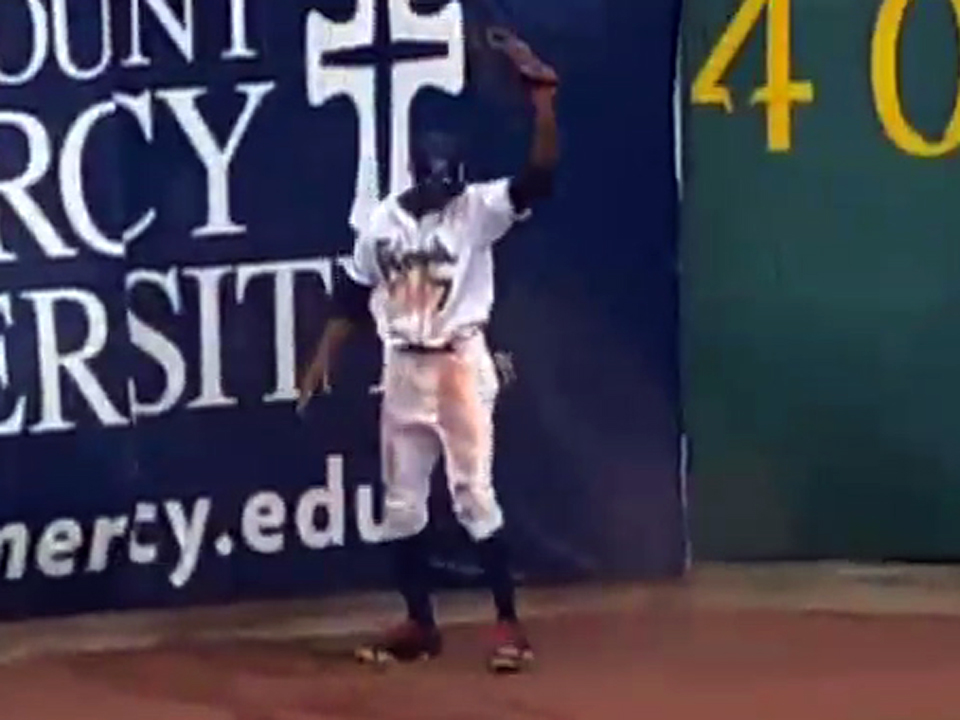 By Jake Seiner / MiLB.com | April 2, 2014 12:00 PM
FORT MYERS, Fla. -- It's just before noon and the sun is blazing down on the back fields at Lee County Sports Complex, Spring Training home of the Minnesota Twins. The team's Minor League players use four fields at the back of the complex -- three full-size diamonds and a fourth with only enough space for a dirt infield.
A few hundred feet east of those fields, Hammond Stadium is humming with the anticipation that always precedes a Grapefruit League contest. On this day, the Twins will lose to the Red Sox, 4-3.
First pitch in the Major League game is about an hour away. Many fans have already entered Hammond, but a hundred or so are bunched around the back fields, preceding their Major League viewing with a look at the Twins' future.
The epicenter of the back-field excitement is, at this moment, located in the gate next to the first-base dugout on the diamond nearest the Major League park. There, 20 or 30 kids, mostly dressed in Twins jerseys with names like Mauer and Morneau on the back, gather around the entrance, a semi-circle of parents and other onlookers clustered behind them.
On the other side of the fence, many of the Twins older Minor Leaguers, most destined for Double-A New Britain to start the season, stand around the doorway. A few are holding bags, others just bats, gloves and maybe a pair of spikes. One by one, they file by the entrance, wading largely unnoticed through the pack of children. Some of the players laugh at the phenomena happening around them. It's not the first time they've seen it and won't be the last.
At the entrance to the field stands Byron Buxton, a 20-year-old outfielder with the weight of an organization on his back. Batting helmet tucked under one arm and bat under the other, he stands amid the mass of autograph seekers. Three-plus hours worth of dirt, sweat and grass stains have soaked into his uniform. Beneath that Florida sun, he places his signature where each young fan requests it.
* * *
Twins fans, naturally, have a lot to say about Byron Buxton. Gathered around the back fields, they praise his talents, question his readiness and prod reporters and front-office personnel for more information on him.
Mostly, though, they talk about how no one has ever seen Buxton turn down an autograph request. He signed regularly in Cedar Rapids for those who made the four-hour drive from Minneapolis to see him play, or over at Hammond Stadium, while he was still participating in Major League camp. He signs now, too, for as much time as he can reasonably provide.
Buxton's high school manager, Jeremy Smith, has seen it before. Even as a high school student, Buxton often was hounded for his signature. Younger kids from opposing school districts would track him down after games, hoping to take away proof that they'd met the next big thing before he left southeastern Georgia.
The attention has obviously swelled since his high school days. Last summer, Smith took a trip to Fort Myers, where Buxton was dominating with the Twins' Class A Advanced affiliate. He watched Buxton sign for fans after the game, then went back to the teenager's place to crash for the night.
"He had a box full of letters and stuff," Smith said. "They wanted stuff signed from all over the country. I said, 'Are you gonna do all this?' He said, 'Yeah. It might take me a while, but I'm going to do it all.' He's always been that way."
"Just comes with part of playing baseball," Buxton said. "It's something you have to do for the fans, and I don't mind it. ... It's just something I kind of take responsibility for doing."
* * *
On this sunny March day, Buxton is true to his word, signing for a little more than five minutes until a coach disperses the crowd. Buxton apologizes to those with unsigned balls and cards but follows his coach's orders, sliding through the mass of kids, then the adults, before ducking behind another fence and onto the smallest of the four back fields for an interview.
There he talks about his mental approach to the game and his responsibilities to Twins fans. He speaks with the syntax of a young man not far removed from high school, but it's also clear from what he says that he understands the weight he carries and embraces it. Yes or no answers are accompanied with a heap of respect -- he's well known for his "yes, sirs" and "no, sirs." It's a trait often noted by coaches and media members and credited to his parents and his southern upbringing.
On this day, he also talks about his off-field interests. It's easy for Buxton to avoid the hype that surrounds him, he said, because he's never had much interest in picking up Baseball America or similar publications, nor does he hit the web often to read about the game he plays.
"I'm not a big reader, unless it's social studies or history," he said. "I love history. I read books back home and any chance I get, I go to the bookstore."
* * *
Buxton is smarter than to discuss his potential place in history in front of a tape recorder, but he's mostly alone in dismissing the idea that his talents have historic possibilities. Nobody is ready to enshrine the outfielder in the Hall of Fame, but the comparisons to greats past and present are hard to avoid.
One common point of comparison is Mike Trout. As seems the case with Buxton, it's difficult to heap too many superlatives on Trout's shoulders. The 22-year-old is unlike anything baseball has seen in generations -- the modern day answer for Mickey Mantle or Willie Mays. For fans, he's an exceptional gift with an implausibly rare combination of talents plucked straight from a scout's wildest dreams.
As much joy as players like Trout provide, they also raise expectations to unfair levels. Players as mediocre as Harold Miner and even ones as good as Vince Carter paled when compared to Michael Jordan, and Buxton faces similarly daunting comparisons to the nearly unprecedented Trout.
First full pro season
Mike Trout vs. Byron Buxton
Player
Year
Leagues
AVG
G
AB
H
2B
3B
HR
RBI
BB
SO
SB
CS
OBP
SLG
OPS
Trout
2010
MID/CAL
.341
131
508
173
28
9
10
58
73
85
56
15
.428
.490
.918
Buxton
2013
MID/FSL
.334
125
488
163
19
18
12
77
76
105
55
19
.424
.520
.944
Trout's wins above replacement (via Fangraphs) are the fourth most in baseball history through an age 22 season, and all the players ahead of him played at least 100 more games by that age. He's perhaps the best player of this generation but as always, the irresistible question is "Who's next?"
Enter Buxton. He's already risen to the top of the Minor League hierarchy and, for at least the next few months, that's where he'll remain. The hype has hit a natural plateau, and until he reaches the Majors, it doesn't seem possible for him to exceed those expectations.
Can Byron Buxton be as good as Mike Trout? Can he be better? Even those prone to avoid such a comparison can't help but recognize its validity.
That was true of Fort Myers manager Doug Mientkiewicz. Though the 12-year Major League veteran stopped short of comparing Buxton to Trout, he didn't have to be asked about the Angels outfielder to invoke his name.
"I was just wowed by a 19-year-old," Mientkiewicz said of managing Buxton in the Florida State League. "That's the best way I can describe it.
"I never saw Mike Trout play in the Minor Leagues, so I can't go by that," he added. "I just know what this kid does."
* * *
What Buxton does is a little bit of everything.
Defensively, he could be among the best center fielders in the Majors in short order. He can fly -- MLB.com rated Buxton as an 80 runner, putting him at the top of the 20-to-80 scouting scale. He's not quite as fast as Reds center fielder Billy Hamilton, but the gap is negligible when it comes to chasing down fly balls.
Buxton applies his speed well, but his reactions aren't yet elite. "His jumps can get better, can be better than what they are, but when you can fly like he can fly, he can make up for those," Mientkiewicz said.
He makes up for it with great playmaking ability, something he put on display last June. In a game broadcast on cable television in Minnesota, Buxton turned in one of the best plays of the year for Cedar Rapids, ranging into the left-center gap and tracking the ball over his left shoulder while sprawling to catch the liner just in front of the wall.
His arm is almost as impressive as his legs. In high school, Buxton was his team's ace pitcher, and he could deliver his fastball in the mid-90 mph range.
"Everything he did was done so effortlessly," said Smith, who coached him through his four-year varsity baseball career. "He could throw 96, but there was nothing behind it whatsoever. No strain, just all fluid. He could throw a football 70 yards just standing flat-footed."
On the other side of the ball, Buxton already has showcased an ability to punish lower-level pitching. In 2013, he hit .334 with a .944 OPS between Cedar Rapids and Fort Myers. MLB.com tossed a 70 grade on his hit tool, and opinions seem nearly unanimous that Buxton will hit for average and get on base.
His power ceiling is a better topic for debate. Buxton hit 12 home runs last year. While playing in pitcher-friendly Fort Myers probably kept that total down, his present power isn't as impressive as other top prospects like fellow Twin Miguel Sano or Cubs shortstop Javier Baez.
Difficult as it is to gauge any player's raw power, it's especially so with Buxton because he rarely sells out for it. As a high school standout, he drew crowds of scouts out to his small Georgia hometown, and they always wanted to see him take batting practice. Where the inclination for most teenagers might be to show off what power they have, Buxton never dropped a shoulder and sold out for the long ball. The batting practice rounds he took for scouts were as focused and fundamentally sound as those done privately, with an emphasis on gap-to-gap line drives.
"He would say, 'I don't want to hit it out,'" Smith said. "He'd just be swinging and hitting line drives."
Not much has changed in that regard. On the back fields in Florida, with nobody but teammates, coaches and one reporter watching, Buxton sprayed line drives between left-center and right-center, barreling nearly every ball and sending would-be singles and doubles to the outfield grass.
The round was a replica of what he did at the All-Star Futures Game last July at Citi Field. In New York, Buxton had the chance to impress hundreds of onlookers -- mostly scouts and media -- during batting practice. While most of his fellow top prospects took advantage of the spotlight by bashing tape measure blasts, Buxton settled for solid contact, showcasing a discipline rare at such events.
Whether more home runs come with age may be the greatest determinant for if Buxton becomes merely a very good Major League player or launches himself into rarefied air. Even without the pop, he'll be an offensive threat.
"Power, that's the last thing we're worried about with him," Mientkiewicz said. "Power is generally the last thing to come. We want him to keep getting more at-bats and keep getting him to keep the barrel on the ball as long as he can. His quick hands and athletic ability will take over from there."
* * *
There are many refrains you'll get from baseball people when it comes to prospects. Pitchers should be pitchers and not throwers, locate their fastballs, learn to work backward and figure out how to apply their stuff. For hitters, the Minor Leagues are for mastering the strike zone, gaining consistency and taking professional at-bats.
Another well-worn principle is that players spend time in the Minors to learn how to fail. Baseball is a game of failure. Make an out 60 percent of the time for a few years in the Majors, and they'll build a statue and put you in the Hall of Fame.
Teams want to see their players fail, but only because they want to gauge their response. No hissy fits. No spells of self doubt. Strike out four times Friday night? You've got four more at-bats coming Saturday. Better be ready.
The consensus from prospect writers, and even from some of Buxton's coaches, seems to be that they're waiting for him to fail between the white lines so they can see how he responds. The numbers -- a .312 Minor League batting average and .906 OPS -- indicate consistent success, and as a result, it's assumed Buxton's mettle is yet to be tested.
As his varsity high school coach, Smith knows better. He's seen Buxton burned in the clutch.
Smith has been the baseball coach at Appling County High School since 2004. Born and raised in Baxley, Ga. -- population 4,400 -- he's known Buxton since before the youngster got to high school.
In 2012, Buxton had a miserable game at an inopportune time -- the first of three in the Georgia AA state championship series.
A right-hander with a mid-90s fastball and sharp slider, Buxton held Pierce County to two runs over the first six innings. In the seventh, he fought to keep Appling's deficit at 2-1. He failed, allowing a two-run homer. The next inning, Appling cut the margin to 4-2 but left a pair of runners stranded and lost. Buxton was distraught.
Adding to his fury was that he struck out in his final at-bat in Game 1, then again in his first at-bat in Game 2 -- his second and third strikeouts of the season. Appling managed to win Game 2, but Buxton entered the rubber contest fuming over his Game 1 performance.
A tropical storm delayed Game 3 for a few days. In the interim, Buxton pleaded with Smith to let him pitch in the decisive contest.
"He didn't really like [pitching], but for us to do what we needed to do, we needed him to do it," Smith said. "He said, 'You have to let me throw tomorrow,' and I said I'd think about it. He said, 'Ain't no thinking to it. I want the ball.'
Buxton took the ball in Game 3 and was basically the only one who touched it. On June 5 -- one day after the Twins selected him No. 2 overall in the 2012 Draft -- he set a school record with 18 strikeouts in a seven-inning game as Appling won its first-ever state championship.
Buxton's final pitch that day registered 96 mph, Smith said.
"He just willed his team to a victory," Pierce County head coach Greg Gay later told Baseball America. "Honestly, there was nothing we could do as a baseball team to beat him that day. The look in his eye, he just had a different demeanor about him."
The Twins knew all about the exploits of their newest darling prospect. Already the proud parent club to burgeoning Dominican prospect Miguel Sano, Minnesota greeted Buxton eagerly when he arrived later that month in Fort Myers, home of the team's Gulf Coast League affiliate.
---
"A lot of the things that struck me about him have nothing to do with the on-the-field stuff. He's as good as it gets as a human being."

-- Doug Mientkiewicz, Fort Myers Manager
---
Buxton was overmatched in his first pro experience. He went 0-for-26 at the start of his GCL season, flailing at 90 mph fastballs he rarely saw in high school.
"He was struggling," Twins director of Minor League operations Brad Steil said. "It wasn't like he was hitting the ball hard and it was bad luck."
Though his Game 1 performance in the state championship series left him furious, the 0-for-26 start was just disheartening.
"Just kept telling myself I was never going to get a hit," Buxton said. "My parents and friends back home just kept telling me, 'Stay with it.'"
In at-bat No. 27, Buxton finally got his first pro hit. The rest of his GCL season, he batted .306 with four homers, four doubles and three triples over 62 at-bats. Promoted to Rookie-level Elizabethton, he hit .286 in 21 games and hasn't looked back.
"You have to have the mental side as well as the physical," Buxton said of the experience. "You have to grind it out. You're going to have lumps and bumps in this game, you just have to grind through it. You can't ever take a pitch off. You have to try to stay focused in the game, even if you're not hitting the ball.
"Once I got it out of the way, I was feeling more relaxed, got the pressure off my back and got to swinging the bat a little bit and just playing better."
* * *
For many in the Twins organization, the most impressive thing about Buxton is the remarkable maturity he displays for such a young player. Players as young as Buxton often understand baseball's mental trials in the abstract, it's his application of the key tenets -- work ethic, confidence, being a teammate -- that impress the people around him.
"A lot of the things that struck me about him have nothing to do with the on-the-field stuff," Mientkiewicz said. "He's as good as it gets as a human being. Aside from the talent, he's the kind of guy where you pull for him. He understands what it's like to be a teammate."
Makeup is another trait Smith noticed in Buxton as a high schooler. With troves of scouts coming specifically to see him, Buxton insisted he never take batting practice alone. The extra attention gave other Appling players a chance to get noticed and helped some get looks from smaller colleges that may have otherwise missed them.
"I would tell them, 'They're coming to watch Byron, but you have a chance to be seen, too,'" Smith said. "It helped that all those scouts were there. He was always a team person. It wasn't just about Byron."
There's an attitude about Buxton that's rare among elite prospects. Some of it is the 'yes, sirs' and 'no, sirs," and some of it is the unassuming presence he has around teammates. Some, like Smith, credit his parents for creating that personality, but something about it exudes a type of small-town southern sensibility.
"In south Georgia, that's just how we're raised," Smith said. "That's just how it's always been."
The persona has stayed with Buxton as he's ventured out of Baxley. Prospects of his ilk have never faced a brighter spotlight. Bryce Harper is still the poster child for the modern-day teenage phenom, but the attention paid to Buxton isn't far behind.
The Twins aren't too concerned that Buxton will be affected by that spotlight and the pressure that comes with it.
"Pressure creeps in on the unprepared," Mientkiewicz said. "And Byron's never unprepared."
* * *
Back on the back fields, Buxton finishes his interview then disappears into the Twins' Minor League complex -- a netted row of batting cages connected to locker rooms and a few offices. About an hour later, he reappeared to play in a Double-A game on the same field where he practiced earlier. Behind home plate, Minor League pitchers from the Twins organization gathered, interspersed with fans and a couple of media members. Those hurlers had finished their work for the day and ditched their uniforms for street clothes. They, like the fans, were sticking around to catch the two games pitting the Twins' Double-A and Triple-A teams against squads from the Red Sox.
"Is this where Buxton is playing?" one pitcher asked another.
"I think so," another answered. "I hope so."
There were no great feats on this day. Buxton collected a couple of hits and chased down a few pop flies, but mostly he just provided those gathered reason to talk of his abilities, his interaction with fans and the hope he's bringing them.
When the game ended, fans again gathered at the entrance to the first-base dugout, where Buxton again obliged their requests.
His duty to the fans complete, he made his way into the Minor League facility, his bat, glove and helmet in hand. He disappeared into a door between batting cages, slowly slipping from view.
Jake Seiner is a contributor to MiLB.com. Follow him on Twitter at @Jake_Seiner. This story was not subject to the approval of the National Association of Professional Baseball Leagues or its clubs.
View More