Cowart's blast gives Travs win in 15th
Top Angels prospect extends home run streak to three games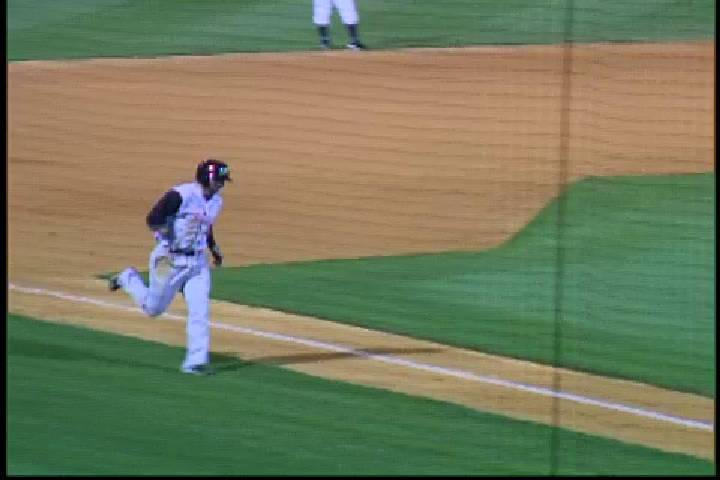 By Tyler Maun / MiLB.com | May 4, 2014 2:34 AM ET
It was a good day for Travelers and former Travelers. Kaleb Cowart kept it from being an even longer night.
The Angels' top prospect blasted a tie-breaking home run in the top of the 15th inning late Saturday as Double-A Arkansas outlasted Northwest Arkansas, 5-4, at Arvest Ballpark.
The Travelers snapped a deadlock with a run in the 14th, but the Naturals came right back to keep the marathon going. It didn't take long for Arkansas to move back on top as Cowart hammered the first pitch of the 15th out to left.
"The first couple at-bats, I hit some balls hard, just right at people," said Cowart, who went 3-for-7. "I stuck with it, and that last at-bat, I had faced [Naturals pitcher Noel Arguelles] an inning or so before. I was looking for a fastball middle-in, and that's what he threw. I was able to be on top of it and put a good swing on."
The homer helped bring an end to the longest game of the season for both teams. With fatigue setting in, Cowart's teammates were pleased.
"I caught myself blinking a lot in the field just trying to stay with it," said the 2010 first-round pick, who's homered in three straight games. "You just have to tell yourself to keep on fighting, really.
"Everybody was pretty excited [after the home run], a lot of thank-yous. Everybody was ready to get out of there. We've got a 2 o'clock game tomorrow afternoon. It's tough when you have a game like tonight and then you have to play a day game the next day."
Arkansas reliever and 13th-ranked Angels prospect Cam Bedrosian (1-0) gave up a run in the 14th but worked a hitless 15th for the win. He walked one and struck out one.
Arguelles (0-2) worked four innings and allowed two runs on three hits while striking out three.
Cowart's go-ahead blast capped a big day in the Angels organization. No. 3 prospect C.J. Cron graduated to the big leagues earlier Saturday and made his presence felt in his debut, going 3-for-5 with a two-run single.
"I found out earlier today that he was going up," said Cowart, who played alongside Cron last year in Arkansas. "I texted him and congratulated him. We were playing when it all happened, but when we came in, we all were sitting there watching it. I'm happy for him, I couldn't be happier. He's a good guy and he deserves it."
Tyler Maun is a contributor to MiLB.com. Follow him on Twitter @TylerMaun. This story was not subject to the approval of the National Association of Professional Baseball Leagues or its clubs.
View More