Cozens, Lively lead rebuilding Phillies
Banner season across Minors highlighted by Reading home run race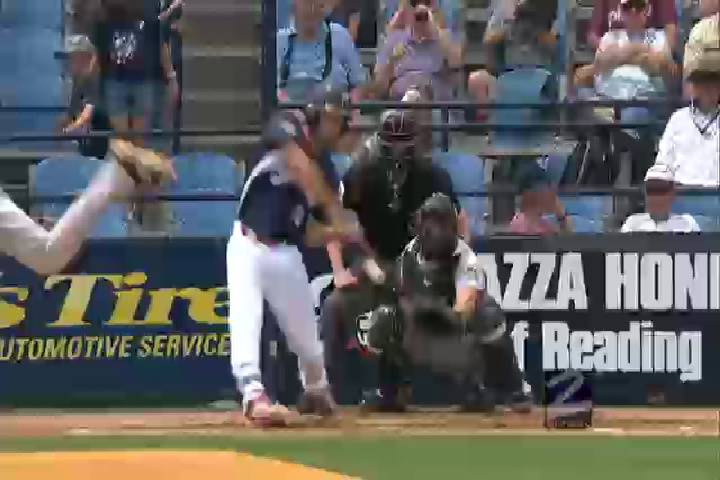 By Sam Dykstra / MiLB.com | November 30, 2016 10:00 AM
This offseason, MiLB.com is honoring the players -- regardless of age or prospect status -- who had the best seasons in their organization. We're taking a look at each team to determine the outstanding seasons in Minor League Baseball.
If you've been paying attention to this website over the past couple months, you know the Phillies enjoyed an impressive year across the Minor Leagues.
The organization finished second among the 30 Major League systems with a collective .581 winning percentage and saw four of its six domestic affiliates make the playoffs, including the Gulf Coast League Phillies, who finished 43-15 for the Minors' best winning percentage at any level at .741. Team success was a big reason the Phillies were the MiLB.com staff pick for the Best Farm System MiLBY. In addition, Philadelphia sported five other MiLBY nominees -- two each for Best Team (Double-A Reading, GCL Phillies) and Top Offensive Player (Dylan Cozens, Rhys Hoskins) and one for Top Starting Pitcher (Ben Lively) -- not to mention that the organization has four players ranked among MLB.com's Top 100 Prospects, one of them being No. 1 overall Draft pick Mickey Moniak.
Yes, even as the Major League club missed out on the postseason for the fifth year in a row, there's reason for hope in the City of Brotherly Love, starting with this year's batch of Organization All-Stars:
Phillies Organization All-Stars
Catcher -- Jorge Alfaro , Reading (97 games), Philadelphia (six games): The Phillies acquired Alfaro from the Rangers at the 2015 trade deadline as part of the six-player return for Cole Hamels and Jake Diekman. The Colombia native played only three rehab games in the Gulf Coast League due to an oblique injury, however, making 2016 his true debut for Philadelphia.
MLB.com's No. 58 overall prospect made a solid impression with a .285/.325/.458 line, 15 homers, two triples, 21 doubles and 67 RBIs in 97 games with Reading. Thanks to a plus-plus arm, Alfaro threw out 33 of 75 basestealers for a career-best caught-stealing rate of 44 percent. Already on the 40-man roster, he made his Major League debut on Sept. 12 following Reading's postseason run and figures to compete with Cameron Rupp and the recently added Andrew Knapp for the starting catcher position this spring.
"The big thing for us was getting to know him, watching him play up close, getting to know his strengths, what he needs to work on," Phillies director of player development Joe Jordan said. "He wants to be a really good defender, and he works hard at it. I think he just needs the experience of getting to the upper levels, putting down the right fingers, going to the mound, the little things. But between his bat and his arm, he did a lot of really good things for us."
First baseman -- Rhys Hoskins, Reading (135 games): Whether or not it was aided by Reading's favorable park conditions, the Phillies' 12th-ranked prospect competed with Cozens all summer for the Minor League home run lead before falling just short with 38. He also finished third among all full-season hitters with 116 RBIs, seventh with a .566 slugging percentage, ninth with a .943 OPS and tied for ninth with 65 extra-base hits. This marks the 2014 fifth-rounder's second Organization All-Star selection after he put up a .319/.395/.518 slash line with 17 homers and 90 RBIs at Class A Lakewood and Class A Advanced Clearwater in 2015.
"He really continued to develop as a hitter," Jordan said. "He made a lot of good contact with good backspin on the ball, and it wasn't like all his homers were coming to the pull side. He was hitting them to center, right-center, too.... He can hit a good fastball, too. Velocity doesn't bother him. He came forward and wasn't selling out on pitches. He has a plan for every at-bat and is a little advanced in that way."
Second baseman -- Josh Tobias , Lakewood (93 games), Clearwater (34 games): A 2015 10th-round pick out of the University of Florida, the 24-year-old switch-hitter made a name for himself in his first full season by batting .304/.375/.444 with 34 extra-base hits (including seven homers) in 93 games for Lakewood, earning spots on the South Atlantic League mid- and postseason All-Star teams. His numbers trailed off (.254/.324/.357) after a promotion to the pitcher-friendly Florida State League, but with two Organization All-Star appearances already under his belt, there's a solid foundation for Tobias' pro career.
Third baseman -- Mitch Walding , Clearwater (100 games), Reading (23 games): Speaking of the FSL, the 24-year-old Walding was one of the circuit's better hitters during his repeat of the Class A Advanced level, with top-six finishes in OBP (.372) and OPS (.812) en route to his spot as an FSL post-season All-Star. Combine his power output from Clearwater and Reading and the left-handed-hitting slugger matched his home run total from his previous four seasons combined by going deep 13 times in 2016. Walding is eligible for the Rule 5 Draft but is unlikely to be considered for a Major League spot until he can carry those FSL numbers to higher levels.
Shortstop -- K.C. Serna, Reading (108 games): With top prospect J.P. Crawford struggling offensively at times at Triple-A Lehigh Valley, Serna moves into the shortstop spot after producing a .295/.371/.384 line with four homers, 18 doubles and 57 runs scored in 108 games. Although he got 52 starts at short, the 27-year-old also played second base, third, all three outfield spots and even pitched twice this season.
"K.C. has been a really good player for us," Jordan said. "He can play all over, and in his second full year at Double-A, he had more mature at-bats. That helped him play a lot. He uses the whole field and does things that guys need to do in order to be successful in that [utility] role. What really makes a club is when you can lengthen the lineup as much as possible, and he helped make Reading a more complete club."
A 2011 42nd-round pick by the Indians, Serna signed with the Phillies in February 2014 following a one-year stint in the independent American Association. He became a free agent earlier this month.
Outfielders
Dylan Cozens , Reading (134 games): You might know him as the Eastern League MVP, Joe Bauman Award winner or MiLBY winner as Best Offensive Player of 2016. Cozens added to his trophy case with a Minor League-best 40 homers, 81 extra-base hits and 125 RBIs, not to mention a .591 slugging percentage that ranked second among full-season Minor Leauguers and 21 stolen bases. After Cozens produced a .762 OPS with eight homers in 111 games in 2015, the Phillies are seeing two years of growth that have raised the 2012 second-rounder's potential ceiling, even if they aren't expecting a performance like this season's to come again.
"I look back at the goal for 2015 with Dylan and it was a very simple message: don't worry about the power, develop as a hitter and get the strikeouts down," Jordan said. "As a guy like him in 2016, he added leverage, strength, started backspinning balls. You look up and he's having a terrific year. But the real answer lies somewhere between 2015 and 2016. He still has too many strikeouts [186 in 586 plate appearances] and some other things to work on. He had to go through both 2015 and 2016 to show that he's somewhere in the middle with his capability."
Jose Pujols , Lakewood (128 games): In his fourth Minor League season, the 21-year-old right fielder finally made the jump to full-season ball and took off. Pujols led the South Atlantic League with 24 homers and also ranked among the leaders with 82 RBIs (third), 219 total bases (fourth) and a .199 isolated slugging percentage (seventh). Unsurprisingly, those numbers resulted in appearances on the Sally League's mid- and postseason All-Star teams. Though there are still holes in Pujols' game -- namely a 32.6 percent strikeout rate that held his average down to .241 -- the Phillies expect him to only grow.
"He hadn't really tasted success yet before this," Jordan said. "Once he started hitting, though, the player gets confident and the game's fun again. His 24 homers in Lakewood in that environment are every bit as important as anything else that happened in our system this year."
Andrew Pullin , Reading (46 games), Clearwater (36 games): The 23-year-old reportedly retired just before Opening Day but returned to the Phillies in early May and ended up enjoying perhaps the best season of his career. The 2012 fifth-rounder hit .293/.320/.476 with four homers in 36 FSL games before getting his first-ever bump to Reading on June 23. He improved those numbers following the promotion with an astonishing .346/.393/.559 line, 10 homers and 10 doubles in 206 Eastern League plate appearances. Despite the massive improvement (in an admittedly small sample), Pullin was not one of the 11 players added to the Phillies' 40-man roster and is eligible for the Rule 5 Draft.
Designated hitter -- Darin Ruf , Lehigh Valley (95 games), Philadelphia (43 games): If Organization All-Stars were meant to include Major League results, Ruf might not be here, given his .205/.236/.337 line in limited time for Philadelphia. However, between mid-May and September, the 30-year-old first baseman/outfielder was arguably Triple-A Lehigh Valley's best hitter with a .294/.356/.529 line. His 20 homers tied for fifth in the International League, despite playing fewer games than anyone else in the top 10.
Right-handed starter -- Ben Lively , Lehigh Valley (19 games), Reading (nine games): Acquired from the Reds following a 2014 season in which he struck out 171 over 151 innings, Lively saw his stock plummet last year with a 4.13 ERA, 1.43 WHIP and 111 strikeouts in 143 2/3 innings at Reading. But he bounced back in a big way in 2016 with a stellar return to the Eastern League (7-0, 1.89 ERA, 0.94 WHIP, 49 strikeouts in nine starts/53 innings). The 24-year-old impressed again at Lehigh Valley with an 11-5 record, 3.06 ERA, 0.93 WHIP and 90 strikeouts over 117 2/3 innings in 19 starts.
Lively made for an easy pick as the organization's Minor League Pitcher of the Year and a similarly easy addition to the 40-man roster this month. With a solid mix of four pitches, he appears to be getting closer to helping out the back end of a big league rotation.
"If you talked to Ben in Spring Training, you could see how determined he was to make 2016 better," Jordan said. "There were things he needed to do delivery-wise, like angling the baseball differently and doing a better job of working down in the zone. He was so much better than in 2015 once that happened. His slider is a better pitch. It's all a credit to him. He took Double-A as a challenge and once he made those really small changes, he ended up doing a great job for us."
Left-handed starter -- Elniery Garcia , Clearwater (20 games): The 21-year-old climbed from No. 22 to No. 19 among Phillies prospects with an impressive second full season in which he finished fourth among FSL qualifiers with a 2.68 ERA over 117 2/3 innings and third with a 1.10 WHIP. Garcia might not possess the killer stuff of Alberto Tirado or be as close to the Majors as Lively, but the Phils protected him from the Rule 5 Draft and will monitor how he builds on the success of 2016.
"It's a little bit the same as Pujols in terms of development," Jordan said. "He's a much stronger kid now. The fastball velocity is up a full grade. He has better weapons with the consistency of the fastball command and the way his slider/changeup move. Throw in a good breaking ball and it's a solid four-pitch mix. He may have belonged in Double-A quicker than we sent him there [for the Eastern League playoffs] to be honest with you, but with him, it was nothing more than growing up."
Relief pitcher -- Victor Arano , Clearwater (35 games), Reading (11 games): The 21-year-old right-hander made the move to the bullpen to great effect in 2016 with a 2.26 ERA, 1.03 WHIP, 95 strikeouts and 19 walks over 79 2/3 innings between two stops in the middle of the chain. The Phillies sent the Mexico native to the Arizona Fall League, and though he issued six walks in 9 2/3 innings, it's a positive sign for the club's belief in his future in the bullpen.
Sam Dykstra is a reporter for MiLB.com. Follow and interact with him on Twitter, @SamDykstraMiLB. This story was not subject to the approval of the National Association of Professional Baseball Leagues or its clubs.
View More