Cron upholding family name in Missoula
D-backs prospect hits two home runs and totals five RBIs for Osprey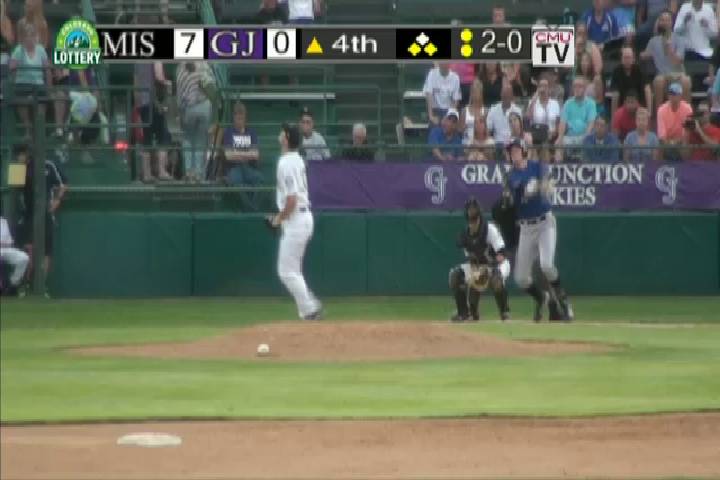 By Mark Emery / MiLB.com | July 11, 2014 2:54 AM
The success Kevin Cron is enjoying in the Pioneer League can't be that surprising, not when you consider the D-backs prospect's baseball pedigree.
The younger brother of Angels rookie C.J. Cron and son of Chris Cron, Arizona's new Minor League hitting instructor, Kevin has excelled for Rookie-level Missoula during the first 16 games of his professional career. A first baseman and designated hitter like his older brother, he hit two home runs and plated five runs Thursday en route to the Osprey's 11-5 victory at Grand Junction's Suplizio Field.
"We've been struggling a little bit the last couple games," Kevin Cron said. "We've been really getting runs poured on us early. It's been kind of deflating for the offense a little bit. We made it a goal tonight to go out and jump on top early. The top of the lineup did a good job getting on base. And then I was just looking for a good pitch in the first inning, and I got a pitch up in the zone. I was able to get it out.
"And then later in the game, once you get them down, you're just trying to pour it on and end the game early. So I got up in the fourth inning with two outs and a couple guys in scoring position, just trying to get a good pitch that I could hit hard, and I ended up getting one out over the plate that I could drive. So it worked out well."
First, Cron turned on an offering from Grand Junction starter Sam Howard and deposited it in the left-field seats for a two-run blast. Later, he went the other way with a pitch from reliever Craig Schlitter for a three-run homer to right.
The 14th-round selection from last month's Draft set career highs in homers and RBIs. He has hit safely in six straight games while driving at least one run in during each of the past five.
The 21-year-old sports a .344/.417/.625 slash line with four home runs and 16 RBIs. His 1.042 OPS ranks fourth in the league.
"It's always nice to come out and get off to a hot start," Cron said. "I've definitely felt good at the plate. I obviously hope to carry it on through the rest of the season and keep getting better, because the more you move up, the more developed the pitchers are too, the less opportunities you get to get those fat pitches to drive. So it's important now to make them pay for the mistakes they make."
A Texas Christian University product, Cron was born in Phoenix. If playing for his hometown D-backs wasn't cool enough, his father became the organization's Minor League hitting instructor before the start of the season, following four years as the manager of Detroit's Double-A affiliate in Erie.
"He gets all the reports from our games," Cron said. "He always texts me and asks how I felt. Obviously, he's here occasionally, so I get to talk to him quite often. And my brother sent me a text to basically just say, 'Way to swing it and keep it going.' So it's fun having them in the game, communicating with each other after games and whatnot."
Cron and his brother used to talk about one day playing together on a team coached by their father. But now, like so many younger siblings, he is appreciating the opportunity to make a name for himself, by himself.
"It's good to be out on your own and experience it and learn on your own and deal with different types of people and just develop in your career in that way," he said. "The way it worked out, it couldn't have worked out any better. I'm blessed to be where I am. I'm happy."
Mark Emery is a contributor to MiLB.com. Follow him on Twitter @Mark_Emery. This story was not subject to the approval of the National Association of Professional Baseball Leagues or its clubs.
View More