Crooked Numbers: Opossums, triple plays
Clinton adopts stuffed animal to end slump, K-Mets win messy game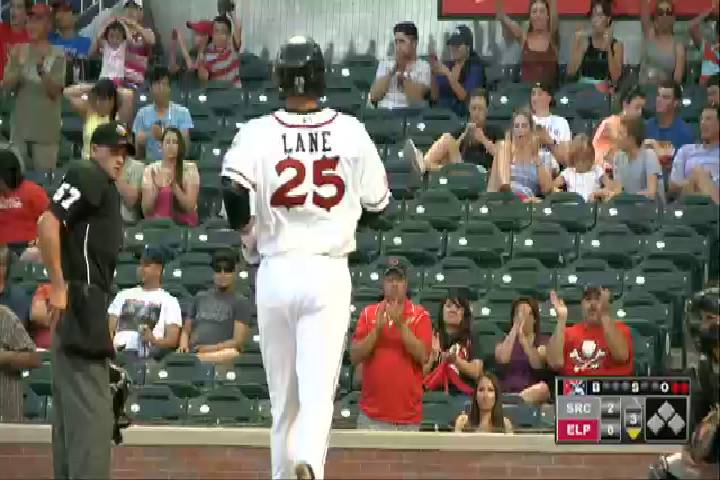 By Benjamin Hill / MiLB.com | August 6, 2014 10:23 AM ET
On May 8, the Clinton LumberKings mounted one of the greatest comebacks in the history of baseball. Losing to the Burlington Bees by a score of 17-1 after five innings, they tied the score at 17-17 in the ninth and then scored three more in the 12th for a nearly unfathomable 20-17 victory.
That game was one for the ages, the sort of life experience that inspires endless retellings by all involved for the remainder of their mortal existence. Unfortunately, however, that Brobdingnagian comeback was not at all indicative of the sort of season that the LumberKings have had. After May 8's epic win, they played .500 ball for the remainder of the month and then took a nosedive -- the Midwest League club went 7-18 in the month of June and then 11-17 in July, and throughout the bulk of that time, the once-indomitable offense was nowhere to be found.
Things got so bad that, on July 11, the LumberKings managed to lose in walk-off fashion in a game that was played in their own ballpark (it was the completion of a suspended game, which began on June 30 in Cedar Rapids and then resumed in Clinton). Things got even worse later in the month, as from July 23-28 the LumberKings managed to score just two runs over a span of 47 innings. Clinton broadcaster Cheyne Reiter points out that, during this stretch, the team was outscored by 27 runs as opposing pitchers recorded an 0.31 ERA.
Then during a game in Quad Cities on July 30, the LumberKings luck finally took a turn for the better again.
The opossum appeared on the field as the River Bandits were batting in the bottom of the fifth inning. The LumberKings came to bat in the sixth, trailing 4-0, and, fueled by an ineffable opossum mojo, promptly scored five runs en route to a 6-5 come-from-behind victory. This snapped a six-game losing streak, in favor of what would become a season-high five-game winning streak (that came to an end Aug. 4 against Beloit when a furious rally fell just short).
@bensbiz Rally Opossum Update for CLI: 30R, 41H in last 22 innings since opossum delay Wed; 7R on 51H in 61 prior innings. #crookednumbers

- CTrey Reiter (@CheyneReiter) August 2, 2014
The power of the opossum has not gone unnoticed. The LumberKings have since acquired a stuffed opossum that is now a member of the team's traveling party, and Reiter reports that the relief pitchers are now searching for a larger stuffed opossum that will take up residence in the bullpen. Additionally, a stuffed opossum can now also be found in the press box of Clinton's Ashford University Field.
@bensbiz Another baby opossum has made its way into the LumberKings clubhouse. pic.twitter.com/F1lzQX0Qpa

- Clinton LumberKings (@LumberKings) August 5, 2014
If the LumberKings' marsupial-inspired run of success continues, then a "Salute to the Opossum" theme night very well may be a late addition to the team's promotional calendar.
"If it continues to bring good luck, I don't see why not!" wrote Reiter in an email.
Mishap-palachian League Baseball
The Appalachian League is at the lowest rung of the Minor League Baseball ladder and, as such, mistake-laden games are to be expected. Nonetheless, it'd be tough to top what the Kingsport Mets accomplished on July 7. Seven players combined to make eight errors over a span of four innings, but the Mets still managed to defeat Pulaski, 16-11. Four errors were committed in the fifth inning, one in the sixth, and three more in the eighth.
The 16 runs scored by Kingsport were a season high, and the seven players who committed errors atoned for their defensive sins by combining to go 12-for-22 with nine runs scored and nine RBIs. But the weirdness didn't end there, as this ballgame also featured four hit batters, three wild pitches and, best of all, an ultra-rare 8-2-1-5-4 "sacrifice double-play" in the top of the eighth inning. Kingsport left fielder Vincente Lupo contributed an RBI double to the offensive barrage on the same day that he and teammate Wuilmer Becerra were arraigned for drag racing on the fourth of July.
Kingsport made as many errors in the span of four innings as it would make in the next five ballgames. But wouldn't you know it? Despite the increased defensive acumen, they recorded a losing record (2-3) in those games.
Facing the minimum
On July 9, John Dreker brought the following oddity to my attention via Twitter.
@bensbiz @MiLB Erie's Guido Knudson threw 3 perfect innings tonight against Altoona and faced just seven batters #efficient

- John Dreker (@JohnDreker) July 10, 2014
There are very few ways in which this could happen; one is a triple play followed by two perfect innings. Knudson entered the ballgame in the bottom of the seventh inning with no outs and runners on first and second, and promptly induced a 9-3-6 triple play. From the game recap, written by MiLB.com's Ashley Marshall:
With both runners on the move on a hit-and-run, Altoona catcher Elias Diaz lined Knudson's 0-1 offering to right field. Detroit's No. 20 prospect Steven Moya, known more for his power bat than his defense, caught the slicing line drive and threw to Corey Jones at first base to double off Gamache. Jones then relayed the ball to shortstop Dixon Machado, who stepped on second to erase Hanson and complete the rare defensive gem.
That's Nuts
So which is rarer: a pitcher facing seven batters over three perfect innings, or a team hitting into two triple plays in the span of three games? That's just what the Modesto Nuts did last month, against Stockton on July 10 and Bakersfield on July 12. The first instance was as routine as triple plays get, with Dean Espy hitting into an around-the-horn 5-4-3 triple killing in the fourth inning. July 12 was a lot weirder, however. Bakersfield Blaze broadcaster Dan Besbris attempts to explain:
"Modesto put runners on first and third to start the [third inning], and Mike Tauchman hit a deep drive to center. Nick Benedetto raced back, slid and made a marvelous bobbling grab. Benedetto popped to his feet and fired to his cut-off man [second baseman Juan Perez], who in turn threw to [first baseman Harold Riggins] for a double play. Then, before the next pitch, the Blaze appealed to third, and the umpires confirmed the runner [Juan Ciriaco] had left early, leading to a rare triple play!"
Even Nuttier
The ignominy didn't end there for Modesto. During July 27's ballgame against the Inland Empire 66ers, five players each made an error in what was an extremely embarrassing fifth inning. The frame also featured a hit, two walks, a stolen base and two wild pitches, as Inland Empire scored four unearned runs en route to a 9-4 win. Once the inning finally ended, Mark Sappington came on to pitch for Inland Empire. This was fitting, since Sappington is a native of the town of Peculiar (Missouri).
2(c)(2)(b) or not 2(c)(2)(b)
The Albuquerque Isotopes enjoyed a dramatic come-from-behind victory in July 9's game against the El Paso Chihuahuas, capped by Brian Cavazos-Galvez's two-run walk-off double. Trouble is, the Isotopes ended up losing the game. On July 15, the Pacific Coast League invoked Major League Rule 2(c)(2)(b) and declared an "El Paso victory by way of forfeit."
For those not up on their arcane baseball rules, this rule stipulates that a Triple-A team's active roster cannot exceed 25 players. Examiner.com's Christopher Jackson has more:
"At issue was the July 9 activation of center fielder Joc Pederson from the disabled list. Initially, the Isotopes sent out a press release stating that outfielder Brian Cavazos-Galvez was going to the DL, but later rescinded that statement. Cavazos-Galvez actually ended up winning the game with a two-run double, and Pederson went 3-for-4, falling a home run shy of the cycle.
The PCL blamed the Los Angeles Dodgers, Albuquerque's affiliate, for the mistake. Apparently, the Dodgers thought that since right-hander Carlos Frias was suspended that he did not count against the 25-man roster limit. Though the game is now listed as a 9-0 El Paso victory, all individual and team statistics remain as is (Cavazos-Galvez will still be credited with his two-run double, for example). However, pitching records -- such as winning and losing pitcher -- have been erased."
DH? We don't need no stinking DH!
The aforementioned El Paso Chihuahuas played against the Sacramento River Cats on July 23, and since the River Cats are an American League affiliate, the Chihuahuas had the option of using a designated hitter. Pat Murphy elected to bat his pitcher anyway, since his pitcher was former Major League outfielder Jason Lane. The move paid off, as Lane went 3-for-3 with a home run. He is hitting .388 with the Chihuahuas this season, and .412 (7-for-17) as a pinch-hitter. Additionally, Murphy has used him twice in the outfield, making him one of three Chihuahua pitchers who have logged time in the outfield (Tony Sipp and Keyvius Sampson are the others).
Murphy's managerial maneuverings don't end there. In fact, they seem to never end. On July 29 against Las Vegas he executed four double-switches, and only one player in the starting line-up (second baseman Taylor Lindsey) ended the game at the position where he started it.
Left out
On July 28, Quad Cities left fielder Ronnie Mitchell managed to tag out Bowling Green's Alexander Simon -- at home plate!
Bowling Green broadcaster Andrew Kappes has diligently provided an account of this baffling putout, in which all parties involved appear -- with all due respect -- to not understand how to play the game of baseball.
The situation: Bottom 8th, Hot Rods trailing 4-3, one out, Alexander Simon (tying run) at second base, Julian Ridings (go-ahead run) at first base. Darryl George at the plate.
With the count 1-1, the pitch barely got away from catcher Brian Holberton. Ridings broke for second base, but Simon stayed put, one step off the bag. Holberton elected to just
walk
(literally walk, not even run) at Ridings who was exactly halfway between second base and first. By the time Holberton had nearly reached him, Ridings broke back for first base, getting into a run-down. Simon continued to stay at second base, but drifted off the bag slightly as if to head towards third. Second baseman Dayne Parker missed the tag of Ridings, who fell to the ground about 10 feet from second base.
At that point, third base was completely uncovered, so Simon broke and won the foot race to the bag, as Ridings got up and advanced to second base. Simon stood up at third and noticed home plate was uncovered as well. Before time was called, he broke for it. Kevin Comer, the reliever who at this point had the baseball, flipped to Mitchell who chased down Simon. The tag was applied, and Simon was called out on what appeared to be a 50-50 play at home plate. The whole instance led to just one out and
was scored 2-3-5-4-1-7
.
Benjamin Hill is a reporter for MiLB.com and writes Ben's Biz Blog. Follow Ben on Twitter @bensbiz. This story was not subject to the approval of the National Association of Professional Baseball Leagues or its clubs.
View More