D-backs Prospect Primer: Bradley blazing
Opening Day destination may be only area of doubt for right-hander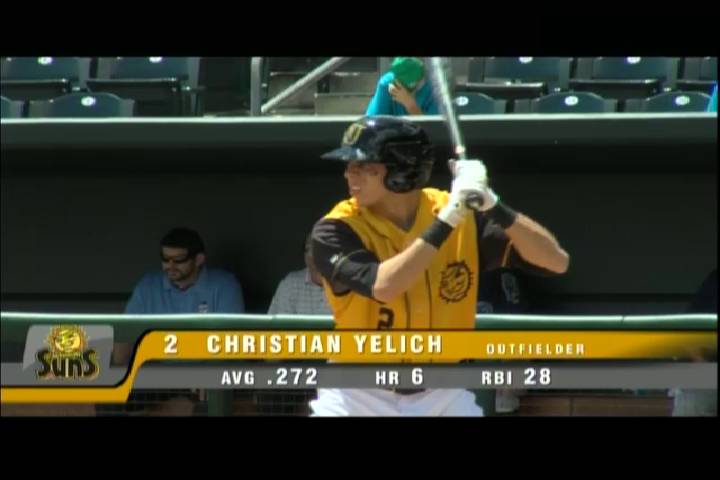 By Josh Jackson / MiLB.com | March 26, 2014 10:00 AM ET
Some players are on the verge of stardom, others are entering a crucial phase of their development and still others are getting their first tastes of full-season ball. With the 2014 season approaching, MiLB.com takes a look at the most intriguing prospects from each MLB organization.
Since at least as early as last September, it's been clear that Archie Bradley would enter Spring Training as a candidate for a spot in the Arizona rotation, no matter what happened with any other hurler. Last season -- his second full campaign as a pro -- he outgrew the Class A Advanced Cal League (a nightmare circuit for many young pitchers) in five starts. Double-A was hardly a match for him either. He was 12-5 with a 1.97 ERA over 21 starts for Mobile.
"He's always had splashes of brilliance where pretty much no one can touch him," D-backs director of player development Mike Bell said. "Little by little over the last couple years, you've seen him manage games better when he might not have his best stuff with him. That's what's impressive to me. I think he's going to have a great year."
This spring against more seasoned competition, he showed his humanity but was still pretty strong, especially for somebody born on this side of 1990. Over three Cactus League starts, the 21-year-old righty went 2-1 with a 4.32 ERA and struck out 10 in 8 1/3 innings. He started the D-backs exhibition against Team Australia and was touched up for three runs in 3 /13 frames, but he notched three strikeouts in the outing.
It appears likely that Bradley will start the season with Triple-A Reno, as Randall Delgado looks like the front-runner for that fifth starter spot. Nonetheless, the Oklahoman is about as ready for the big leagues as a young prospect can be, and it won't be long before he arrives for good.
"I think he's got the opportunity to have No. 1 stuff," Bell said, "and he has the personality and the presence to be that guy as well. Is it going to happen this year? I'm not sure. But at some point, he'll get there."
Shipley was the 15th overall pick in last year's Draft. The D-backs nabbed him out of the University of Nevada, and he has a three-pitch repertoire expected for a top arm out of college. He showed it off over eight starts in the Class A Short Season Northwest League and four more in the Class A Midwest League last season, getting mixed results. He combined to go 0-3 with a 4.99 ERA and 40 strikeouts in 39 2/3 innings.
This spring, his particularly nasty changeup has been getting attention in Minor League camp.
"He came in with it," Bell said. "He has a mid-90s fastball and his curveball is improving. His makeup, his personality, his presence, his athleticism all point to somebody who's able to move across the board.
"But baseball's a tough game too. We've only had him for a handful of innings. We're not in a rush with him, but I have a feeling he'll force our hand and move across quickly."
No matter the pace of Shipley's ascent, his first full season as a pro is worth keeping an eye on. He figures to begin the year with Class A South Bend.
Trahan was the D-backs' first-round choice in the 2012 Draft, when he ranked as the nation's top high school catcher, largely on the basis of his hitting ability. There have been questions since before he was drafted about his footwork and agility behind the plate, and this year, Arizona has him converting into a corner outfielder.
"We have him in right field right now. He has really good arm strength," Bell said, "and in the end, I think he's going to be able to do either -- play left or right."
In addition to his strong arm, Trahan is fast -- he's stolen only nine bases as a pro, but he's only tried for 10 -- and the conversion may keep his legs more limber and free. But Bell warned against anticipating a humongous change in Trahan's offensive game.
"He's always been a good hitter, but we like our outfielders to focus on defense," he said. "He's not in a situation now where he doesn't have to worry about defense and he can just go out there and hit. He's going to put a lot of energy and focus on defense, but he is naturally a good hitter, and I think that's going to continue."
If it does continue, it will do so during Trahan's first full season. He posted a .422 on-base percentage in 2012 in the Rookie-level Arizona League and a .328 on-base percentage in the Pioneer League last year. In 108 pro games over the two seasons, he's slugged 15 homers with 26 doubles and five triples.
More to keep an eye on: Second-ranked D-backs prospect Chris Owings, who's also MLB.com's No. 77 prospect overall, has been battling Didi Gregorius all spring for the big league starting shortstop job. Owings started for Arizona against the Dodgers in Australia and appears to have won. Still, Kirk Gibson also suggested the roster may change by March 30; either Gregorius or Owings could be a boon for Reno. ... Right-hander Aaron Blair came to the D-backs as the 36th overall pick in last year's Draft, and he throws a hard sinking fastball that helped him to a 3.14 ERA between two levels in his first crack at the pros. He'll likely head back to South Bend to start the season, but if he can keep the ball down, he may also be successful in the California League with Visalia. .... Nick Ahmed, another shortstop, has never hit above .269 in a pro season, but he earns exhaustive praise for his defense from teammates, coaches and scouts. Last season he stole 26 bases in 33 tries for Double-A Mobile, and if he can get aboard just a little more often, he'll be a valuable member of either the BayBears or Aces offense, depending on how the Gregorius-Owings situation shakes out. ... Southpaw Andrew Chafin underwent Tommy John surgery in 2010 and after a mediocre 2012 season was remarkable in 2013. He made six starts for Visalia and 21 for Mobile to finish 13-8 with a 3.20 ERA. What he does in the PCL will be worth watching.
Josh Jackson is a contributor to MiLB.com. This story was not subject to the approval of the National Association of Professional Baseball Leagues or its clubs.
View More