De La Cruz unhittable for five frames
Cubs' No. 7 prospect whiffs six in dominant start for South Bend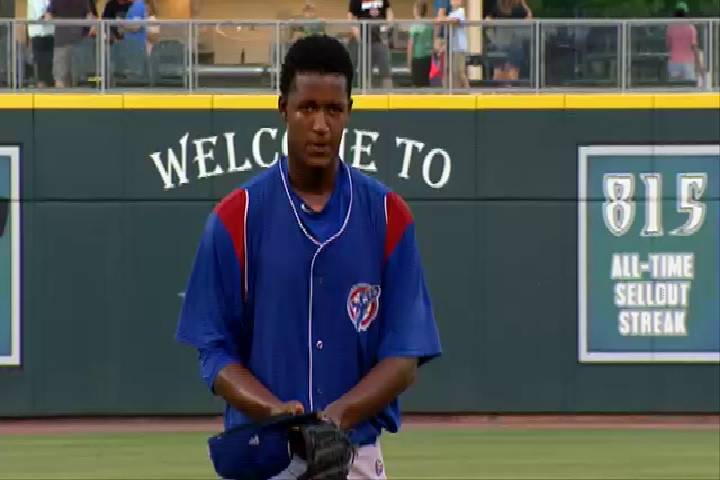 By Mack Burke / MiLB.com | August 12, 2016 1:15 AM
In three starts with Class A South Bend, Oscar De La Cruz has given the club a small sampling of what he's capable of. But he flashed his best stuff Thursday night.
The Cubs' seventh-ranked prospect delivered five hitless innings, walking one and striking out six, en route to South Bend's 7-4 win over Dayton at Fifth Third Field. He exited due to a pitch count after suffering an injury earlier this season.
"He attacked the hitters," South Bend manager Jimmy Gonzalez said. "He wasn't pitching around them. He was going right after them, and they were swinging through an elevated fastball he was using. He was aggressive, and that's one thing you want coming from your starter. You want them to throw aggressively to hitters and pitch to contact, which he was doing, and guys were popping up and grounding out. It worked for him."
De La Cruz (1-0) took the hill in the bottom half of the first inning with a four-run lead and quickly set the tone by striking out the side, including Cincinnati's top prospect Nick Senzel, selected in the first round by the Reds in June. The Dominican Republic native walked Cincy's No. 11 prospect Chris Okey in the second, plunked Daniel Sweet with two outs in the third and then retired the final six batters he faced.
"That's something that doesn't happen too often -- to come out and already have a four-run lead," Gonzalez said. "That should, as a pitcher, take a little pressure off, knowing you can just come right after hitters and not worry about the game at 1-0 or 0-0. If he takes it into the fifth at 0-0, obviously it's a different ballgame. Him going out with a four-run spot, it was something very positive for him.
"He's got a good fastball, not an overpowering fastball, and a good changeup and good off-speed pitches that he can use at any time. And he moves his fastball in and out."
The 21-year-old right-hander has made six starts this year while advancing swiftly through three levels after being assigned to extended spring training June 14 as he worked back from a minor injury.
"[The injury] wasn't anything serious, that's why he kept pitching, but this is just about building him back up," Gonzalez said.
De La Cruz has posted a 1.38 ERA and 38 strikeouts in 26 innings across his six starts and has given up one earned run in 14 2/3 innings in his three starts for South Bend since joining the team on July 27.
"[For him, progressing and continuing to move forward] is just about executing pitches when he has to," Gonzalez said. "There were times tonight where he left a pitch up in the zone when he needed it down. But it's about executing. He's throwing the right pitches, he's just not executing consistently where he wants it.
"Obviously, he's able to get away with some things at this level, but as you progress to higher levels, you won't get away with it," he added. "That's something he's continually working on and it's gotten better since his first start. It was better today."
South Bend's Dillon Maples gave up four runs on three hits and a walk in the ninth.
Cubs' No. 2 prospect Eloy Jimenez singled in a run and Andruw Monasterio went 2-for-4 with two RBIs for South Bend.
Dayton starter Alex Webb (1-2) gave up five runs on seven hits while striking out three over five innings.
James Vasquez doubled in two runs and scored once for the Dragons.
Mack Burke is a contributor with MiLB.com. Follow him on Twitter @macburke18_MiLB This story was not subject to the approval of the National Association of Professional Baseball Leagues or its clubs.
View More