Decker homers in fourth straight game
Padres first baseman ending 2014 on a high note with Chihuahuas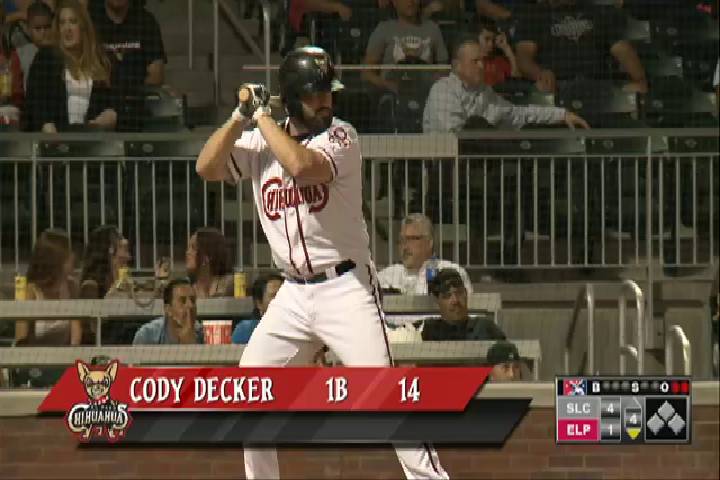 By Ashley Marshall and Josh Jackson / MiLB.com | August 29, 2014 1:06 AM ET
Cody Decker is many things. He's a filmmaker and a prankster, and he might be the best-dressed Minor Leaguer to be featured on a late-night cable network TV show.
But lost in the jokes and media hype surrounding a man who once locked a teammate in the bathroom for hours, is another truth: Cody Decker is a power hitter.
"It is nice to remind people, because I've had a lot of fun with my off-field shenanigans," Decker said. "I'm glad a lot of people have enjoyed that, and for the most part, people have embraced my weirdness. But I do think people lose sight of the fact that I am a baseball player, and I'm actually decent at it."
Decker homered for the fourth consecutive game as the host El Paso Chihuahuas rallied to beat the Salt Lake Bees, 8-7, on Thursday. He is the first player to accomplish the feat in the young history of the team.
The 27-year-old Padres prospect, who finished 1-for-3 with two runs scored, clubbed his 26th homer of the year with two outs in the fourth inning on the first pitch he saw from right-hander Jarrett Grube. Decker was not waiting to jump on any particular offering, though.
"It was actually a breaking ball. I just saw it and reacted," he said. "I've never been the type of hitter to go up there all, 'I'm sitting on this pitch or that pitch.' I always think fastball and make the adjustment if I need to make the adjustment."
The Santa Monica, California native has 74 RBIs in 129 Pacific League games this season, his sixth in pro ball. He's closing in on his previous single-season homer mark of 29, set across two levels in 2012. And with 132 roundtrippers in the Minors to his name, Decker has hit at least 15 each year and averaged 22 a year.
Selected in the 22nd round of the 2009 Draft out of UCLA, Decker went deep in the final three games against Colorado Springs to wrap up an eight-game road trip, and he continued his hot streak when the Chihuahuas opened their final homestand with the Bees.
"Honestly, it sounds stupid but it's not really on my radar, not exactly," Decker said. "I've got four games left to accomplish a couple things I want to get done as far as A.) personal stats and B.) team goals. That's much more my focus than a home run streak."
Despite the power swing and offensive production from a position that typically demands a big bat, Decker is still probably best known for his pranks and self-made videos.
Among the more popular viral clips has been the time he convinced teammate Jeff Francoeur that fellow Chihuahua Jorge Reyes was deaf and when he replaced ex-coach Brad Ausmus with a cardboard cutout of the former catcher.
Decker has almost 20,000 followers on Twitter and he was recently featured on the Keith Olberman show, where he said the reason he isn't in the Majors was because he wasn't called in to interview for the general manager's job and therefore was not in a position to promote himself.
"Something like this is good feeling, but then I start to get the feeling that I have to remind people that I'm also a prankster," he said. "There's four days left. Everybody should be on the lookout. Jeff Francoeur is not safe."
El Paso's Jace Peterson went 3-for-4 with a walk and two RBIs and left fielder Yeison Asencio homered and plated two runs. Starter Robbie Erlin allowed four runs on seven hits and two walks while striking out three batters over six innings, but did not factor in the decision.
Salt Lake's Brennan Boesch hit a three-run homer, his 24th long ball of the season and second in as many games.
Ashley Marshall is a contributor to MiLB.com. Follow him on Twitter @AshMarshallMLB. MiLB.com's Josh Jackson also contributed to this report. This story was not subject to the approval of the National Association of Professional Baseball Leagues or its clubs.
View More