Dodgers flip Heaney to Angels for Kendrick
LA nets Barnes, Hernandez, Hatcher from Miami for Gordon, Haren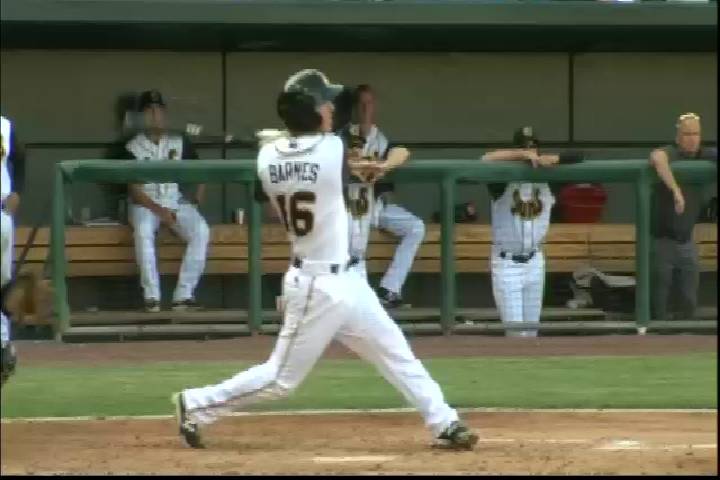 By Ashley Marshall / MiLB.com | December 11, 2014 1:21 AM
Andrew Heaney had a fleeting tenure with the Dodgers, but the 23-year-old southpaw may still be pitching in Southern California for years to come.
On Day 3 of the Winter Meetings, Los Angeles received a package from Miami of Heaney (Miami's former top prospect), catcher Austin Barnes, veteran reliever Chris Hatcher and utilityman Enrique "Kiki" Hernandez in exchange for 2014 All-Star Dee Gordon, veteran starter Dan Haren, infielder Miguel Rojas and cash or a player to be named later.
Hours later, the Dodgers sent Heaney to the Angels for second baseman Howie Kendrick, according to MLB.com's Ken Gurnick.
"It was all kinds of crazy," Heaney told MLB.com. "I had no preconceived notion of what was going to happen. I was excited to go to the Dodgers, and as soon as they told me it was the Angels, I was just as excited."
In Heaney, Los Angeles' American League club landed a hard-throwing lefty who advanced to the Majors in 2014 -- just his third season of professional baseball.
Selected ninth overall in the 2012 Draft out of Oklahoma State University, the 23-year-old made his big league debut in June and went 0-3 with a 5.83 ERA over 29 1/3 innings for the Marlins.
Well, @Dodgers we had a good run! Great to be a part of such a storied franchise. #thanksforthememories

- Andrew Heaney (@Heandog8) December 11, 2014
Can't wait to join the @Angels and get started with an amazing Org. Thank you for this opportunity and lets go Halos!!!

- Andrew Heaney (@Heandog8) December 11, 2014
Heaney sports a career 19-11 record and a 2.77 ERA in 49 career Minor League games. He split time between Double-A Jacksonville (where he went 4-2 with a 2.35 ERA) and Triple-A New Orleans (where he was 5-4 with a 3.87 mark in 15 Pacific Coast League games) in 2014.
The Dodgers' remaining haul should provide depth at the upper levels of their organization.
Barnes, 24, completed his fourth year in the Minors this past season and was ranked No. 15 in the Marlins system. Selected in the ninth round in 2011 out of Arizona State, the right-handed backstop batted .304 with 13 homers and 57 RBIs in 122 games between Class A Advanced Jupiter and the Double-A Suns.
At 29, Hatcher is the most veteran of the players heading from Miami to the West Coast. The right-handed reliever, a former fifth-round pick out of UNC Wilmington in 2006, has seen big league time in each of the past four seasons. In 2014, Hatcher went 0-3 with a 3.38 ERA in 52 games, almost doubling the 29 appearances he made over the three previous years.
Hernandez saw time at all three outfield positions as well as at second base, third base and shortstop during 42 Major League games between Houston and Miami this past year. Originally selected by the Astros in the sixth round of the 2009 Draft, he was traded to Miami on July 31 in the move that sent Jake Marisnick to Houston.
Kendrick, 31, has a .292 average over nine big league seasons with the Angels. He hit one point higher than that in 2014 while collecting 75 RBIs and 14 stolen bases. The second baseman was an All-Star in 2011.
Speedster Gordon, a 26-year-old middle infielder who can play second base or shortstop, heads to the Marlins. An All-Star in 2014 with the Dodgers, Gordon has 1,230 big league at-bats under his belt over four seasons, all in LA. In his first full season this year, Gordon batted .289, leading the National League with 64 stolen bases and 12 triples.
Three-time All-Star Haren remains the wild card in the deal. Reports out of San Diego claimed the 34-year-old was sticking by a previous statement made that he would retire if was traded to any team other than the Angels.
Rojas, a 25-year-old defensive specialist, hit .181 over 85 games in his first Major League season this year.
Ashley Marshall is a contributor to MiLB.com. Follow him on Twitter @AshMarshallMLB. This story was not subject to the approval of the National Association of Professional Baseball Leagues or its clubs.
View More