Dodgers' Pederson hits go-ahead grand slam
Isotopes outfielder acknowledges trade rumors, reaching 20/20 mark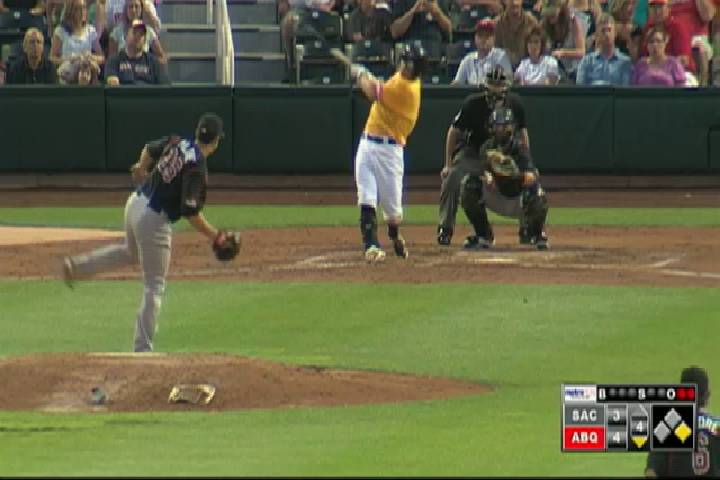 By Danny Wild / MiLB.com | July 24, 2014 8:52 PM ET
A day after joining the 20/20 club, Joc Pederson stepped back to the plate with another milestone in reach.
The Dodgers' No. 2 prospect hit a go-ahead grand slam, the first one of the season for the Triple-A Isotopes, to cap a five-run rally in the eighth inning as Albuquerque stunned Fresno, 8-7, on Thursday afternoon.
"It was a pretty cool reaction," Pederson said of his teammates. "I actually didn't know it was the first [grand slam], it was pretty exciting to win on a travel day. I don't think a win is better than that."
Pederson took veteran reliever Heath Hembree deep to right field with two outs in the bottom of the eighth for his only hit of the game. The victory was the eighth in 10 games for the Isotopes (50-56).
"I wanted to get a pitch that was up. I guess it wasn't that high, but I wanted to slow it down and put a good swing on it," he said. "I had a couple opportunities early in the game where I didn't have quality at-bats, so I'm glad this one worked out and we were able to get the win."
Albuquerque took a 3-0 lead in the third, but Fresno responded with one in the fourth and five more in the fifth to grab a 6-3 edge. Trailing 7-3 in the eighth, the Isotopes rallied against reliever Dan Runzler when Jamie Romak hit a leadoff double, Mike Baxter reached on a fielding error by shortstop Chris Dominguez and both runners advanced on a wild pitch. Pinch-hitter Tim Federowicz worked a walk to load the bases and chase Runzler before Morales drew another walk to force home Romak. Pederson then golfed a low-inside 1-1 fastball into the grassy picnic area in right.
"I'm just trying to see the ball, I'm returning from my shoulder injury, so I'm just trying to get back in the rhythm of playing every day and getting used to the grind and the wear and tear," he said. "I'm just slowing everything down, putting good swings on good pitches. I think I did that well to begin off the year, so I'm trying to maintain it. It's easier said than done."
The clutch homer came a day after Pederson became the first player since 2009 to go 20/20 in the Pacific Coast League. The outfielder hit his 20th homer of the season Wednesday night while also stealing his 25th base, becoming the first PCL slugger to match the milestone since Terry Evans did it for Salt Lake six years ago. He's the second Minor Leaguer to reach the plateau this season, joining No. 3 Nationals prospect Michael Taylor, who reached the mark on July 20.
Pederson is also the fifth player in Albuquerque history to reach the 20/20 club, joining Franklin Stubbs (32/23, 1985), Mike Marshall (32/21, '81), Pedro Guerrero (22/26, '79) and Larry Hisle (23/20, '72).
"I think you know when you get there, but I don't set a limit or standard to reach, I just go and try to help the team win and if that's 20/20 or 30/30 or even 10/10, or whatever it is, a lot of it is out of your control," he said.
"I try to stick to the process. It's cliché, but it's true, you can't get ahead of yourself. You take it day by day and come to the field and continue to perfect your craft."
The outfielder, who had stranded three runners while going hitless in his first four plate appearances, has generally been in a groove this month. Since the Triple-A All-Star break, the 22-year-old is batting .308 (8-for-26) with four homers, 10 RBIs and eight walks in eight games. His success this year has only fueled speculation he could join the Dodgers' outfield mix in Los Angeles or be shipped in a package at the trade deadline later this month. He's been linked specifically to a potential deal involving Rays ace David Price.
Rumors like that are rarely beneficial for players trying to stay focused on the field, especially an elite prospect like Pederson, but they exist and he's dealt with them.
"It definitely comes up," he said. "People text you about it or you read it online, but I just stay in the moment. I guess it's humbling to know other teams want you, but until something happens, I'm still here and I've gotta come to the ballpark and work on everything I need to work on. I can't get ahead of myself."
The California native reached the 20/20 milestone last year as well, when he hit .278 with 22 homers, 58 RBIs and 31 steals at Double-A Chattanooga. He showed signs of his power and speed in 2012, when he batted .313 with 18 home runs, a career-high 70 RBIs and 26 steals for Class A Advanced Rancho Cucamonga. A 2013 Futures Game All-Star, Pederson's home run total this season doesn't include the shot he hit at the Triple-A All-Star Game earlier this month in Durham.
Pederson is batting .313 in his last 10 games with four homers, 11 RBIs and five steals in that span. He homered on consecutive days July 18-19 against Sacramento and has hit safely in eight of his last 10 starts, owning a .511 on-base percentage in that span.
Overall, he's hitting .298 against fellow left-handers and .339 against righties. His .349 average in July marks his best month since April, when he batted .398 in 26 games.
Juan Perez, Dominguez and Guillermo Quiroz all went deep for the Grizzlies, with No. 16 Giants prospect Gary Brown walking twice and scoring a pair of runs. Recently acquired veteran second baseman Dan Uggla went 1-for-3 with a double, two walks and a run scored.
Danny Wild is an editor for MiLB.com. Follow his MLBlog column, Minoring in Twitter. This story was not subject to the approval of the National Association of Professional Baseball Leagues or its clubs.
View More