Dominant Hursh halted only by rain
Braves prospect fires 5 1/3 one-hit innings before lengthy delay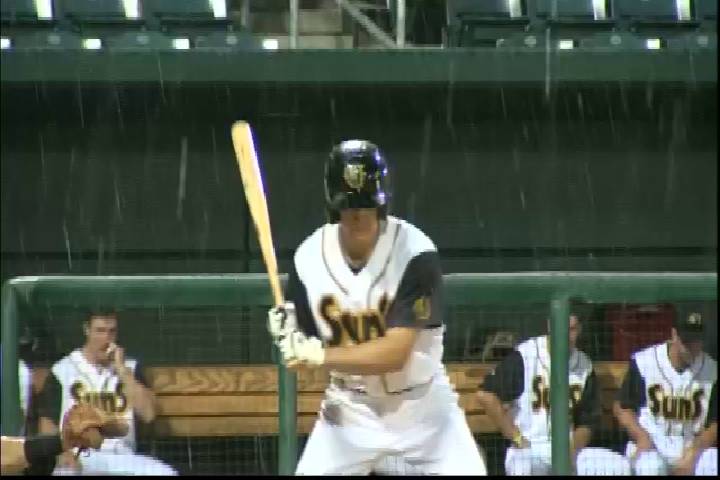 By Ashley Marshall / MiLB.com | August 7, 2014 1:44 AM ET
Only Mother Nature could stop Jason Hursh on a hot and wet evening in Jacksonville on Wednesday night because the Suns weren't having much success figuring him out.
The Braves' No. 5 prospect was working on a one-hitter through 5 1/3 innings at The Baseball Grounds when heavy rain sent the teams running for the locker rooms and the grounds crew sprinting for the tarp.
Hursh struck out five batters and walked two but exited a scoreless game and did not return following a delay of two hours, 45 minutes that was actually 35 minutes longer than the game itself.
"I felt good," the 2013 first-round pick said. "I wish I could have continued to get deeper in the game, but the weather had other plans. I knew we were in Florida, where thunderstorms can pop up at any time. I thought I could pitch through it, but it started coming down hard.
"I thought we were going to wait it out and see if it didn't rain as much, but obviously, it just poured and the playing field was not good to play on."
Light rain started falling in the bottom of the sixth and the grounds crew dragged the tarps onto the bullpen mounds located in foul territory down the first- and third-base lines. But Mississippi manager Aaron Holbert called his players off the field. The umpires initially instructed the Braves to keep playing, but the rain increased and they eventually halted the game.
"It was just a hazard," Hursh said of the tarps. "[Holbert] was just saying that he didn't want his players near the bullpen mounds. I started walking off the field and the umpires said to keep playing, but 30 seconds later it started to downpour. The umpires wanted to play through it with the tarps down the lines, but Holbert saw it and obviously didn't want his third baseman or second baseman running on it."
The only hit allowed by Hursh -- ranked second among Atlanta pitching prospects behind Lucas Sims -- was Yosmany Guerra's two-out single to left field in the second. He also issued a pair of fourth-inning walks but stranded both runners by striking out Guerra.
The outing lowered Hursh's ERA to 3.42, but he was unable to collect his fifth consecutive victory.
The 22-year-old right-hander has allowed four runs -- three earned -- on 11 hits over 23 1/3 innings in his last four starts.
"I liked the stuff I was bringing to the table tonight," said Hursh, selected 31st overall. "I had command of three, maybe four pitches. It was a little frustrating. I really wanted this one. My sinker was working and I had a nice slider for a couple innings, and the curveball as well.
"I figured once it didn't stop raining for 20 minutes that they were not sending me back out there. You don't want to be hot for that long, then sit down. The bullpen has been great all year. We have a really, really great bullpen and the guys came in and continued to do a good job. They shut down a first-place Suns team, so it was a good win."
Ryne Harper (7-5) retired both batters he faced once play resumed to earn the win. Brandon Cunniff worked around one hit over two innings and John Cornely stuck out one in a hitless ninth to record his fourth save.
Jacksonville starter Jose Urena, the Marlins' No. 9 prospect, gave up three hits and a walk while striking out five over six innings. Steve Ames (2-2) surrendered two hits, including Braeden Schlehuber's RBI single in the seventh, over two frames.
Ashley Marshall is a contributor to MiLB.com. Follow him on Twitter @AshMarshallMLB. This story was not subject to the approval of the National Association of Professional Baseball Leagues or its clubs.
View More