Doubront tosses five no-hit frames in rehab
Red Sox lefty combines with Barnes to take no-hitter into the seventh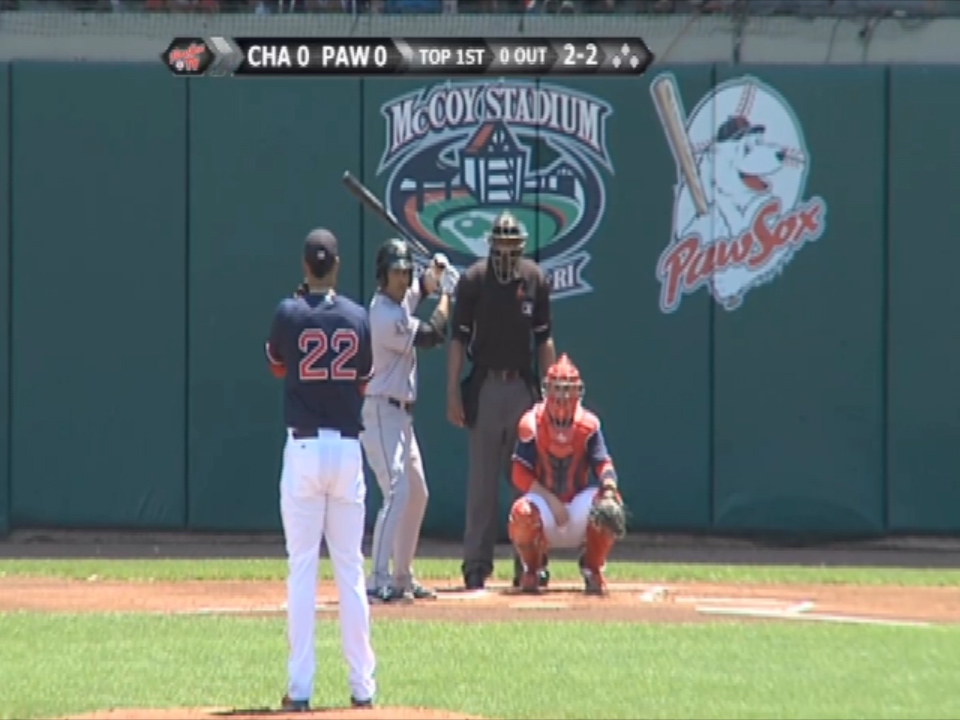 By Jake Seiner / MiLB.com | June 15, 2014 7:15 PM ET
The Red Sox could use some help in their starting rotation and help may be on the way soon.
Felix Doubront, making his third rehab start in the Minors, chucked five no-hit innings and racked up 10 strikeouts for Triple-A Pawtucket on Sunday, but didn't factor into the decision in an eventual 2-1 loss to Charlotte.
Boston's No. 6 prospect Matt Barnes relieved Doubront -- on rehab after bruising his shoulder closing a car door -- and tossed three scoreless innings. The right-hander scattered three hits and struck out two while throwing 41 pitches.
Pawtucket held a 1-0 lead into the ninth, but with two outs in the top of the final frame, Blake Tekotte pulled a two-run homer off left-hander Drake Britton. The long ball was Tekotte's eighth of the season.
Doubront was electric out of the gate, striking out two batters in each of the first three innings. He picked up another strikeout in the fourth and three punchouts in the fifth. The left-hander threw 93 pitches -- 50 for strikes-- and walked four.
"His stuff plays in the zone," Pawtucket manager Kevin Boles said. "He's definitely got some swing-and-miss-type stuff. His delivery looked like it synched up more times than not. I thought this was a big sign of improvement from his last outing."
In his first rehab start with Double-A Portland, Doubront allowed two earned runs over four innings. He followed that with a two-run, 4 2/3-inning outing with Pawtucket on June 10. He struck out five and walked one across the two games, drawing concern from Red Sox Nation over the lack of strikeouts and his lackluster velocity.
"He showed better stuff today," Boles said. "I thought he had a feel for a breaking ball at times. Fastball had a little bit, ticked up in velocity. I thought he threw with quality. He got out of his delivery a few times, but I thought it was pretty impressive because he was able to get back on track.
"I think toward the end he got a little bit tired too. But again, he made pitches when needed. You could see him, there were times he was trying to reach back for a little bit extra, but then he calmed himself down and was able to execute pitches."
Boles said he hadn't heard anything about Doubront's timetable for a return to the Majors.
Barnes relieved the southpaw for the sixthand worked smoothly through his first frame, striking out Marcus Semien in the middle of a 1-2-3 inning. He had more trouble in the seventh, plunking Josh Phegley to start the frame and later allowing a two-out bloop single to Tyler Saladino that ended the no-hit bid.
Barnes got Tekotte to ground out in the next at-bat, then worked around consecutive one-out singles in the eighth to finalize his line.
The relief outing was Barnes' first as a professional.
"I thought he did well," Boles said. "That's not easy too. Even though you can mentally prepare for that, to piggy-back, I thought he pitched pretty well. He had a crisp fastball. Had some life to it, angled it down in the zone and I thought it was overpowering at times."
But Charlotte countered Pawtucket's pitching. Deunte Heath started the game and allowed a run on two hits over three innings. Relievers Matt Zaleski (three innings), Ryan Kussmaul (two innings) and Donnie Veal (one inning) combined to keep Pawtucket hitless over the final six frames.
Kussmaul (1-2) got the win, striking out five while walking two, and Veal picked up his fourth save.
"Offensively, we just looked like we expanded the zone quite a bit," Boles said. "Got some pitches that were early on in the count. I thought we should've taken a more aggressive approach at it, but then we expanded with two strikes.
"I thought their pitchers, when they miss, they miss down, but they expanded the zone, but we have to do a better job offensively at the plate. No doubt about it."
Britton (0-2) took the loss after allowing his second homer of the season. He has a 4.50 ERA with 19 walks and 14 strikeouts over 26 innings.
Jake Seiner is a contributor to MiLB.com. Follow him on Twitter at @Jake_Seiner. This story was not subject to the approval of the National Association of Professional Baseball Leagues or its clubs.
View More