Drabek makes own mark on familiar path
Free agent improves as pitcher, dad with help from Cy Young winner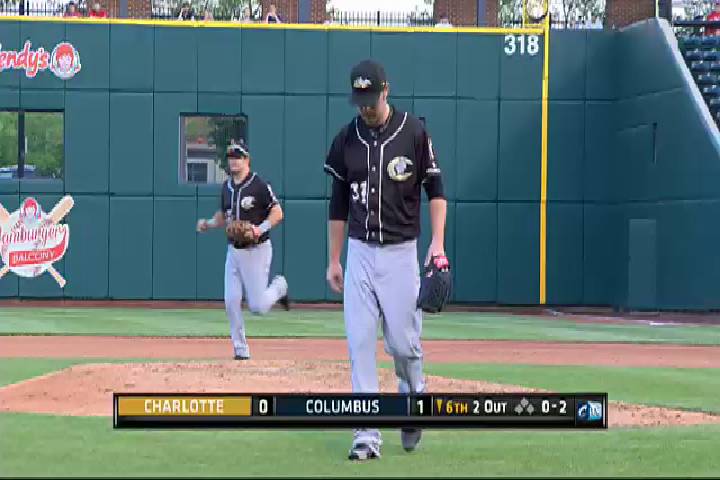 By Kelsie Heneghan / MiLB.com | February 6, 2017 10:00 AM ET
With a seemingly innocuous act of talking to the grounds crew, Kyle Drabek set himself apart.
While tradition dictates a pitcher is to be left alone during a no-hit bid, the right-hander didn't want to be overwhelmed by his thoughts on July 4, 2010, so he welcomed some chitchat with the crew in the Double-A New Hampshire dugout. The content proved to be inconsequential 6 1/2 years later, but the company was key.
"It might've kept my mind off of it, instead of just sitting there alone, thinking about it, which probably helped," he said.
Unlike his son, Doug Drabek couldn't talk to anyone when he flirted with history on Aug. 3, 1990. The Pirates veteran kept to himself every time he pitched, leading rookies to probably think he was "some mean old grumpy man."
"I know some guys can talk and joke around and stuff, and it works for them and that's great. I kind of wish I had been able to do that, but I just didn't talk much," the 1990 Cy Young winner said.
While his father fell one out shy of a no-hitter, Kyle Drabek completed his bid. After the game, he called his dad, a pitching coach in the D-backs system, and his mom, who was nervously following along online.
***
For years, Kristy Drabek balanced her kids' schedules with her husband's. After collecting homework assignments from teachers, she would take kids Justin, Kyle and Kelsey to Spring Training for two weeks to spend time with their father. Once school got out, the four would go live with Doug in Pittsburgh or Houston, though it got harder once the kids had their own practices and games.
"[It was] pretty difficult because you don't get to see him much and technology back then wasn't as good so you would only be able to talk on the phone a little bit. We would wait for summer to be able to go visit him," Kyle Drabek said. "We would always watch his games and [my mom] would throw with me and my brother when he was gone. So she did a great job of that."
In the offseason, Doug Drabek practiced with his kids, and in retirement, he coached their various baseball teams, but he said it was tough for him to not be able to go to his sons' baseball and football games and his daughter's recitals during the '90s.
"She had to take them everywhere, take care of them," Doug Drabek said. "And you get used to it, but you still miss not being able to help out some."
Doug Drabek brought his kids to the field and reveled in watching them as bat boys during Spring Training. Some of Kyle Drabek's earliest memories are in the clubhouse while his father played for the Astros.
"They're both very competitive. Kyle, I would say is even more; he's the most competitive person I know," Kristy Drabek said. "He doesn't like to lose if you're playing a game in the family room or whatever, he can't stand to lose. And Doug's the same way."
Although the competitive drive binds them, the Major League veteran doesn't see too many similarities when his son's on the mound. Doug Drabek sees himself as more of a finesse pitcher, rather than a power pitcher like the 29-year-old.
***
Kyle Drabek now has a son of his own to teach the game to following Cash's birth last June. But the best news in his life as a man coincided with the worst news for a professional athlete.
"It was kind of a blessing in disguise. I got released a few days before he was born, so I was able to see him every day instead of only being able to see him for the three-day period that we get," the new father said. "And it's a pretty amazing thing."
Following his stint with the D-backs and extended paternity leave, the Giants signed the 6-foot-2 hurler on July 12 and sent him to the Rookie-level Arizona League in hopes of converting him into a shortstop or third baseman. While Drabek hadn't planned on staying in Grand Canyon State for the rest of the season, he cherished the extra time he got to spend with his family.
"I was lucky enough to be able to see [Cash] every day, and I got to imagine that it would be pretty hard for everyone else who only has the three days to see the kid be born and then you have to leave again," he said. "You pretty much can't see him for a few months because you don't want to fly with a newborn."
This spring, Kyle Drabek is looking to follow his father's lead once again. Currently a free agent, he hopes to find a new team before the season starts, even though that would mean returning to the difficult life of travel away from his family.
With the advance of technology, Doug Drabek knows it will be easier for his son to stay in touch with his family while on the road than when he himself was playing, encouraging Kyle to take advantage of video calling so Cash can hear and see him.
"I pretty much throughout my life took advice from him on baseball, and now I'm taking advice from him on being a father," the hopeful Minor Leaguer said. "He and my mom did a great job raising three kids, and so whatever advice I can I take from them, I take it to heart and just try to be the best father I can."
Kelsie Heneghan is a contributor to MiLB.com. Follow her on Twitter @Kelsie_Heneghan. This story was not subject to the approval of the National Association of Professional Baseball Leagues or its clubs.
View More