Drury doubles three times in five-hit game
D-backs infielder also slugs first home run since promotion to Aces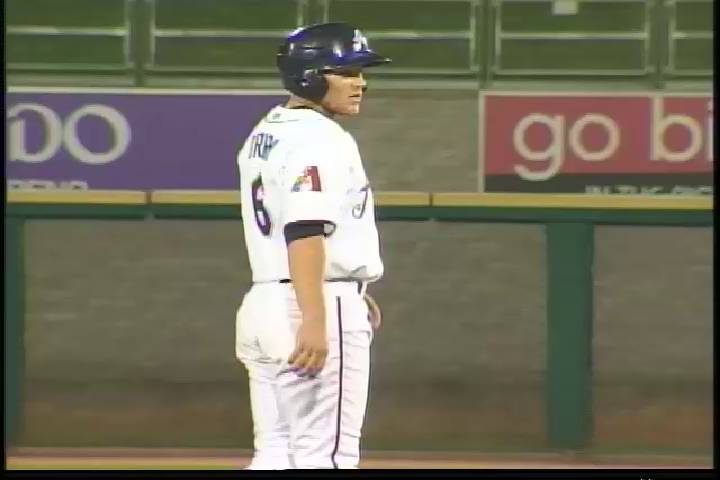 By Josh Jackson / MiLB.com | July 30, 2015 2:38 AM
Call him a perfectionist, but on Wednesday, Brandon Drury came away from a perfect night at the plate with a single regret.
In his last at-bat, a triple would have given him the cycle, but he ended up with his third double of the game.
"I should have gone three, to be honest," said the D-backs' No. 7 prospect. "It was high -- I thought it had a chance to go out. If I got out of box a little bit quicker, I would have gone three. I should have. Well, that's something I can learn from. Next time that situation comes up, I'm going to be standing on third base, I'll tell you that."
Drury went 5-for-5, marking the second five-hit game of his career -- he went 5-for-6 for Class A South Bend on April 30, 2013. The 22-year-old plated three runs and scored twice in Triple-A Reno's 10-4 win over visiting Fresno.
He's been working on a minor adjustment, but he wasn't sure whether that fact or just having something simple to focus on helped him to his big night.
"I just felt locked in," the infielder said. "I was thinking about something different [I was doing] with my legs. It's nothing crazy, nothing too different, just trying to stay in my legs a little more, trying to stay back. I'm usually more upright. Me and [Greg] Gross, our hitting coach, have been working on making sure I'm not drifting forward."
Drury was promoted from Double-A Mobile on June 23, and since coming up, he's batted .352 while seeing time at every infield position except first base and catcher. Playing second on Wednesday, he smacked his first Pacific Coast League home run in his first trip to the dish, taking Fresno start Mike Hauschild deep to left-center field with one in the first inning.
"I just got a good pitch to hit and didn't miss it. I took advantage of a pitch up in the zone," Drury said. "It's been a while [since the last long ball]. It was nice to hit it. That's part of the game, though. You go through streaks of hitting them and not hitting them. They come in bunches."
The native of Grants Pass, Oregon bunched together a pair of doubles in the third and fourth, shooting them both into left field.
"I don't even know if it had anything to do with bending my legs more," Drury said. "I just felt great in the box tonight, but I wasn't thinking of anything other than that."
He singled in the sixth before clearing the bases with the eighth-inning double that he felt should have been a triple.
The 2010 13th-round pick amassed a four-hit game for the Aces on July 3, and he's had two hits or more in four of his last six games.
"I try to go at-bat by at-bat," he said. "When you are hitting, it does make it easier to come in with more confidence, but I'm working to stick to each at-bat, forget about what happened before and just go one at-bat at a time."
Peter O'Brien, ranked ninth among D-backs prospects, was 2-for-4 with a home run and three RBIs. His 18 dingers put him in a three-way tie for third in the PCL.
No. 7 Astros prospect Domingo Santana collected his 18th PCL double, driving in two and scoring once for the Grizzlies.
Josh Jackson is a contributor to MiLB.com. This story was not subject to the approval of the National Association of Professional Baseball Leagues or its clubs.
View More