Duffey hurls first complete-game shutout
Twins' No. 17 prospect dominating with improved off-speed stuff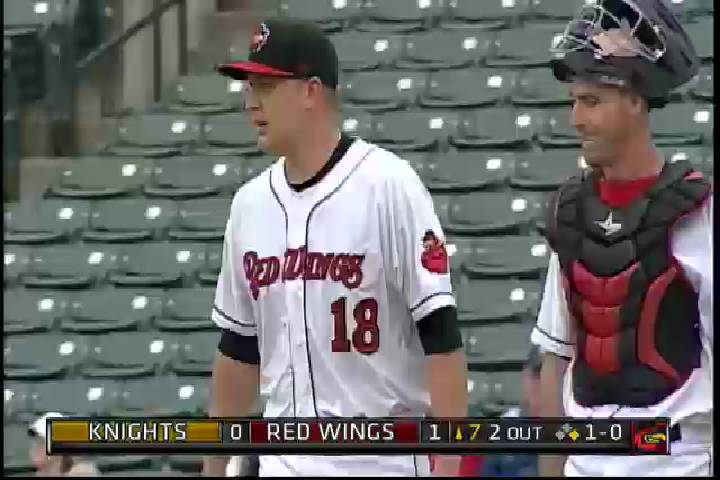 By Alex Kraft / MiLB.com | June 28, 2015 10:56 PM
According to Tyler Duffey, his season has been plagued by "the big inning." On Sunday, there wasn't one in the first complete-game shutout of his career.
The Twins' No. 17 prospect scattered four hits and a walk while striking out four over seven innings as the Triple-A Rochester Red Wings won a pitchers' duel with the Charlotte Knights, 1-0, in the first game of a doubleheader at Frontier Field.
"(I've been) using my defense a lot and they've scored plenty of runs for me," Duffey said. "I went out and I knew I had to do my job, so that's what I did and it's been working for me.
"My problem this whole year has been that I'll be cruising and have a bad inning and put up a four-spot and then be fine after that. Or I'll go out in my first inning and give up four straight hits and then after that be fine. (It helps) when I go out there and try and be myself and not throw harder or do something different and just trusting myself and allowing my pitches to do what they're supposed to do instead of trying to make them do things."
Duffey has posted an ERA of 2.82 in seven starts since being called up from Double-A Chattanooga in late May. He has gone 22 1/3 innings without allowing an earned run. The only blemish on his pitching record since a seven-run shelling against Scranton/Wilkes-Barre on June 11 was a pair of unearned runs by Pawtucket on June 22.
The 24-year-old right-hander's success has coincided with the emergence of his changeup as a viable option behind his fastball and curveball. Scouts had expressed concern that the Rice product doesn't use the pitch often enough, leading to trouble with left-handed hitters.
"My changeup has gotten a lot better for me in the last month or so." Duffey said. "I'm being confident in it and throwing it for strikes vs. just a 'show me' pitch.
"It's gotten better 10-fold. I didn't really have one at Rice. I was a reliever, basically a closer type, and I would come in and throw a fastball, curveball ... but I rarely threw any changeups. I've worked with a bunch of different grips in the past few years trying to figure one out. … It's getting to the point now where I can say 'Yeah, I have a good changeup that I can use,' so I think that's been helping me a lot lately."
Though the 2012 fifth-round pick has still struggled with lefties, who are hitting .298 off him vs. .207 for righties, he also said the emergence of his off-speed stuff has helped give him more of an edge in those matchups.
"(The changeup) has helped me some, and then my curveball being consistent. It wasn't always a consistent pitch to lefties. I'd either try to throw it away and they'd drop the head on it or things like that. I think the changeup and the curveball, but then also me getting the ball inside to lefties vs. just on the inner third. That changes the whole thing because once they're uncomfortable that opens the door for everything else."
Charlotte pitcher Miguel Chalas (0-3) allowed an unearned run on three hits with a walk and two strikeouts over four innings.
Alex Kraft is a contributor to MiLB.com. This story was not subject to the approval of the National Association of Professional Baseball Leagues or its clubs.
View More