Eastern notes: Bird brings jolt to Thunder
Yankees prospect continues to break out after bump up to Double-A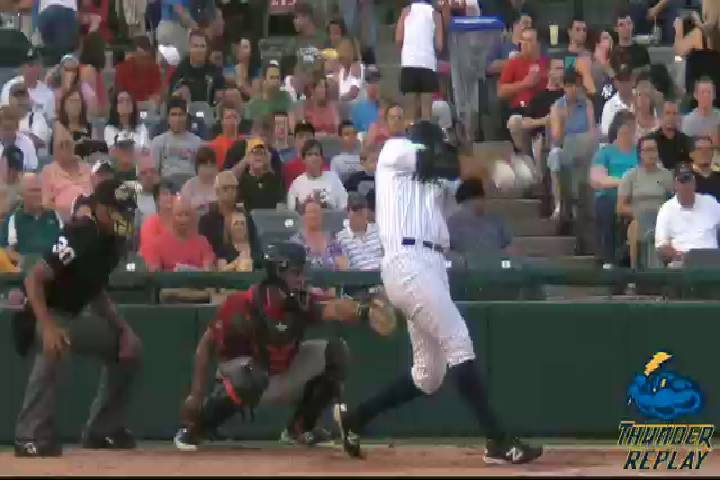 By Craig Forde / Special to MiLB.com | August 12, 2014 10:00 AM ET
Arriving in Trenton just a week and a half ago, first baseman Greg Bird is exactly where he expected to be.
An early back injury and the pressures of following up a breakout campaign have not slowed the New York Yankees' No. 12 prospect, and neither has the jump to the Double-A level.
"I was a little behind because I got a late start [to the season]," said Bird. "It took me a little bit to get going, but once I did, it's been good ever since.
"Honestly, this is where I wanted to be at the end of this year. I had a feeling I would start at [Class A Advanced Tampa]. … It was a goal of mine to get up here to Trenton."
Bird's ball of momentum really started rolling after his first full season in the pros a year ago, when he hit .288 with 20 home runs, 84 RBIs, 84 runs scored and a Minor League-best 107 walks in 130 games at Class A Charleston.
A Spring Training back injury landed him on the disabled list to start the season, but once ready, he came out swinging, hitting in seven of his first eight games of the season.
Bird was also determined to prove he was much more than a bat this season and has put in tireless effort toward solidifying his worth as a defensively viable first baseman.
With both hitting and fielding rounding out, he was finally afforded the bump up to Trenton at the beginning of August.
"It's always nice getting that promotion because you know the work you're putting in is paying off," said Bird. "I was looking forward to getting up here. I knew they had a great group of guys and great coaches, and I was looking forward to playing with them."
Bird didn't skip a beat when making the jump, smacking three of his first five Double-A hits over the wall, two of which were part of a 4-for-4 effort in his fourth game with the Thunder.
"I wouldn't say it's been easy by any means," said Bird of the jump. "I'm still adjusting, but I think the work I've put in to this point has put me in a position to have some success and hit the ground running."
The glove, and the determination to put it to good use, also made the trip to Trenton, and thus far Bird has yet to make an error in eight games.
"This year some of our instructors have helped to make that a focus, make it my priority," said Bird of becoming a better first baseman. "I think I've come a really long way defensively. I still have a really long way to go, but that's something I pride myself on and will continue to work at."
Now, being where he feels he ought to be, Bird is looking to keep adjusting to the next level, with an eye toward what may come at season's end.
"We've kind of talked about Arizona," said Bird of possibly playing in the Arizona Fall League. "It's definitely something I'm interested in doing. I don't know what [the Yankees'] plans are yet."
In brief
New dog, old tricks: Since coming over from Bowie in a trade deadline deal, left-hander Eduardo Rodriguez has put together solid back-to-back starts for Portland. The No. 10 Red Sox prospect picked up a win in his Sea Dogs debut and has allowed just one run while striking out 16 in 11 1/3 innings. Rodriguez, who struggled at times with the Baysox this season (3-7, 4.79 ERA), was dealt for reliever Andrew Miller.
Geauxing strong: Aaron Nola, the seventh overall pick in the Draft in June, picked up the win in his Double-A debut after allowing just one run on six hits in leading the Fightins over Harrisburg. The Phillies' No. 2 prospect struck out four and went 1-for-2 in his first plate appearances since high school. The LSU product reached on a bunt single and scored in the third inning.
Red-hot Pompey: Prior to hitting the seven-day DL, New Hampshire's Dalton Pompey was in the midst of second 10-game hitting streak of the season, having done so earlier in the season while with Class A Advanced Dunedin. The Blue Jays' No. 3 prospect is hitting .429 during his current streak, scoring eight runs and swiping three bases in the process.
Craig Forde is a contributor to MiLB.com. This story was not subject to the approval of the National Association of Professional Baseball Leagues or its clubs.
View More