Eastern notes: Coyle stronger after adversity
No. 16 Red Sox prospect emerging again after injury-plagued 2013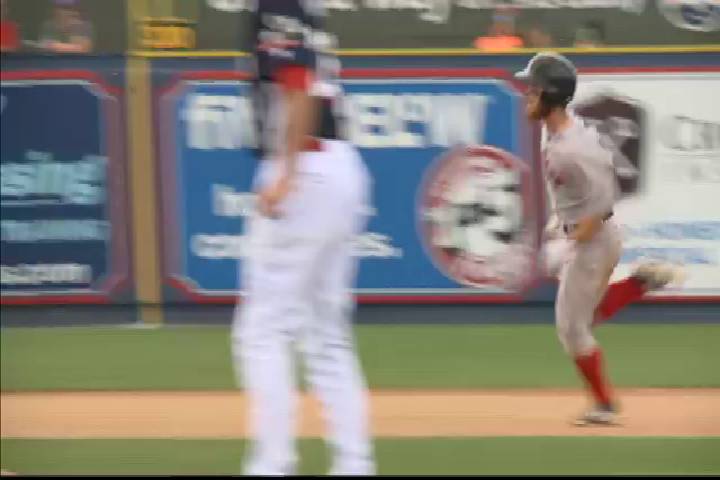 By Craig Forde / Special to MiLB.com | August 5, 2014 10:00 AM ET
Sean Coyle has battled through adversity in the form of struggles and injuries the past two years, but since he debuted with Portland at the start of this season, he has emerged as the high-ceiling prospect the Red Sox had hoped for.
Looking back, Coyle was sowing the seeds for a successful 2014 during last year's Carolina League championship run in Salem, and his continued efforts have been rewarded.
"You learn a lot about yourself when you face adversity and things don't go your way," Coyle said. "To say that I'm somebody who doesn't really quit when things are going well is one thing. But when things don't go your way and you don't quit and you keep your legs moving, that's something that's tough to do."
Saddled with numerous injuries last season, the Red Sox infielder was limited to only 60 regular season games, but after missing the division series, he appeared like a knight in shining armor for Salem in the finals, driving in seven runs over three games to earn series MVP. That momentum swung right through the offseason, Spring Training and into his Double-A debut as he batted .374 over the first two months of the season and showed no signs of slowing down.
The second baseman continued his torrid stretch in June, putting up a slash line of .348/.450/.652 after hitting safely in 21 of 26 games, earning Eastern League Player of the Month honors.
"He's a great teammate," said Portland's Derrik Gibson. "He comes to the ballfield with a lot of energy. In a way, I won't go as far as Dustin Pedroia because he's unique, but you see characteristics like that. It's fun to watch."
Coyle, the No. 16 Red Sox prospect, was also honored with an Eastern League All-Star nod and an opportunity to play in the Futures Game for the U.S. Team.
"It's pretty cool," said Coyle of all the accolades. "You don't really play for it. It's not something where I had a checklist at the beginning of the year where I want to an All-Star, or I want to be in the Futures Game or Player of the Month or whatever it may be. Those are things that come with taking care of my business."
Now, as he and his Sea Dogs teammates streak toward the playoffs, he knows that only a group effort will get everyone to shine to their fullest potential. Given his playoff pedigree, Coyle, currently batting .311 with 34 extra-base hits, could prove to be a key cog in Portland making a deep run into September.
"We have a lot of good individual ballplayers," said Coyle. "But when we play as a unit and everyone's rooting for everybody and everybody is picking each other up ... it really takes a weight off your shoulders. You're not really thinking about yourself, and when you're thinking about the team, it makes it easier to do your job and stay in games."
In brief
Ahead of pace: Erie's Steven Moya smashed his league-best 28th home run Sunday, a two-run, ninth-inning shot against New Britain. In comparison, Reading's Darin Ruf, who led the league with 38 home runs in 2012, had 20 on the same date. Ruf, who also led the league with 104 RBIs that season, had only 69 at that time. Moya is currently the league leader with 88 runs batted in.
Standing tall: The Altoona Curve are 7-0 in the last seven games that Adrian Sampson has started. The Pirates' No. 19 prospect is 5-0 with a 2.06 ERA and 0.98 WHIP during that stretch. On the season, Sampson is second in the league in ERA (2.62) and first in WHIP (1.07) and innings pitched (141).
Wheels of steal: Kelby Tomlinson and Tyler Graham have had Richmond flying on the basepaths this season, combining for 81 of the club's league-leading 148 stolen bases.
Craig Forde is a contributor to MiLB.com. This story was not subject to the approval of the National Association of Professional Baseball Leagues or its clubs.
View More