Efficient Johnson leads way for Shuckers
Brewers' No. 25 prospect throws just 63 pitches in first 'home' outing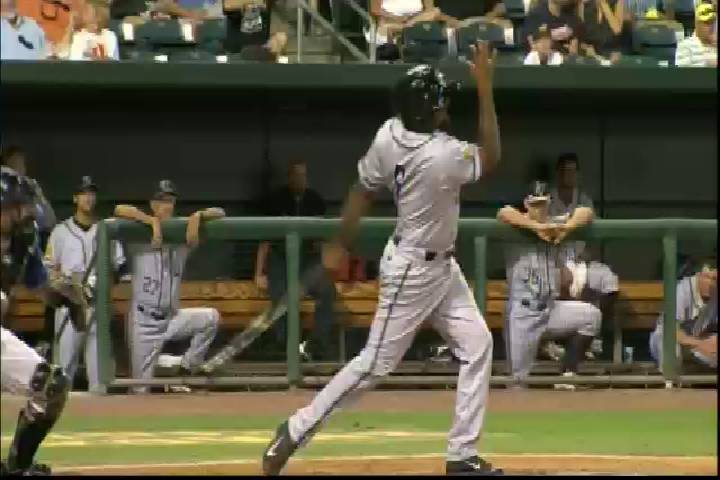 By Tyler Maun / MiLB.com | April 24, 2015 1:21 AM
Though he wasn't pitching a game in Biloxi on Thursday night, another strong start made it evident that Hobbs Johnson feels right at home with the Shuckers. Having girlfriend Jordan Poythress in attendance didn't hurt either.
"I love having her here," the lefty said. "I wish she could be here all the time."
With his club serving as the home team at the ballpark of their opponents, the No. 25 Brewers prospect allowed one hit and two walks while striking out six over five innings to help the Double-A Shuckers to a 5-1 win over the Suns at The Baseball Grounds of Jacksonville.
Johnson (1-0) found an efficient groove early, retiring the first eight batters he faced on his initial trip through the Suns lineup.
"It definitely helps going through the lineup once pretty much showing fastball most of the time to all of a sudden start showing some breaking stuff early in counts and still being able to go back to the fastball to put guys away," he said.
"(Adam) Weisenberger, my catcher, he called a great game, keeping off guys off balance," he said. "Guys played great defense behind me too. That always helps."
Johnson's counterpart Austin Brice singled with two outs in the third inning for Jacksonville's only hit off of Biloxi's starter. The southpaw walked Carlos Lopez to lead off the fourth and Brandon Bantz with one out in the fifth, but only Lopez moved past first base.
"If you can get through a lineup the first time through without having to show very many breaking pitches at all, all it does is put more in the arsenal for later in the game or when you actually do get in trouble and need a pitch," Johnson said. "Right then, you can throw something that they haven't seen yet."
The North Carolina product needed just 63 pitches to complete his five innings. He finished on a strong note, following Bantz's walk with strikeouts of Isaac Galloway and Lay Batista to end his night.
"That's the whole thing you want as a starter is to go deeper in ballgames and allow your team to work behind you, use the least amount of pitches possible," Johnson said. "Hopefully I'll keep on having starts like that and move a little deeper in ballgames as the year goes."
While waiting for their new facility to be completed in Biloxi, the Shuckers have fared well in their first home series of the year in Jacksonville, winning three of the four contests.
"It's definitely different, but at the end of the day, it's the same ballgame," Johnson said of the team's lengthy road trip to open 2015. "You still show up and play baseball the same way. For us, it's a little inconvenient I guess not having our own place. But outside of that, it's the same game. It doesn't really change how we play."
The Shuckers did all their damage at the plate between the third and fourth innings. Nick Ramirez cranked a three-run homer in the third with top Brewers prospect Orlando Arcia and Yadiel Rivera (No. 23) aboard. One inning later, Rivera brought home Weisenberger with an RBI groundout, and Arcia added a run-scoring single to plate Johnson.
Miami's No. 17 prospect Brice (0-2) took the loss after giving up five runs on seven hits over 3 1/3 innings.
Tyler Maun is a contributor to MiLB.com. Follow him on Twitter @TylerMaun. This story was not subject to the approval of the National Association of Professional Baseball Leagues or its clubs.
View More