EL notes: Norris not resting on his laurels
Jays prospect still pushing since promotion, Futures Game selection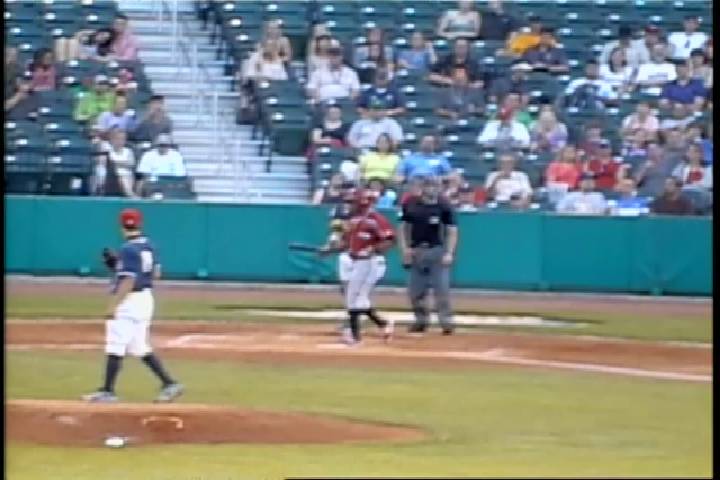 By Craig Forde / Special to MiLB.com | July 8, 2014 10:00 AM ET
You can't fault Daniel Norris for treating every night during the baseball season like it's Christmas Eve.
As visions of broken bats dance in his head, he tosses and turns some nights, wishing only to be back at the ballpark to ply his trade.
"I look forward to each day," said Norris. "It's hard for me to sleep at night because I'm just thinking about playing the next day, because it's an opportunity to get better."
It's that kind of attitude that has propelled the Blue Jays' No. 3 prospect up the ladder, earning a promotion for the third straight season.
Now with the New Hampshire Fisher Cats, Norris has shown that he is capable of handling that next step, making use of his four-pitch repertoire with great success in three starts at the Double-A level.
"All my pitches have been my go-tos this year," said Norris, who has 25 strikeouts in 16 1/3 innings since joining the Fisher Cats. "It's just a matter of what I'm feeling that day. It's been nice to go out there and have four different options to go to."
A dustup between New Hampshire and Altoona marred Norris' first Double-A start, but he shined bright in his second outing, striking out 10 Portland Sea Dogs batters over 5 2/3 frames for his first win at the next level.
"He's always going to give us a chance to win the ballgame," said catcher Derrick Chung, who has worked with Norris for the better part of two seasons. "He could always dominate the other team if he stays within himself and commands his pitches."
Norris will have the opportunity to show that command when he represents the Toronto organization on the U.S. Team roster at the All-Star Futures Game this Sunday in Minneapolis.
"I didn't really expect it all, so it was a huge surprise and I'm very thankful for the opportunity," Norris said. "I couldn't believe it for a while. I'm really excited about it. It's the biggest honor I've ever received."
With that much more excitement to deal with, expect many more sleepless nights for Norris as he continues to work his way toward the big leagues, and don't expect him to ever rest on his laurels.
"I think of it as a privilege to be out here," said Norris. "So, every day I come out and I'm driven to work hard. This is what I'm going to do for the rest of my life. The closer you get, the more real it seems, so you want to just keep pushing until the end."
In brief
Future is bright: There were 12 players selected to participate in the All-Star Futures Game who have played in the Eastern League this season -- seven for the United States and five for the World roster. Mookie Betts is the only one who is not currently in the league, having jumped to Boston after a brief stint with Triple-A Pawtucket.
The Big 'W': With a season-high 11 strikeouts over eight innings Sunday, Henry Owens became the first pitcher in the Minors to get his 12th win. Remarkably, he has picked up the "W" in his last eight starts, a span in which he has a 1.30 ERA, 0.87 WHIP and 54 strikeouts in 55 1/3 innings.
Two by two: New Britain outfielder Reynaldo Rodriguez has six multi-hit games during a current 10-game stretch in which he is batting .448. The reigning EL Batter of the Week has a league-high 26 doubles this season and his 56 runs scored are tied for second most.
Craig Forde is a contributor to MiLB.com. This story was not subject to the approval of the National Association of Professional Baseball Leagues or its clubs.
View More