EL notes: Sanchez aims to recapture control
Fisher Cats righty adjusting to Double-A hitters, Northeast weather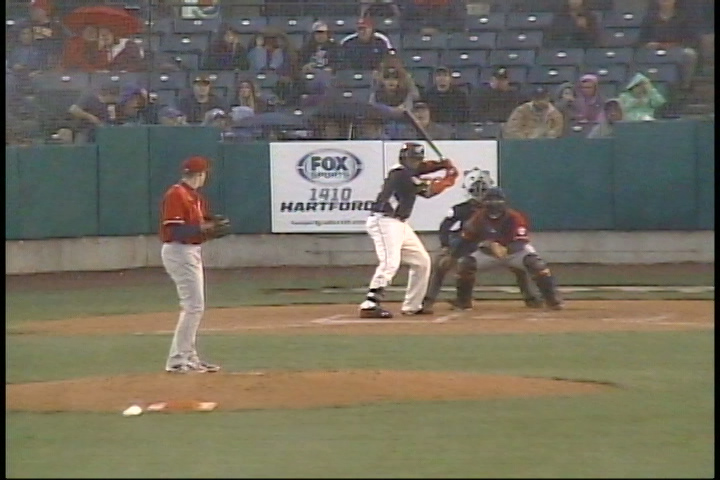 By Craig Forde / Special to MiLB.com | May 13, 2014 10:00 AM ET
As the headliner of a new batch of Toronto Blue Jays young guns, Aaron Sanchez's jump to Double-A New Hampshire this year signals what could be the most critical season of his development.
The No. 21 prospect in the game is taking each step of the challenge with an open mind, following a whirlwind offseason that provided little time off.
"It was a crazy six months from the end of last year," said Sanchez, who went to the Arizona Fall League at the end of his 2013 campaign in Dunedin.
From Arizona, Sanchez went to Toronto at the beginning of the year to participate in the organization's rookie development program and earned an invite to big league Spring Training.
"It was a fun six months getting to experience all that," said Sanchez. "I got enough time off to feel rested. I feel good, my body feels good, my arm feels good."
He proved that in his first start for the New Hampshire Fisher Cats, allowing just one hit in five innings against Trenton, earning a win in his Double-A debut.
Since then, the 6-foor-4 right-hander has had a mixed bag of results, command issues have creeping into the picture.
"Lately he's struggled with location on his fastball," said Fisher Cats catcher A.J. Jimenez. "That's sometimes because hitters are more comfortable at the plate [at this level]."
"I've kind of beaten myself up with walks," said Sanchez, who has allowed 22 free passes in 38 1/3 innings. "I would say that overall it's been kind of up and down. I've had more good starts than not. It's about taking the good from those starts and moving on to the next one."
What Sanchez has shown is a blazing two-seam fastball, which Jimenez refers to as "electric," despite the occasional lack of command.
Part of the command problems stem from the cold, April weather of the Northeast, something the California native is not accustomed to.
"Being from California and having Spring Training in Florida, it's kind of different," said Sanchez. "It's been a battle for me staying warm, understanding what I need to do to get hot and to feel good when I'm out there pitching."
It's all part of the learning process, and something he knows he'll need to adjust to as he continues to try to push for a still more northerly baseball address.
As Toronto's top prospect, the 21-year-old is expected to make that push quickly, but expectations and hype will not fuel him. After what he's been through over the last half year, Sanchez has plenty of his own fuel to run on.
"All this kind of stuff, for me, doesn't mean anything," said Sanchez of the rankings. "Everybody's ultimate goal is to get to the big leagues. Whether you're the top prospect or a 50th rounder, everything levels out once you get to professional baseball.
"I don't think any expectations that are put on me live up to the expectations that I put on myself."
In brief
Hitting on something: Second in the Eastern League with eight home runs, Harrisburg outfielder Michael Taylor has made the most of his dingers, connecting for five with runners on. Washington's No. 4 prospect has nine extra-base hits and a batting average of .378 with runners on base. He has also struck out only 14 times with a man on as opposed to 35 with the bases empty.
More like NO-wens: Portland lefty Henry Owens lost a bid for his second no-hitter of the season after allowing a two-out double to Toronto's Andy Burns in the eighth inning Thursday. The top Red Sox prospect had a six-inning, rain-shortened no-hitter on Opening Night versus Reading. Last week's outing against the Fisher Cats was the 16th of Owens' career in which he allowed two hits or less.
Stacked staff: The Richmond Flying Squirrels may be the only team in the league without a shutout, but their pitching staff remains on point with a 3.68 ERA (fourth best in the league). The staff currently boasts Giants No. 1 prospect Kyle Crick, No. 3 Adalberto Mejia and No. 6 Ty Blach, all of whom are in the starting rotation. Derek Law, the organization's No. 10 prospect, leads the league with nine saves.
Craig Forde is a contributor to MiLB.com. This story was not subject to the approval of the National Association of Professional Baseball Leagues or its clubs.
View More