EL notes: Thunder's Williams bouncing back
Yankees prospect showing signs of breaking out at plate this month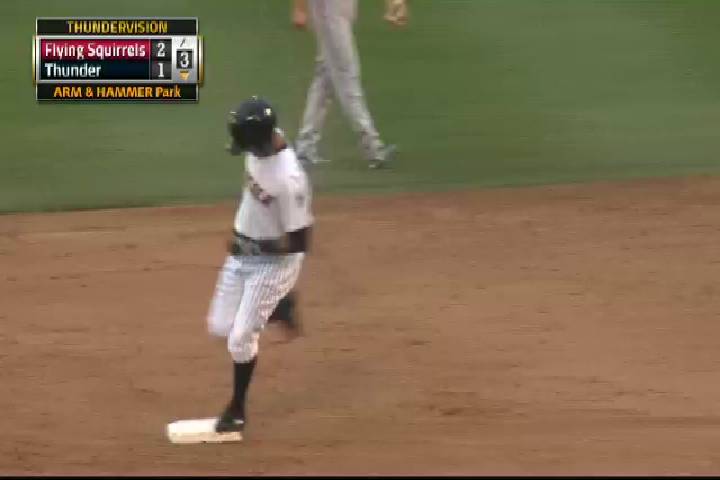 By Craig Forde / Special to MiLB.com | June 17, 2014 10:00 AM ET
The first two months of the season were not what Mason Williams nor the Yankees had envisioned for the team's No. 2 prospect, but the composed outfielder shook it off as a part of the game, knowing things would work themselves out as long as he continued putting in the hard work.
Now, after hitting .203 over the months of April and May, Williams' efforts are starting to shine through on the stat sheet where he is hitting .314 in June, showing signs of what he's capable of at the top of the order.
"I started the season off OK," said Williams. "Early I had some success, but that success kind of faded away later as the months went on. I wasn't too worried about it. I still trust in my work and tried to get better with things every day. It's definitely paying off right now."
Although the work was in place, hitting coach Marcus Thames noted that his consistency was off at the plate and that he may have knocked him off balance at the plate, scrapping what was working for him in the heat of a downturn.
"I told him to trust your work," said Thames. "Sometimes in a game, if an at-bat doesn't go the right way, you tend to run away from what you've been working on instead of sticking with it.
"It's a process. He's been putting in the work -- we just have to see it more in the game."
Through 12 games this month, he already has as many hits as he had in all of May (16) and as many RBIs as he had in April (seven). It's all seemingly right on queue for a player who came into the season batting .320 in the months of June and July during his career.
"It's time for him to start getting it," said Thames. "He shows flashes here and there, so I know it's in there."
Williams knows that those flashes are more apt to pop when he's practicing patience, which is an aspect of his game that is showing vast improvement.
His 28 walks are second most on the Thunder and just 12 off his career high for a season, set a year ago. He credits just a minor adjustment in mind-set, letting the game come to him, something that is finally starting to show through in his at-bats.
"I'm still just trying to see a good pitch, execute and put a good swing on the ball," said Williams. "But I wouldn't say it's any major adjustments. Over time, maybe just seeing some more pitches and keep getting after my work."
In brief
When you're hot: B-Mets infielder Brian Burgamy had himself a weekend against the Erie SeaWolves, going 8-for-10 with three doubles, a solo homer and three runs scored. In his last 10 games, Burgamy is hitting .452 with 10 RBIs. He was named the league's Offensive Player of the Week on Monday.
Navigating the next level: Since being promoted at the beginning of May, Portland's Brian Johnson has been one of the best pitchers in the league. The left-hander has allowed just nine earned runs over 47 1/3 innings for a 1.71 ERA. Johnson, who pitched six scoreless frames versus Akron on Sunday, is 5-1 with a 0.97 WHIP and 40 strikeouts in his eight starts with the Sea Dogs. He was named the league's Pitcher of the Week on Monday.
Clawing back: With a 6-2 win over Trenton on Sunday, the New Britain Rock Cats captured their fifth straight victory and climbed over .500 for the first time since they were 2-1 back on April 5. After a 6-17 April, the Rock Cats are now 33-32, just three games out of second place.
Duck days of summer: The Akron RubberDucks have slipped since the start of June, falling out of the top spot in the Western Division in the midst of a 6-9 month. After losing only three series all season prior to the start of this month, the Ducks have dropped their last three sets.
Craig Forde is a contributor to MiLB.com. This story was not subject to the approval of the National Association of Professional Baseball Leagues or its clubs.
View More