EL notes: Twins' Vargas coming up big
Rock Cats' powerful switch-hitter knows importance of giving back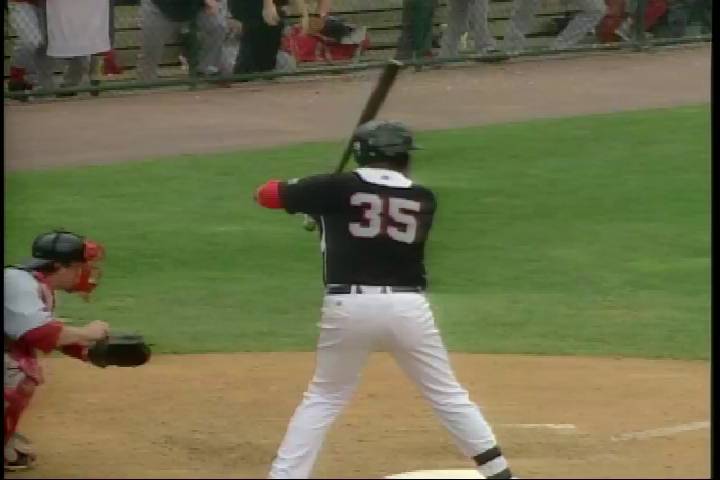 By Craig Forde / Special to MiLB.com | May 20, 2014 10:00 AM ET
The 6-foot-5, 275-pound Kennys Vargas starts powering balls into the tree line beyond the outfield wall at New Britain Stadium from the left side of the plate, quickly calling to mind a similarly sized slugger who used to do the same here, David Ortiz.
Then the Rock Cats first baseman moves to the right side of the plate and does it again, widening the eyes of onlookers who follow each long fly until it disappears into the late afternoon.
A rare breed is the switch-hitting slugger, but Vargas is doing his best to live up to the expectations, even in the face of the comparisons to Ortiz, a man he confides in regularly to help him along his path to the Majors.
"Big Papi is like part of my family," said Vargas, who is batting .309 with eight homers and 28 RBIs this season. "Every day he calls me and says 'keep it up.' That's made me motivated so much, and I try to keep working every day."
Introduced in Spring Training when Vargas was a 20-year-old trying to find his hold in the game, Ortiz took to the youngster and has been a mentor for the Twins' No. 16 prospect ever since.
"I've known him for four years," said Vargas. "Everybody knows Big Papi, but his personality is better than he shows in the media. He talks to me a lot about things in life, what I have to do, eating, staying out of trouble."
For Vargas, staying out of trouble is something he is familiar with, having come out of a rough system in his native Puerto Rico. The baseball road off the island was filled with bad intentions, according to Vargas, but he did his best to keep clean and keep his eyes on the goal of getting to the United States to fulfill his dream.
"In Puerto Rico the baseball, two, three years ago was down a little bit," said Vargas. "The facilities, there were problems with the governors having trouble and no money. The people started to get in trouble, do drugs and do a lot of wrong things. It was not good."
Now Vargas is using Ortiz's example in the community to give back in Puerto Rico, working with a traveling baseball clinic to teach kids right from wrong in the game. Knowing Puerto Rico's intense passion for baseball, he takes great pride in helping restore that aspect of life to the communities across the island.
"We visit schools and everything for a one-day camp," Vargas said. "It's awesome for the experience but better to know you are doing something for the country. ... It's not all about 'I want to get to the big leagues and make money.' You don't have to have money to help somebody."
Until he can return to his native land, Vargas will be tasked with helping New Britain while getting advice from his big friend in Boston.
In brief
Hanson heating up: Pittsburgh's No. 6 prospect, Alen Hanson is finding his stride in May after hitting just .233 in April. Ten of the shortstop's 22 hits this month have gone for extra bases, including his first four home runs of the season. Hanson is batting .319 with 15 RBIs in May and is 4-for-4 on stolen base attempts. He's tops on the Altoona Curve in runs scored (23) and leads the league in triples (5).
Lindor remains reliable: Indians top prospect Francisco Lindor remains a model of consistency for Akron, having hit safely in 31 of 39 games. The shortstop has had three hit streaks of six or more games and leads the RubberDucks with 28 RBIs. Lindor is hitting .306 in May with 15 RBIs and 13 runs scored.
Trying to fit in: With the Red Sox having locked up Dustin Pedroia through 2021, there have been grumblings as to where skyrocketing prospect Mookie Betts might play if he continues on his torrid pace. On Sunday the Portland Sea Dogs addressed the issue, starting their second baseman at center field versus the Trenton Thunder. It was the first game as a pro in the outfield for Betts, Boston's No. 6 prospect who has reached base in all but one of his 38 games played this season.
Craig Forde is a contributor to MiLB.com. This story was not subject to the approval of the National Association of Professional Baseball Leagues or its clubs.
View More