El Paso's Goebbert gobbles up seven RBIs
Padres prospect sets career-high mark via two-homer performance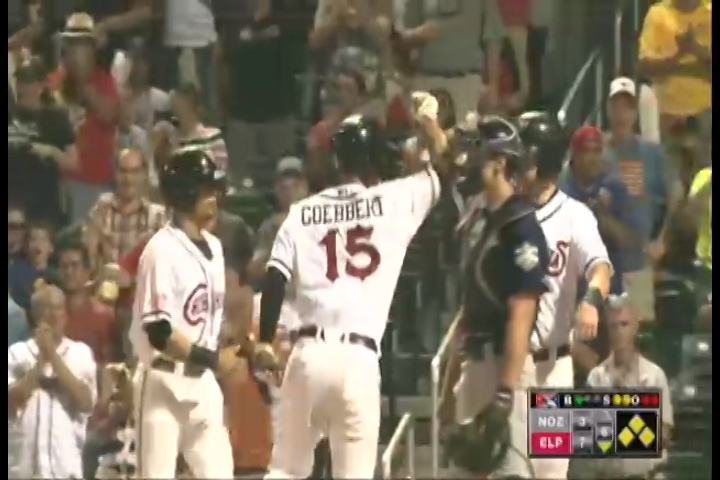 By Josh Jackson / MiLB.com | June 13, 2014 2:22 AM ET
Jake Goebbert had a lot to be happy about Thursday, but nothing made him happier than his first opposite-field homer of the year, which was the result of hard work with Triple-A El Paso hitting coach Jacque Jones.
"I've been working hard to getting back to doing that more," Goebbert said, "so that particular home run is probably what I'll remember the most. Jacque told me, 'I know you have more in the tank the other way,' so he gave me some drills, and it paid off big tonight."
The 26-year-old outfield prospect's opposite-field dinger was a grand slam, and he also smacked a three-run homer to lead the Chihuahuas to an 8-4 home win over the New Orleans Zephyrs. Goebbert's seven RBIs were a career high and more than he amassed in the previous 18 games for El Paso.
"This was a really a special night," said Goebbert, who was traded along with a player to be named later from Oakland to San Diego for Kyle Blanks on May 15.
His previous RBI high was five, which he'd done three times, most recently April 25 for Sacramento.
Goebbert's first home run came in the third inning against New Orleans starter Bryan Evans, two innings after the left-handed hitter had worked a walk against Evans. The base on balls had him expecting to get a pitch to hit in his second at-bat.
"I was looking for something up in the zone," said the Northwestern product. "I wanted to be aggressive on the first good pitch I saw, and it was a first-pitch fastball."
The long ball to right field left some jaws hanging open and not just because it tied the game, 3-3.
"That was probably the longest home run I've hit this season so far, maybe even the longest of my career," Goebbert said. "It felt great. I got the barrel on it."
Facing New Orleans' Arquimedes Caminero with two outs and the bases loaded in the sixth, Goebbert fell into a hole but worked his way out of it by slapping the fourth pitch of the at-bat over the wall in left.
"I was down 0-2 and I battled back," he said. "I was just looking for something to hit hard. I knew I hit the ball well, but I didn't know how well. It definitely was not a no-doubter."
When he realized the ball had left the yard, Goebbert was more than a little overwhelmed.
"I kind of blacked out for a second, I was so excited," he said. "I mean, the bases were loaded -- we have great fans in El Paso. They make a lot of noise for you, and it was just really exciting."
Goebbert slapped a one-out single to center off Jesus Sanchez in the eighth, and he was pleased to notch a base hit after hitting two homers.
"That's always nice," he said. "At that point, I was trying not to let my emotions get to me and make me get too big. I wanted to stay inside the ball, and I was able to see it up the middle."
Third-ranked Padres prospect Matt Wisler got the win to improve to 3-4 in the Pacific Coast League. He allowed three runs on eight hits and a walk and struck out three over six shutout innings.
For the Zephyrs, Derek Dietrich hit his fourth homer in six PCL games since coming down from Miami. He has 10 RBIs and a .400 average in that span.
Josh Jackson is a contributor to MiLB.com. This story was not subject to the approval of the National Association of Professional Baseball Leagues or its clubs.
View More