Ervin, Swanson help South rise to victory
Reds outfielder clubs slam late, Braves' top prospect ignites crowd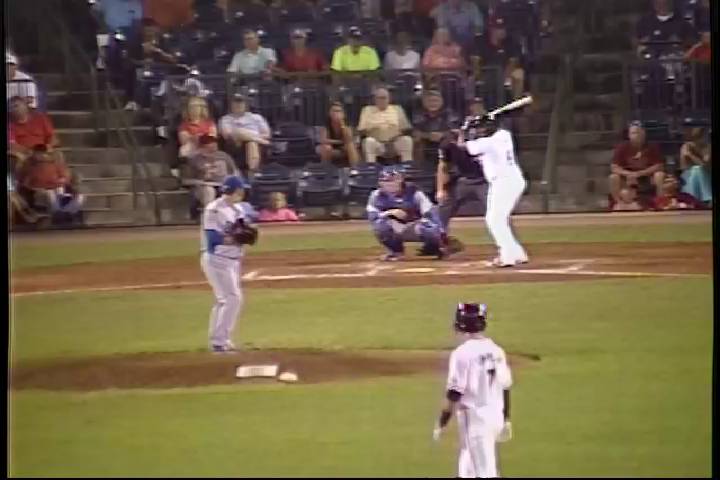 By William Sammon / Special to MiLB.com | June 22, 2016 12:16 AM ET
PEARL, Mississippi -- The crowd Tuesday at Trustmark Park was mostly quiet early on during the Southern League All-Star Game.
That is until, MLB.com's No. 6 overall prospect Dansby Swanson took his first turn at-bat in the bottom of the first inning.
Then the majority of the 4,172 fans in attendance stood and roared with excitement. The Mississippi Braves shortstop received the largest ovation of any player.
"This is awesome," Swanson said. "It's great to be in this game, represent the M-Braves and make an All-Star team, but it's really cool to do it in our home stadium and venue."
Then things got even better. The top pick of the 2015 Draft was part of a big fifth inning for the South Division, which beat the North, 5-1. The squad scored all its runs in that frame, capped by No. 10 Reds prospect Phil Ervin's pinch-hit grand slam. The Blue Wahoos outfielder was named the midsummer classic's Top Star.
In the fifth with one out, Mobile's Ildemaro Vargas, Biloxi's Brett Phillips and Swanson collected base knocks. Pensacola's Brandon Dixon singled in Vargas and Ervin crushed a 1-0 fastball from Tennessee right-hander Brad Markey to deep left-center field.
"That," Ervin said, "was incredible."
The 2013 first-round pick said he was only looking to put the ball in the air for a sacrifice fly.
"I just didn't want to put the ball on the ground for a double play," Ervin said. "It was exciting and it was a feeling, though, to see the home run, especially in front of my mom, dad and girlfriend. Anytime you can do something like that in an All-Star Game it's definitely a great feeling."
Montgomery's Kean Wong singled to center to score Tennessee's Victor Caratini to cut the deficit to 5-1 with two outs in the ninth. Chattanooga's Travis Harrison singled and a wild pitch by Mauricio Cabrera advanced the runners, but the Mississippi southpaw used a 100-mph heater to get Jake Peter to fly out to center to end the game.
"It was a fun game to be part of," Ervin said. "I think there was some really good pitching. It was cool to provide the hit that was the difference in the game."
A total of twenty-one pitchers took the mound during the midsummer classic. Jacksonville's Austin Brice and Mobile's Jimmie Sherfy both tossed perfect frames with a pair of strikeouts for the South. Tennessee's Paul Blackburn who threw a perfect frame with two punchouts for the North.
"Guys are really, really good here," Swanson said. "The pitching may not necessarily be any better in terms of better stuff, but they're more consistent at this level. They are able to have great command with location and they are able to execute a gameplan that goes against your weaknesses."
The Braves' top prospect went 2-for-3 and was the only South hitter to record a multi-hit game.
"I've been seeing the ball well lately and I think I've had success with just trying to stay within myself," Swanson said. "This game is about having fun and enjoying it and that's all you should try and do."
Montgomery's Willy Adames and Wong had a pair of hits apiece for the North.
"Whatever happens in the game is kind of a blessing on top of being in it," Phillips said. "I had a blast out here and really enjoyed the experience. I was humbled to be part of it and truly enjoyed the day."
William Sammon is a contributor to MiLB.com. This story was not subject to the approval of the National Association of Professional Baseball Leagues or its clubs.
View More