Espinal's big night fuels Power comeback
Pirates infielder goes 3-for-6 with homer, career-high seven RBIs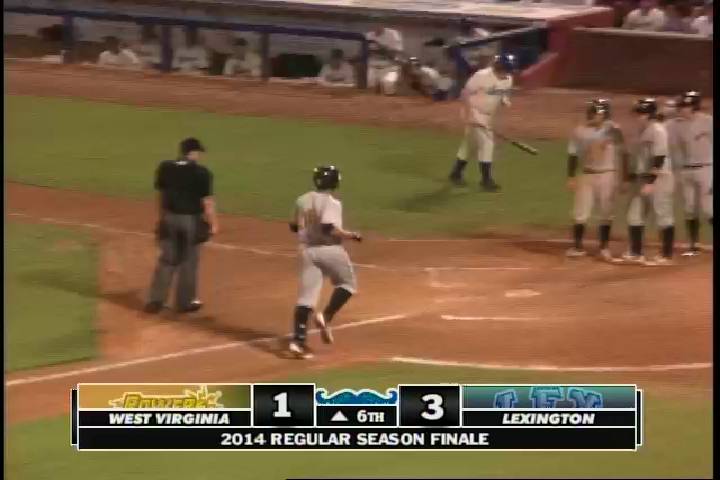 By Mark Emery / MiLB.com | August 29, 2014 1:56 AM ET
Class A West Virginia hitting coach Keoni De Renne wasn't thrilled with what he saw in Edwin Espinal's opening at-bat of Thursday's game.
"He got into a 2-0 count and he got big, he got long and he popped the ball up on a 2-0 fastball," De Renne said.
After the hitting coach reminded him to shorten his swing, the Pirates first-base prospect came up in the fourth inning with two men in scoring position and nobody out, hitting a run-scoring groundout to second base. It was the first of a career-high seven RBIs that Espinal would collect on a 3-for-6 night in the Power's 12-7 win in 10 innings over the Legends at Lexington.
"Everything from there started to fall into place as far as his mentality when he had runners in scoring position," De Renne said. "This is something that we've been working on with him all season long because he is a guy that has got some power, but he's at his best when he's actually behind in the count because he stays within himself.
"He has a very good two-strike approach, and when he does that he has a lot of success. And that's what he was able to do tonight, and not try to get out of control and get big. He just stayed with his normal game plan and stayed within himself."
Espinal recorded his first hit of the night in his third at-bat. With the Power trailing in the sixth, 3-1, he sent a pitch from Legends starter Luis Rico over the left-field fence for a three-run go-ahead homer, his sixth long ball of the season.
The 20-year-old Dominican Republic native also lined an RBI single to right field in the seventh, popped out to second in the ninth and notched a two-run single to left as part of West Virginia's five-run 10th. That the final base knock came after a couple high-and-tight pitches particularly impressed De Renne.
"To Edwin's credit, he didn't try to get mad, he didn't try to overcompensate," the hitting coach said. "That pretty much summed it up: 'Hey, when I stay within myself when I have runners in scoring position, I'm a threat, I'm dangerous, because I'm going to get the job done."
With 69 RBIs this season, Espinal is tied with JaCoby Jones -- the Pirates' No. 12 prospect -- for the Power lead. He has also compiled a .280/.323/.376 slash line over 119 games this season.
"What he's been doing all season long is, I think, when he does have the opportunity with runners in scoring position, he gets excited, which is what we want our hitters to do," De Renne said. "We don't want them to be passive. We don't want them to feel that there's pressure -- the pressure is all on the pitcher."
Austin Meadows, Pittsburgh's fourth-ranked prospect, smacked his third home run of the season in the ninth to tie the game. He and Kawika Emsley-Pai drove in a pair of runs apiece, and Wyatt Mathisen added an RBI.
Kenny Diekroeger and Humberto Arteaga both went deep in the sixth for Lexington. Diekroeger knocked three runs in and Alexis Rivera plated two.
Legends reliever Robinson Yambati (0-1) suffered the loss and the blown save, giving up six runs -- two earned -- on four hits and three walks across 1 2/3 innings. The Power's Andy Otamendi (1-0) did not allow a run in the final two frames, yielding one hit while walking two and fanning two.
Mark Emery is a contributor to MiLB.com. Follow him on Twitter @Mark_Emery. This story was not subject to the approval of the National Association of Professional Baseball Leagues or its clubs.
View More