Even for top pitchers, bad starts inevitable
Mental toughness helps Giolito, Glasnow, De Leon past rocky outings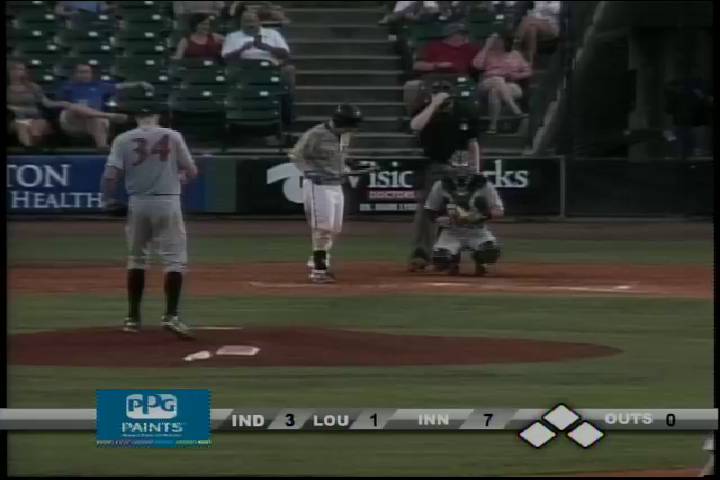 By Josh Jackson / MiLB.com | February 2, 2016 10:00 AM
On a Tuesday night in September, Tyler Glasnow sat in a clubhouse in Columbus and had what you might call an out-of-body experience.
"I remember getting done and knowing it was so bad, and I wasn't even feeling anything," he recalled. "It was almost like, 'That's not real. That's not me.'"
The Pirates' top prospect had just given up six runs on five walks and a double while recording just one out in the opening inning for Triple-A Indianapolis against the Clippers. It was by far the worst outing of his four-year Minor League career. Never in 80 games, including 79 starts, had he surrendered as many earned runs. Never had he failed to retire more than one batter.
"It wasn't very fun," Glasnow said. "I knew I didn't have much of a feel and then I started to think about that. Once you're in your head, thinking about what you're doing mechanically, it's all downhill from there."
For a pitcher, being in the middle of a terrible outing can be like suffering a long, slow-burning anxiety attack. The only way to get out of it is to relax, but the oxymoron of feeling pressured to be calm can compound the trouble. The trick, for most, is to let go of pressures altogether, focus on the next pitch and trust that it will do what it's supposed to. That's no simple thing when you're in the middle of coughing up a six-spot in the first inning.
"Being a pitcher and being a really analytical person sometimes don't mix," the Bucs' 22-year-old right-hander said. "When you're in a situation like that, in your head, thinking you're not going to be able to get out of it."
So, once that spiral begins, how can a pitcher escape?
"I don't know. Walk five in half an inning and get pulled, I guess," Glasnow joked.
---
"If something bad happens, I just think about how nothing can be worse than the way things went in the Pioneer League."

-- Jose De Leon
---
But it's something that he and other elite pitchers work on throughout their time in the Minors. The Nationals' Lucas Giolito, MLB.com's top-ranked pitching prospect, made his second Double-A start Aug. 2, going to the mound for the Harrisburg Senators at Portland. The Sea Dogs scored five runs against the 21-year-old righty in the opening inning, yet he plowed through the fifth and allowed just one more run.
"The first inning felt like it was two hours long. There were a lot of bad things happening," Giolito said. "We won that game in extra innings, but as far as starts go, it was pretty bad. One thing I liked about it, despite how bad it started, was that I threw three scoreless innings before I hit my pitch count and had to come out."
The California native said he knows that bad outings can happen for dozens of reasons or no reason at all -- and no pitcher is immune.
"Everyone gets dinged around sometimes, whether they're a top prospect or whatever; Cy Young Award winners get dinged around from time to time," he said. "Sometimes you just don't feel good. Sometimes your release point is off or you can't figure out what's off or the outfielders lost a fly ball in the sun at a bad time. There are all sorts of factors."
Therefore, getting a few under the belt in the Minors isn't necessarily the worst thing for a young pitcher. In fact, a string of ugly outings during Jose De Leon's first crack at the Pioneer League proved a very valuable experience in the long run.
---
• PROSPECTive: The waiting is the hardest part -- how pitchers bounce back from bad outings
---
"The process to get where I am today mentally, that was hard. My first year in [Rookie-level] Ogden, it was just a mess. I struggled and then five days later, I struggled again and five days after that, I struggled. The whole month was a mess. I had five bad outings. Now I can say that I'm glad that it happened," the Dodgers' 23-year-old righty said. "It was easier from there on. If something bad happens, I just think about how nothing can be worse than the way things went in the Pioneer League."
De Leon, MLB.com's No. 24 overall prospect, spent the first 2 1/2 months of the 2014 season in extended spring training, and by the time he returned to Ogden on June 18, he was ready to break out.
"Something just clicked mentally," the Puerto Rico native said.
De Leon went 5-0 with a 2.65 ERA in 10 games, including eight starts. Compare that to his 12.20 ERA in five Pioneer League starts the year before and consider that he wrapped up 2014 with four lights-out starts up in the Class A Midwest League (2-0, 1.19 ERA with 42 strikeouts over 22 2/3 innings) and it's clear he had the physical capabilities to compete all along.
Knowing that was part of what helped him shrug off a rough start last June 10. Pitching for Double-A Tulsa at Northwest Arkansas, De Leon put three straight batters on to start the game and gave up five runs on four hits, including a triple and a homer, before he got out of the opening frame.
"It's always frustrating, I'm not going to lie, but you have to try to minimize the level of frustration," he said. "I remember the game, but I don't remember the details. Whether I do good or I do bad, I try to have a short-term memory."
That terrible first inning might have doomed his whole outing at an earlier point in his career, but De Leon knew by his third pro season how to keep his cool. He pitched a scoreless second and allowed another run in the third before exiting after 73 pitches.
"That's something that's going to separate yourself from others is the makeup," he said. "I take a lot of pride when people tell me that even if my first inning wasn't great, they know I'll go out and compete and usually throw seven innings."
Giolito feels the same way.
"Part of getting a lot better -- and what big leaguers do -- is figure out what's wrong and fix it by the next pitch instead of fixing it two innings later," he said. "That's what I'm trying to learn to do, whether it's something that's off mechanically or with my mindset."
His reaction to that rough day in the Eastern League demonstrated that, by then, Giolito was on the right track. In his season debut for Class A Advanced Potomac against Frederick, he was fine for the first couple innings, but things took a bad turn in the third. The 2012 first-round pick wound up losing after giving up five runs on eight hits and a pair of walks over 4 1/3 frames. It wasn't a Grade-A stinker, but it was an ugly enough start to leave him fuming.
"I was having issues in the beginning of the year with Potomac on the mental side, in the sense that I was really thinking too much about the hits I was giving up, especially the singles," he said. "It was a lot of choppers up the middle and squeakers through the 5-6 hole. There were hard-hit balls, too, but I gave up a good amount of those squeakers last year. They would really get to me and I'd get frustrated. Some [opposing hitters] would see that I was frustrated and be able to take advantage of that.
"It never plays out well. You have to keep an even-keeled mindset, at least that's what I have to do if I'm going to have success. When you get frustrated at the little things, you're not really thinking about the next pitch."
He'd gotten much better at that by the time he ran into trouble in Portland.
"Later in the season, I knew what I needed to do to be able to correct those issues," he said. "Thinking positively and knowing the types of adjustments you need to make, that's the way to go, not just obsessing over everything that went wrong."
Although it's easier said than done, Glasnow has found it helps to keep things in perspective.
"At the end of the day, you have to realize it's a baseball game," he said. "If you're really, really stressed out about it, you can remember there are a lot of other things you could do that aren't as fun. There are a lot of people who would rather have a terrible game than have to go to their job."
Josh Jackson is a contributor to MiLB.com. Follow and interact with him on Twitter, @JoshJacksonMiLB. This story was not subject to the approval of the National Association of Professional Baseball Leagues or its clubs.
View More