Fields' two homers power Storm Chasers
Royals farmhand collects six RBIs over span of two innings in win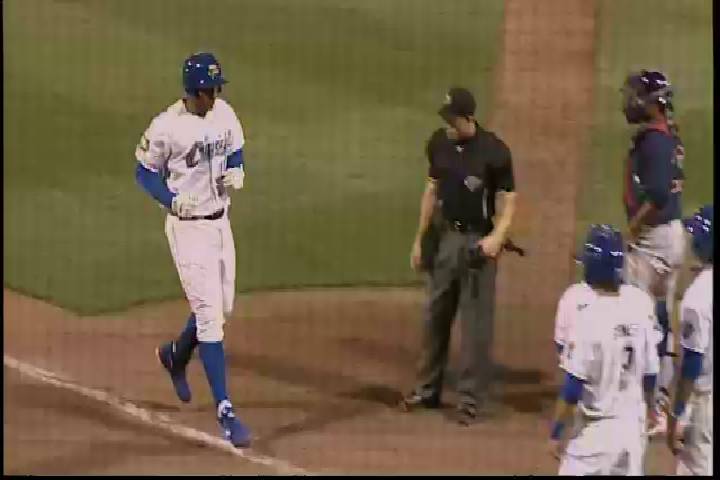 By Josh Jackson / MiLB.com | June 7, 2014 1:27 AM ET
For Matt Fields and the the Omaha Storm Chasers, the honeymoon is far from over.
Fields, who got married at Werner Park in a postgame ceremony on May 13, homered in the seventh inning and hit a grand slam in the eighth on Friday night, collecting six RBIs and lifting his Triple-A club to a 6-2 come-from-behind win over visiting Oklahoma City.
The 28-year-old Royals farmhand also homered in each of his previous two games and he has 13 RBIs over the three-game span.
"It feels amazing. I've been struggling here and there, and I'm just starting to get comfortable. It definitely gives you confidence," said Fields, who won the Double-A Joe Bauman Award with 31 homers last year.
"It has me in a good, positive place where I can do more to help my team win and have fun doing it."
The Seattle native is particularly thrilled with his recent success because it was not all that long ago that he was out of baseball. After six seasons in the Rays organization, Fields spent several months working as a baggage handler at Seattle-Tacoma International Airport while thinking about going back to school. He played independent ball in 2011 before signing with the Royals for the 2012 season.
"Thinking about where I was at [a few] years ago to where I am now, it feels really good," Fields said. "I'm still on course to reach my dream. That's just a good feeling -- I'm not wasting my ability and my talents, and I'm going to keep playing until I can't anymore."
His wedding last month served as an affirmation of his love of the game.
"I got married here in one of the suites on the third-base side. It was a nice setup with the teammates and her mom and my mom. It's something I never thought I would have happened for me," he said.
First @OMAstormchasers player wedding @WernerPark - @Matt_Fields35 and his fiancé Elizabeth. pic.twitter.com/y2zPsyz41n

- Omaha Storm Chasers (@OMAStormChasers) May 13, 2014
"It makes [playing at Werner] more important. It makes you realize how special baseball can be. It brought me to where I am now. It brought me to meet my wife, and also to my teammates."
On Friday, the Storm Chasers were trailing, 1-0, until Fields hit a two-run homer in the bottom of the seventh.
"It felt like we would get something across in a matter of time. We never panic. We know how the game works and this one happened to go our way," he said.
He hammered Alex White's 0-1 cut fastball over the left-field fence to put Omaha on the board.
"It was definitely a pitch I didn't know was coming," he said. "Fortunately, I got down on it early. I just reacted to it."
After the RedHawks tied the game on Carlos Perez's long ball in the top of the eighth, Fields came to the dish in the bottom half with one out and the bases loaded.
"Man, I'm not going to lie. Walking up to the plate, just hearing the crowd roaring, my heart started beating tremendously fast," he said. "I had to step out of the box in order to calm down, just breathe and do a relaxation technique."
He went yard on the first pitch from Jason Stoffel (0-1).
"I knew he throws a lot of sliders and I told myself I was probably going to get a first-pitch slider," he said. "Sure enough, I did and it was over the plate."
Fields -- and most everyone in the ballpark -- knew it was gone as soon as the bat made contact.
"Yes, I did," he said, "and I just put my head down and ran. That felt amazing. It feels good to be able to help my team in any way that I can."
Fields' sixth career grand slam made a winner of Louis Coleman (1-0), who allowed a run on two hits with three strikeouts in two innings.
Josh Jackson is a contributor to MiLB.com. This story was not subject to the approval of the National Association of Professional Baseball Leagues or its clubs.
View More