Fiers fans career-high 13 in Sounds' rout
Brewers right-hander rebounds from rough outing against I-Cubs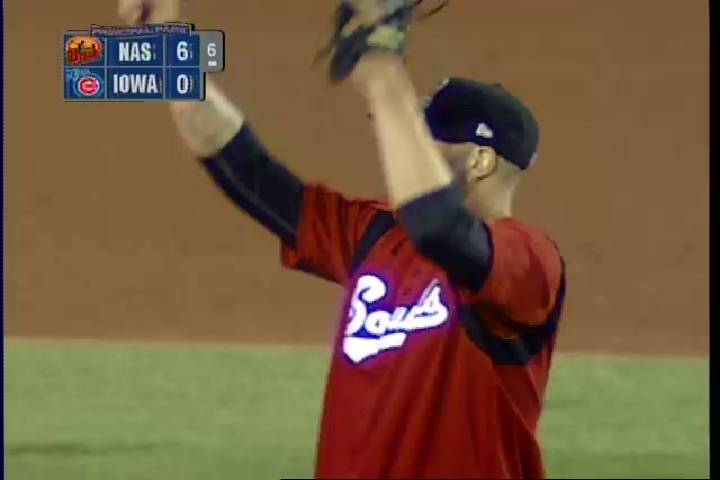 By Tyler Maun / MiLB.com | May 11, 2014 1:21 AM ET
Mike Fiers had mastered nearly every task set before him this season, but Saturday night provided him with an opportunity to redeem his one rough outing.
The Major League veteran recorded a career-high 13 strikeouts and allowed five hits over 6 2/3 scoreless innings as Triple-A Nashville rolled to a 10-1 triumph at Iowa.
"It was just another one of those nights where everything was working," said Fiers, who issued one walk. "I had good life on my fastball. I was able to locate it, and that just helped out with every other pitch. I put a lot of guys away with the curveball, which was working really good. I was keeping it down, and then at times, I flipped it in there for a strike. It felt like everything was working. Keeping them off-balance was the biggest thing."
The record-setting performance came five days after the 28-year-old right-hander's worst outing of an otherwise dominant season. Iowa got to Fiers (6-1) for five runs on six hits over five innings. He fanned a season-low five while absorbing his first loss.
"Last game, I was definitely not happy. It was a bad outing," Fiers said. "I just didn't have anything going. I couldn't locate my fastball. I was getting behind in counts a lot of the time. I had to come back into counts and make pitches, which I didn't do. They were ready and they ended up making good swings and capitalized on the mistakes I was making."
Strikeouts came from the outset in Fiers' second shot at the Cubs' lineup. He froze Arismendy Alcantara and Javier Baez, Chicago's No. 6 and No. 1 prospects respectively, to close the first innings.
The Cubs had few answers for Fiers, who struck out the side in the second and fifth and had just one inning -- the fourth -- in which he didn't record multiple strikeouts. All those whiffs inflated Fiers' pitch count, with the Nova Southeastern product topping the 100-pitch plateau after six innings.
That didn't prevent him from going out for the seventh.
"I didn't know where I was, pitch count-wise," he said. "I knew I was getting up there. [Manager] Rick Sweet and [pitching coach] Fred Dabney asked me if I was all right and how I felt. I told them, 'I'm good.' They let me go back out there. I've been there before and they had the confidence in me to get it done."
After recording the first two outs in the seventh, Fiers surrendered a single to Logan Watkins to bring his night to a close. The outing dropped his ERA to 1.59, which ranks third in the Pacific Coast League. He's fanned 64 batters while walking only six and leads all Triple-A starters with a 12.7 strikeouts per nine innings.
"It's Minor League Baseball and, obviously, everyone here wants to play in the Major Leagues," Fiers said. "You have it in the back of your mind and even if I didn't have the numbers that I have now, just being in Triple-A, that next step is being in the big leagues. It's hard not to think about it. But that's one of the main things that you have to do is focus on what you're doing and going into every start like you would in the big leagues."
Fiers, who has made 36 appearances for the Brewers over the last three seasons, went 1-4 with a 7.25 ERA in 11 outings in 2013.
"You've got to take that mind-set because if you're in the Minor Leagues and you're dreading being here and worrying about a call, things aren't going to go as well as you've planned," he said. "It's definitely in the back of my mind, but I'm able to go out there and take every start like I am in the big leagues. It really is a stepping stone to pitching well there. I've got to pitch well here and get ready for whenever that call is."
Hector Gomez staked Fiers to a quick lead with a solo homer in the first inning. Taylor Green doubled home Sean Halton in the second and Halton hammered a two-run homer that capped a three-run third. Gomez, Halton and Elian Herrera each had three hits, with Gomez and Halton driving in three runs apiece.
Iowa starter Eric Jokisch (2-3) surrendered six runs -- five earned -- on nine hits while striking out five and walking one in four innings.
Tyler Maun is a contributor to MiLB.com. Follow him on Twitter @TylerMaun. This story was not subject to the approval of the National Association of Professional Baseball Leagues or its clubs.
View More