Four knocks fall for Dahl in Tourists' win
Rockies' No. 3 prospect gets three RBIs in second four-hit game of '14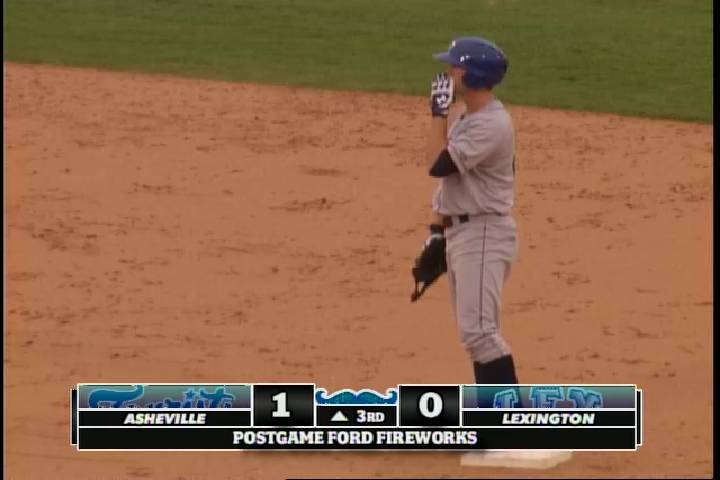 By Mark Emery / MiLB.com | July 12, 2014 1:21 AM ET
David Dahl is trying not to pay attention to his batting average, but he can't help but notice it at times, especially given its prominence on scoreboards (and in news stories).
On Friday night, the Rockies' third-ranked prospect went off for four hits, including a double, in six at-bats to help Class A Asheville run away with its 10th straight road win, an 11-1 triumph at Kannapolis.
In doing so, the Tourists' leadoff batter brought his average up to .301 after back-to-back hitless games had it below the .300 mark.
"I'm really just trying to go up there and have quality at-bats, put really good at-bats together, night in and night out," Dahl said. "And then, if you keep doing that, the hits will come and the average should be pretty good."
The 10th overall selection in the 2012 Draft drove in three runs and scored three runs in his second four-hit game of the season. He also went 4-for-6 on June 28 against Greensboro.
Friday was the fourth game of the year that ended with Dahl batting .300 or better. He hit a leadoff single to center field in the first inning, a two-out two-run single to right in the second, an RBI double to right in the fifth and a leadoff single to right in the eighth. He struck out swinging in the sixth and flied to left in the ninth.
"He's been hitting the ball hard for a while, for weeks," Asheville hitting coach Mike Devereaux said. "Tonight the ball happened to fall a little bit better for him, but he's been swinging the bat for a while for us, I'd say for well over a month. He's hitting over .300, and that doesn't come easily. But he's been doing well for us. And tonight the ball pretty much fell for him."
In 82 games this year, the South Atlantic League All-Star owns a .301/.340/.503 slash line with 10 homers, 37 RBIs and 16 stolen bases in 20 tries. Before going 0-for-7 in two games before Friday, he hit safely in six straight, during which he went 12-for-27 (.444).
"His average really doesn't show as well as he's actually been hitting the ball," Devereaux said. "To be honest with you, he's been hitting the ball hard and the ball's been getting caught."
Dahl led the Rookie-level Pioneer League in batting two years ago, when he hit .379 across 67 games with Grand Junction and was named MVP. Last year, though, his season was cut off after 10 games because of a torn right hamstring. The campaign also was interrupted by a stint at extended spring training that was meant as a disciplinary action.
But that was then, and this is now.
"I feel like I have just been putting good at-bats together and stuff, the last couple weeks, has been falling, and stuff's been going my way," Dahl said. "Hopefully, I can just keep putting really good at-bats together."
Asheville scored in every inning of Friday's game except the third. Raimel Tapia, Michael Benjamin and Emerson Jimenez each chipped in two-hit nights. Tapia, Benjamin, Jimenez, Correlle Prime, Wilfredo Rodriguez and Ashley Graeter had one RBI apiece.
Tourists starter Alex Balog (7-3) struck out nine over seven innings, allowing four hits -- including Christian Stringer's solo homer -- and two walks.
Kannapolis' Tyler Barnette (2-5) was charged with six runs -- four earned -- on seven hits over 4 1/3 innings. He fanned one and did not walk a batter.
Mark Emery is a contributor to MiLB.com. Follow him on Twitter @Mark_Emery. This story was not subject to the approval of the National Association of Professional Baseball Leagues or its clubs.
View More