Franco continues hot streak for IronPigs
Phillies top prospect hits first homer since June 5 in 16-inning win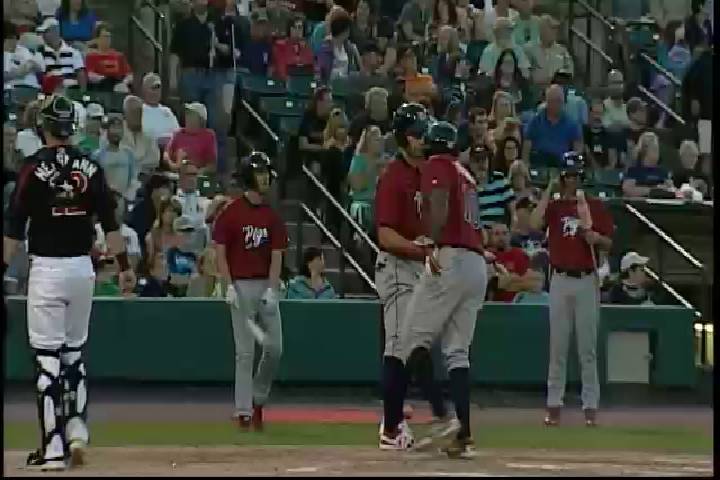 By Tyler Maun / MiLB.com | July 6, 2014 2:55 AM ET
At the end of a sluggish June, Maikel Franco showed signs of life. A red-hot start to July has started to turn even more heads.
The Phillies' top prospect homered for the first time since June 5 and posted his third consecutive multi-hit game Saturday night as Triple-A Lehigh Valley outlasted Rochester, 9-8, in 16 innings.
Franco exited June as a .209 hitter but registered hits in three of his final five games in the month. After a few days out of the lineup, he's been on a tear in July, going 9-for-17 during a three-game hitting streak that included a 3-for-8 performance in Saturday's marathon.
"We're encouraged from what we've seen with Franco the last few games," IronPigs manager Dave Brundage said. "He's really, really turned it up a notch. Watching his at-bats, they're much better at-bats. He's not giving away at-bats, putting a good swing on the ball. You're just seeing the confidence starting to flow a little bit."
In the 5 1/2-hour series finale, Franco got going with an RBI double in the fourth inning and launched a towering two-run homer in the sixth. The 21-year-old third baseman added a run-scoring single in the seventh, giving him three RBIs for the second night in a row after not accomplishing the feat since May 13.
"We always know he's going to be aggressive," Brundage said. "We don't want to take that aggressiveness away, but we've been talking about pitch selection and how pitch selection's so important. He's laying off some pitches out of the zone and getting himself a better pitch to hit.
"It was pretty evident tonight where he hits an absolute missile double. The left fielder started in, thought he had it and, before you know it, it short-hops the wall in left field. Then he hits a towering two-run homer to tie it up. He had four hard-hit balls tonight, and he's certainly on a much better path."
During his modest streak, Franco has doubled twice, tripled and homered, lifting his slugging percentage to .351 while his average has climbed to .226.
"That's what we've been waiting for," Brundage said. "Throughout the season, he's shown some glimpses and periods of swinging the bat, but the last three games are exactly why we know who he is and what he's all about. These are much more indicative of what everyone talked about all last year."
The IronPigs took a 7-4 lead into the bottom of the eighth, but the Red Wings scored twice, then tied it an inning later on an RBI single by Wilkin Ramirez.
In the 14th, Lehigh Valley appeared poised to skip town with a win when former International League MVP Russ Canzler homered. Rochester's Chris Rahl answered with a solo shot to keep things going.
Finally, with runners at the corners in the 16th, Franco reached on an error by third baseman Pedro Florimon to produce the decisive run.
"It's a little bit demoralizing if you end up losing that ballgame just in the [sense] that we had the game in hand," Brundage said. "We had a three-run lead in the eighth inning and gave up two. Then our closer, Luis Garcia, he ends up giving up a base hit up the middle to tie the ballgame."
Brundage and his team didn't have to deal with the loss, although they will have to deal with a short night. The IronPigs boarded a bus for Indianapolis at around 2 a.m. Sunday morning. They'll play the opener of a four-game set with the Indians at 6:05 p.m. on Sunday.
Jeremy Horst (3-1), the fifth of the IronPigs' six relievers, picked up the win after allowing a run on three hits over four innings. He struck out four and did not walk a batter. Hector Neris pitched a perfect 16th for his second save of the season.
Rochester's Aaron Thompson (1-3) was charged with two runs -- one earned -- on four hits while striking out four over 2 2/3 innings. He and Red Wings manager Gene Glynn were ejected by plate umpire Jon Byrne after Lehigh Valley scored in the 16th.
Tyler Maun is a contributor to MiLB.com. Follow him on Twitter @TylerMaun. This story was not subject to the approval of the National Association of Professional Baseball Leagues or its clubs.
View More