Frazier triples twice in Desert Dogs' win
Pirates prospect reaches base four times, drives in two in AFL debut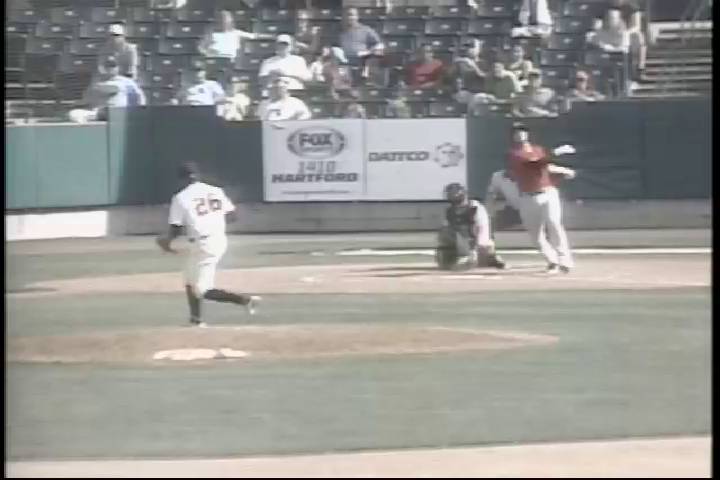 By Josh Jackson / MiLB.com | October 15, 2015 12:33 AM
Once the Glendale Desert Dogs got rolling on Wednesday afternoon, there was no stopping them.
"We just kept adding runs," Adam Frazier told MLB.com. "I thought our offense did a good job staying in the game, just doing little things -- moving runners over, couple big timely hits, and we just came out on top."
Making his Arizona Fall League debut, the 23-year-old Pirates prospect played a big part, going 3-for-4 with a pair of triples, a walk, two RBIs and a run scored, in Glendale's 7-6 comeback win over Mesa.
Frazier slashed .324/.384/.416 over 103 games at Double-A Altoona this year and has totaled seven triples through 282 regular-season games over three seasons.
The 2013 sixth-round pick's first AFL triple led off the game as he lined No. 3 A's prospect Sean Manaea's first pitch deep into right-center field.
"I knew Manaea was a good pitcher," Frazier said. "I was looking for a fastball early [because] if you fall behind guys like that, it's usually tough to be successful. He threw a fastball right there and I put a good swing on it. Luckily, it fell."
The shortstop scored on a groundout by Astros prospect Chan Moon, but Manaea kept the Desert Dogs (2-0) off the board for the rest of his four-inning stint, allowing two hits while striking out four.
"He's just a great pitcher. He was moving his fastball in and out, up and down," Frazier said. "Throw a few off-speeds in there and it's tough to hit a guy like that, who is changing eye levels so much."
The Solar Sox (0-2) scored five times over the first four frames, but Frazier poked an RBI single off Aaron Kurcz (A's) in a three-run fifth and drove in another run with a two-out triple off Rays right-hander Brad Schreiber in the seventh.
"I got kind of lucky on the last one," Frazier said. "Cutter got in on me a little bit but just found a hole. That's baseball, just one of those days, I guess. Some days you get those, some days you don't."
Dodgers prospect Jacob Scavuzzo also went 3-for-4 with a run scored for Glendale.
Angels prospects Caleb Adams (No. 30) and Stephen McGee homered for the Solar Sox, with Adams plating two runs and McGee adding a double. Cubs No. 19 prospect Jeimer Candelario was 3-for-4 with a double, a run scored and a walk.
In other Arizona Fall League action:
Surprise 5, Peoria 4, 10 innings
Mariners No. 3 prospect D.J. Peterson swatted two homers and collected four RBIs, but the Javelinas couldn't put away the Saguaros. Fifth-ranked Yankees prospect Gary Sanchez homered for the second day in a row and singled twice, while Royals infielder Ramon Torres was 3-for-4 with a double and a run scored. Cardinals southpaw Dean Kiekhefer (1-0) pitched two scoreless innings and got the win when Brewers prospect Nathan Orf delivered a walk-off single. Gameday box score
Scottsdale 13, Salt River 3
The Scorpions scored six times in each of the first two innings and never looked back. Tigers No. 10 prospect JaCoby Jones slugged two homers and plated four runs, while Indians No. 2 prospect Clint Frazier went 3-for-4 with a homer and three RBIs. D-backs No. 14 prospect Gabby Guerrero put the Rafters on the board with a solo shot in the fourth off Twins No. 13 prospect Taylor Rogers (1-0), who allowed a run on two hits and a walk while striking out five over four frames. Gameday box score
Josh Jackson is a contributor to MiLB.com. This story was not subject to the approval of the National Association of Professional Baseball Leagues or its clubs.
View More