Fresno's Fleet nabs first complete game
Giants right-hander allows just three hits while shutting out Sky Sox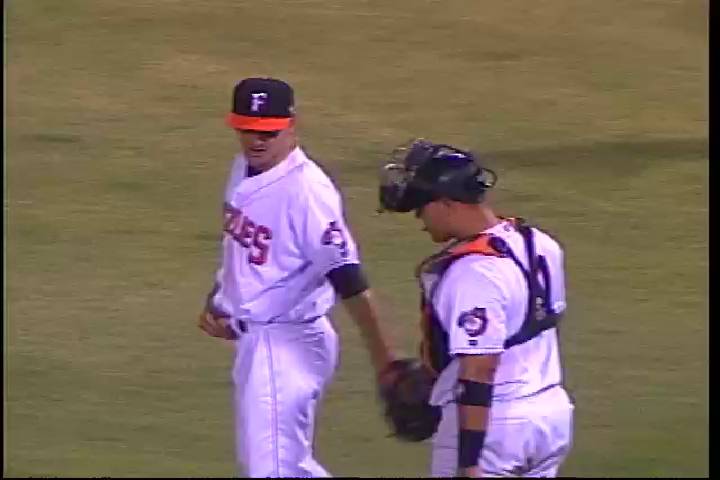 By Tyler Maun / MiLB.com | August 19, 2014 3:48 AM
The groove Austin Fleet found with catcher Guillermo Quiroz came close to baseball nirvana on Monday night. The two weren't quite sharing the same brain, but at times, it might have felt like it.
The San Francisco right-hander turned in the first complete game of his professional career, allowing just three hits and striking out seven without issuing a walk as Triple-A Fresno blanked Colorado Springs, 5-0.
"Sometimes when you're going good like that," Fleet said, "it gets to the point where you think a certain pitch, and all of a sudden [Quiroz] throws it down. You're on the same page every time. That's what we were doing. He knows those hitters pretty well too, so a lot of the credit goes to him."
The synergy between Fleet and his backstop took effect early. After Rafael Ynoa singled to open the Sky Sox first, Fleet retired the next nine men he faced. The Coastal Carolina product worked around leadoff singles by Cristhian Adames in the fourth and Jason Pridie in the fifth, following the final hit of the night by setting down the final 14 men Colorado Springs sent to the plate. Fleet threw 85 of his 117 pitches for strikes and followed through with his plan of getting ahead in counts early.
"Any time you can get ahead of guys like that, you're already giving yourself an advantage," he said. "I think we did that well tonight and kept them on their heels a little bit."
Monday's win marked a second straight solid outing for Fleet, who allowed two runs -- one earned -- on six hits over seven innings on Aug. 13 while not factoring into the decision against Oklahoma City. Fleet had allowed four earned runs in each of his previous three starts since a July 28 promotion from Double-A Richmond.
"I didn't really change anything mechanically or anything," he said. "I'm just trying to be more relaxed and more positive in my mind-set and in an attack-mode mind-set, things like that.
"Me and one of my teammates, Brett Bochy, we always say, 'Harness the good.' When it's going good, you just harness it and take all the positives out of it and keep rolling and stay hot."
Fleet pitched in 13 games -- nine as a starter -- for the Grizzlies last year but returned to the Flying Squirrels for three-and-a-half months this season. Through 26 appearances, including 11 starts, with Richmond, the right-hander went 8-1 with a 2.78 ERA.
"It's definitely tougher up here," he said, "but really, I just try to take it one game at a time. As the games are going on, you try to make adjustments on what we think that we're seeing from them. It's more so just adjusting as individual games go on."
Fresno broke a scoreless tie in the bottom of the fourth when Nick Noonan doubled in a run. Juan Perez and Chris Dominguez added RBI singles in the fifth, and No. 20 Giants prospect Gary Brown doubled in a run in the sixth.
Christian Bergman (5-5) took the loss for the Sky Sox, allowing four runs -- three earned -- on nine hits while striking out five and walking two in six innings.
Tyler Maun is a contributor to MiLB.com. Follow him on Twitter @TylerMaun. This story was not subject to the approval of the National Association of Professional Baseball Leagues or its clubs.
View More