Frisco's Eickhoff keeps mind, bases clear
Texas right-hander holds San Antonio to two hits over 7 1/3 innings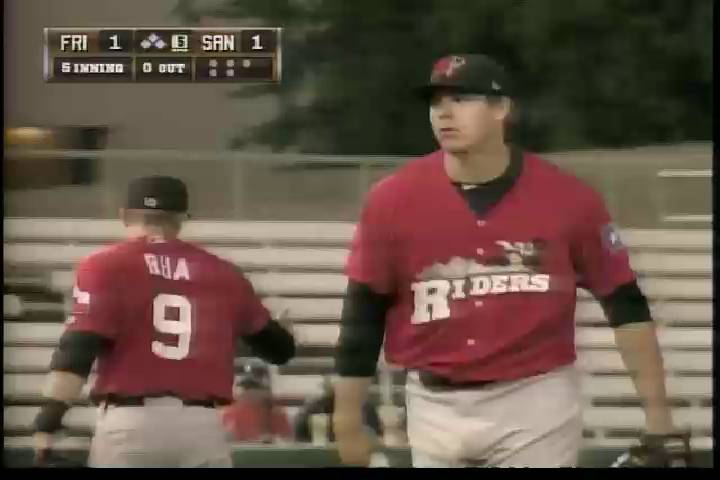 By Kelsie Heneghan / MiLB.com | May 1, 2014 2:00 AM ET
Jerad Eickhoff came into Wednesday's game with a 6.38 ERA and three rough starts, but after he cleared his mind, the right-hander had his best outing of the season.
The Rangers prospect allowed an unearned run on two hits while fanning seven over 7 1/3 innings as Double-A Frisco edged San Antonio, 2-1.
"I felt great, I felt loose. Just freed my mind up and had fun," he said. "All my pitches were really working. I think what separated it was being able to get my curveball early in the count and be able to finish with it."
The 23-year-old kept San Antonio off the bases for 3 2/3 innings and didn't allow a hit until the fifth -- a huge improvement over his previous two outings.
After allowing six runs in back-to-back starts, Eickhoff talked with Rangers pitching coordinator, Danny Clark, who helped him with the mental aspect of the game.
"I was mentally grinding more so than I have in the past and when you do that, it trickles down to your delivery," the 2011 Draft 15th-round pick said. "I wasn't able to make the pitches I wanted.
"I think everyone struggles with it at some point and I think it fades in and out throughout the season with highs and lows. … Sometimes I press when I shouldn't press and sometimes I relax when I shouldn't relax. It's about finding a balance."
Last season, the 6-foot-4 hurler was promoted to the Texas League after posting a 3.41 ERA in 21 starts for Class A Advanced Myrtle Beach. Though he struggled with a 7.45 ERA in six starts for the RoughRiders, Eickhoff learned the importance of taking a step back.
Clark merely reminded him to clear his mind. Instead of thinking about the whole game, Eickhoff began to take it pitch-by-pitch and concentrate on getting through each inning. The right-hander lowered his ERA to 4.56 and now has held Texas League foes to a .194 average, while striking out 26 over five starts.
"I wanted to be freed up mentally, to free up focus, [and] not worry about throwing it on the outside corner or high and inside," he said. "Felt good to get back out there and be free and easy and let my defense work. They made great plays and that takes pressure off of me."
Ryan Rua plated the first run of the game with a single in the fourth that scored Jake Smolinski. But the Missions tied it up in the bottom half of the frame on a fielding error by left fielder Smolinski.
"You get two quick outs and you think the innings is over, but then I walk the guy and that obviously isn't what I wanted to do. Then the next guy hit it to Jake Smolinski and reached on an error," the Indiana native said. "It was a tough catch and I just got to let it be."
Eickhoff and the RoughRiders got out of the inning when catcher Tomas Telis caught Rymer Liriano trying to steal third.
No. 2 Texas prospect Rougned Odor hit his fourth homer of the season in the sixth for a 2-1 lead that eventually gave the starting pitcher his second win of the year.
Francisco Mendoza picked up his third save after hurling 1 1/3 perfect innings.
San Antonio reliever Adys Portillo (0-1) gave up the winning run on two hits while striking out three over two frames. Starter Matt Wisler, San Diego's No. 3 prospect, allowed a run on four hits and fanned five across five innings.
Kelsie Heneghan is a contributor to MiLB.com. Follow her on Twitter @Kelsie_Heneghan. This story was not subject to the approval of the National Association of Professional Baseball Leagues or its clubs.
View More